Session Information
Session Type: ACR Poster Session C
Session Time: 9:00AM-11:00AM
Background/Purpose: Systemic lupus erythematosus (SLE) is clinically heterogeneous disease, with a considerably variability of disease expression among patients. There have been several attempts to classify subsets or cluster of SLE patients according genes, clinical characteristics and autoantibodies. However, information about classification of SLE patients based on urinary biomarkers is scarce. We investigated whether subdivision of SLE is possible using a panel of urine biomarkers by principal component analysis (PCA).
Methods: We included in 100 consecutive SLE patients (ACR criteria 1997) from a tertiary University Hospital. We measured urinary levels of 5 different biomarkers: monocyte chemoattractant protein 1 (MCP-1), neutrophil gelatinase-associated lipocalin (NGAL), TWEAK, Ceruloplasmin (CP), and Transferrin (TF) using a commercial ELISA kits (R&D system and Assaypro, USA). In addition, serum anti C1q antibodies were measured by ELISA (Inova, USA). SLE activity was measured with SLEDAI. The PCA was performed by Statgraphics Centurion XVI.I for Windows (Statgraphics Corp., Rockville, USA). The PCA allowed simultaneous analysis of the relationship between 5 different urine biomarkers, as well as different clinical features and anti C1q antibodies. Creatinine clearance was considered as anchor factor of the PCA.
Results: 100 SLE patients were recruited (88% female) with median age of 33.6 ± 12.4 years and median disease duration of 11.5 ± 14.8 years. Hematologic disease (89%), arthritis (83%), cutaneous involvement (82%), and renal disease (66%) were among most common manifestations. Three components achieved an eigenvalue greater than 1.0. PCA revealed that the first 3 components accounted separately for a variability of 72%. According with those components we identified 3 subsets: Group A) patients with normal renal function and moderate disease activity, group B) patients with high disease activity and high levels of anti C1q, TF and CP and group C) patients with active lupus nephritis with high levels of 24 hours proteinuria, MCP-1, NGAL and TWEAK (Figure). Patients from Group B were older, had a shorter disease duration and higher SLEDAI scores than the other 2 groups.
Conclusion: We identified 3 different subgroups of SLE patients by PCA approach using urine biomarkers and serum Anti C1q antibodies. Whether these subgroups represent a different clinical outcome or a worst prognosis requires further analysis.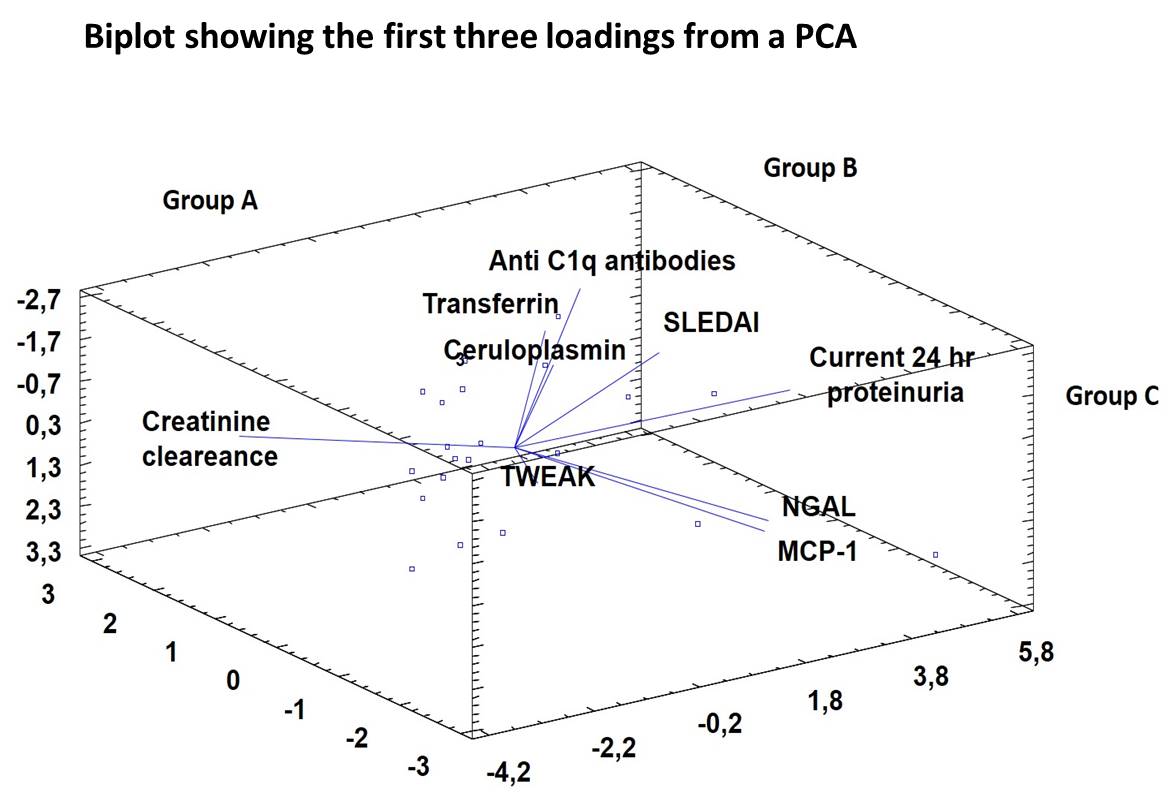 ---
Disclosure: J. A. Gómez-Puerta, None; B. Ortiz, None; T. Urrego, None; A. L. Vanegas, None; C. H. Muñoz, None; M. Restrepo, None; W. Rojas-Zuleta, None; S. Arteaga, None; L. A. Gonzalez, None; M. Rojas, None; G. Vásquez, None.
To cite this abstract in AMA style:
Gómez-Puerta JA, Ortiz B, Urrego T, Vanegas AL, Muñoz CH, Restrepo M, Rojas-Zuleta W, Arteaga S, Gonzalez LA, Rojas M, Vásquez G. Identification of Subsets of Systemic Lupus Erythematosus Patients By Principal Component Analysis and Urine Biomarkers [abstract].
Arthritis Rheumatol.
2016; 68 (suppl 10). https://acrabstracts.org/abstract/identification-of-subsets-of-systemic-lupus-erythematosus-patients-by-principal-component-analysis-and-urine-biomarkers/. Accessed June 21, 2021.
« Back to 2016 ACR/ARHP Annual Meeting
ACR Meeting Abstracts - https://acrabstracts.org/abstract/identification-of-subsets-of-systemic-lupus-erythematosus-patients-by-principal-component-analysis-and-urine-biomarkers/