Session Information
Session Type: Abstract Submissions (ACR)
Background/Purpose: treatment of human immunodeficiency virus (HIV) infection has dramatically changed survival prognosis of these patients.New drugs included in antiretroviral therapy are much more effective.  Tenofovir disoproxil fumarate (TDF) was approved for the treatment of HIV infection in highly active antiretroviral therapy (HAART) combinations in 2001. Increasing evidence has emerged relating TDF use and  the development of kidney proximal tubular dysfunction, Fanconi syndrome and renal insufficiency. Objective: to describe 4 cases of Tenofovir induced hypophosphatemic osteomalacia.
Methods: we describe 4 cases of tenofovir-treated HIV patients from HIV Section setting University Academic Hospital reference area 800.000 inhabitants, who were refered to Rheumatology Service . All patients were having by multilple disabling bone pain. We present clinical manifestations, laboratory and imaging studies, and the results of iliac bone biopsy performed in 3 cases, after labeling with tetracycline.
Results : Four patients, 2 men and 2 women, mean age of 48,2 years, mean duration of HIV infection of 20.2 years. All patients were on Tenofovir in combination therapy with a median duration of 7 years. All patients complained of severe and increasing pain of the lower extremities with considerable functional impairment and inability to walk without assistance during the last 8-24 months (mean symptom duration 14 months)  The general characteristics are shown on the Table. In all cases a marked hypophosphatemia with elevated alkaline phosphatase (ALP) and deficiency of vitamin D 25-OH were in 3 patients. Bone scan and MRI showed multiple insufficiency fractures. Histopathological study of iliac bone biopsy (patients 1,2 and 3) showed increased bone formation and an increased osteoid thickness (more than 5 slides) with laminar structure. There were few osteoblasts, and resorption was diminished with no presence of osteoclasts. The diagnosis was osteomalacia in all patients. The clinical diagnosis was hipophosphatemic osteomalacia induced by tenofovir. In all patients, tenofovir was stopped. This was supplemented with oral vitamin D and calcium supplements. Two patients required oral phosphate salts. A few weeks after starting treatment showed gradual resolution of bone pain (6-8 weeks) and normalization of walking without support. Furthermore, 8-12 weeks later, blood test were strictly normal in all patients. 
Conclusion: We described an uncommon complication of HIV patients treated with tenofovir. A high index of suspicion is required to diagnose hipophosphatemic osteomalacia. Serum P and ALP should be monitored to prevent the development of osteomalacia.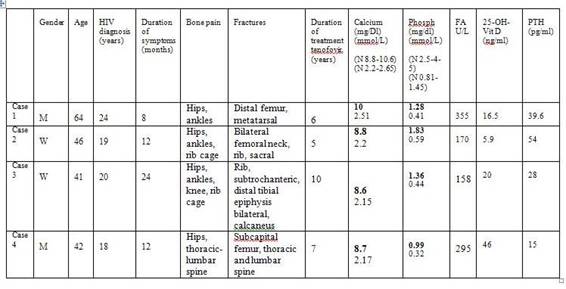 ---
Disclosure:
B. Tejera,
None;
L. Mateo-Soria,
None;
S. Holgado,
None;
L. Mariñoso,
None;
R. Pérez,
None;
A. Bonjoch,
None;
M. Martínez-Morillo,
None;
D. Grados,
None;
A. Olivé,
None.
« Back to 2012 ACR/ARHP Annual Meeting
ACR Meeting Abstracts - https://acrabstracts.org/abstract/hypophosphatemic-osteomalacia-induced-by-tenofovir-in-patients-with-human-immunodeficiency-virus-infection/