Session Information
Session Type: Poster Session A
Session Time: 9:00AM-11:00AM
Background/Purpose: Hypophosphatasia (HPP) is a rare disease characterized by incomplete or defective bone mineralization due to a mutation in the alkaline phosphatase gene (ALPL).  Given the heterogeneity of gene mutation, phenotypes, and mode of inheritance, the disease has several presentations, including femoral and stress fractures, tooth loss, muscle weakness, chondrocalcinosis, nephrolithiasis, chronic pain, and osteoarthropathy, and chronic pain syndromes similar to fibromyalgia (FM). HPP diagnosis is marked by consistently low levels of alkaline phosphatase (ALP), elevated levels of inorganic phosphate, pyridoxal-5'- phosphate, a breakdown product of vitamin B6, phosphoethanolamine, and genetic testing. Although this patient population is prone to fractures and osteoporosis, the use of bisphosphonates is contraindicated due to worsening bone demineralization disease. There are very few case reports showing patients diagnosed with hypophosphatasia were initially misdiagnosed with fibromyalgia however there are no larger studies done on the subject. Our objective was to determine the prevalence of hypophosphatasia in a population of patients diagnosed with fibromyalgia
Methods: We performed a retrospective chart review of all patients 18 years or older at a single academic center diagnosed with FM based on ICD 10 Code "Fibromyalgia" M79.7 and at least one ALP level ≤ 35 were reviewed. Number of consecutively low ALP levels were noted. Gender, age, history of fragility fracture, bone mineral density screening, complete blood counts and medications were reviewed. For patients who have undergone HPP evaluation, genetic testing, and vitamin B6 levels were noted.   
Results: Out of 305 patients diagnosed with fibromyalgia and at least one low ALP level, 57 (19%) had at least 3 consecutively low measurements of ALP ≤ 35 while 12 (4%) of patients had at least 2 consecutively low measurements of ALP ≤25. Mean age was 52 (range 18-94), 41% of patients were female, and 59% were male. Of the patients with at least 3 consecutively low ALP ≤ 35, 23 (40%) had a history of fractures. Fifteen patients had bone density scans: 2 (4%) had normal results, 6(11%) had osteopenia, and 7 (12%) patients had osteoporosis.  No patients had Vitamin B6 levels checked. None of the patients had previous genetic testing for HPP. Of the patients with consistently low ALP levels, 16 (28%) were taking bisphosphonates. 
Conclusion: Up to 19% of FM patients in our population were found to have consistently low levels of ALP and high suspicion for undiagnosed underlying HPP. None of the patients had Vitamin B6 level checked or genetic testing done which suggests the diagnosis was not suspected despite the similarity of clinical symptoms and low ALP levels. It is increasingly important to diagnose these patients with HPP given treatment availability and to avoid bisphosphonate use to prevent worsening bone fragility. Furthermore, our data supports screening for this condition as a part of the initial workup of FM.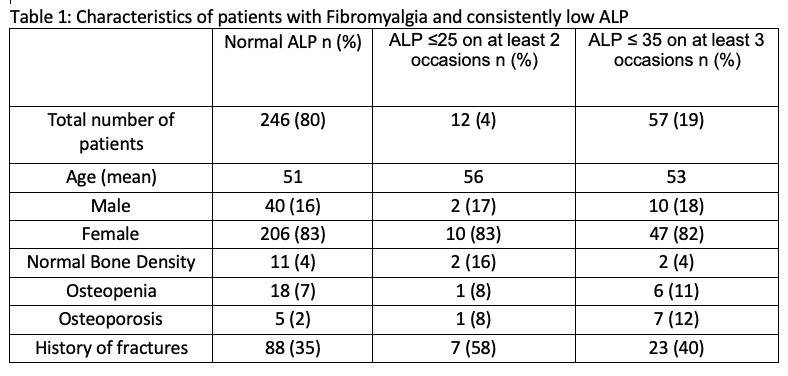 Table 1: Characteristics of patients with Fibromyalgia and consistently low ALP
---
Disclosure: P. Injean, None; S. Lee, None; C. Downey, None.
To cite this abstract in AMA style:
Injean P, Lee S, Downey C. Hypophosphatasia May Be Misdiagnosed as Fibromyalgia: A Single Center Experience [abstract].
Arthritis Rheumatol.
2020; 72 (suppl 10). https://acrabstracts.org/abstract/hypophosphatasia-may-be-misdiagnosed-as-fibromyalgia-a-single-center-experience/. Accessed May 26, 2022.
« Back to ACR Convergence 2020
ACR Meeting Abstracts - https://acrabstracts.org/abstract/hypophosphatasia-may-be-misdiagnosed-as-fibromyalgia-a-single-center-experience/