Session Information
Session Type: Abstract Submissions (ACR)
Background/Purpose: Since the introduction of biological disease-modifying antirheumatic drugs (bDMARDs) and tight control strategies, remission has become a more feasible treatment target for an increasing number of patients. As a result, there is an increased interest in appropriate treatment strategies after achieving disease control, such as bDMARD discontinuation while in remission. However, the outcome of such discontinuation in typical clinical practice has not been widely studied. We conducted a multi-center longitudinal observational study of bDMARD discontinuation while patients were in remission to describe the proportions of RA patients who remain in remission and how treatment or disease activity changes occur after discontinuation.

Methods: We utilized data from the National Database of Rheumatic Diseases by iR-Net in Japan (NinJa) multi-center registry. Patients who used bDMARDs on at least two consecutive visits and had visits in remission defined by the Clinical Disease Activity Index (CDAI) ≤ 2.8 followed by discontinuation of their bDMARDs while in remission were examined. The baseline variables were defined at the first visit off bDMARDs. The outcomes were defined as the rate of all-mode failure as well as the non-mutually exclusive individual modes of failure: reuse of bDMARDs, loss of CDAI remission, intensification of non-biological DMARDs or of oral glucocorticoids.

Results: Among 744 patients who initially achieved remission on bDMARDs, 31 patients discontinued their bDMARDs while remaining in remission and had additional follow up visits. In this 31-patient study cohort, 93.5% were female, the median disease duration was 6.0 [interquartile range 5.0, 9.0], 83.9% discontinued tumor necrosis factor inhibitors, 90.3% discontinued their first bDMARD, 72.4% had reported radiographical erosions. At the baseline, treatments were as follows: methotrexate use 54.8%, non-steroidal antiinflammatory drugs (NSAIDs) use 35.5%, oral glucocorticoid use 45.2% The probability of being free of all-mode failure was 29.0% at 1 year and 24.0% at 2 years. When dissected into individual modes of failure, loss of CDAI remission and reuse bDMARD were approximately 40% at 2 years, whereas non-biological treatment intensification was approximately 10-20%. Regarding changes in the non-biological treatment as non-failures, 35.5% remained in remission without bDMARDs at 1 year, and 29.6% at 2 years.

Conclusion: We found a high rate of failure by the all-mode failure, indicating difficulty of maintaining disease control after discontinuing bDMARDs even in patients who were in CDAI remission. Modification of non-biological treatment was observed in some of the patients who remained in remission. Considering the cost of bDMARDs, such coping strategy to maintain disease control after bDMARD discontinuation may need further investingation.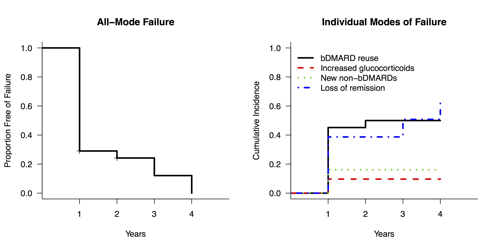 ---
Disclosure:
K. Yoshida,
None;
M. Kishimoto,
Santen Pharmaceutical, Mitsubishi Tanabe Pharma, Pfizer, and Abbott Japan,
8;
H. Radner,
None;
K. Matsui,
None;
M. Okada,
Santen Pharmaceutical, Mitsubishi Tanabe Pharma, Pfizer, and Abbott Japan,
8;
Y. Saeki,
Tanabe-Mitsubishi Pharmaceutical Co., Ltd, Chugai Pharmaceutical Co., Ltd., Janssen Pharmaceutical Co., Ltd., Nippon-Kayaku Co., Ltd., and Nichi-Iko Co., Ltd,
2;
D. H. Solomon,
Eli Lilly, Amgen, and CORRONA,
2,
UpToDate,
7,
Pfizer, Novartis, and Eli Lilly,
6;
S. Tohma,
Pfizer Japan Inc., Eisai Co., Ltd, and Chugai Pharmaceutical Co., Ltd,
2.
« Back to 2014 ACR/ARHP Annual Meeting
ACR Meeting Abstracts - https://acrabstracts.org/abstract/high-rates-of-failure-after-biological-dmard-discontinuation-while-in-remission-in-a-japanese-multi-center-registry/