Session Information
Session Type: ACR Poster Session B
Session Time: 9:00AM-11:00AM
Title: Healthcare Utilization and Direct Medical
Costs of Giant Cell Arteritis
Background/Purpose: Giant cell arteritis (GCA) is the
most common systemic vasculitis in patients aged ≥ 50 years.  Few studies
have evaluated the economic impact of this condition and have been limited to
inpatient-only data sources. Although the majority of healthcare for patients
with GCA is provided as an outpatient, utilization and costs from this
healthcare sector is largely unknown.
Methods: This study utilized a retrospective,
population-based cohort of patients diagnosed with GCA, as defined by 1990 ACR
criteria, in 1982-2009 and a reference cohort of patients without GCA matched
on age, sex, and calendar year from the same population. Standardized cost data
(inflation-adjusted to 2014 dollars) for 1987-2014 and outpatient utilization
data for 1995-2014 were obtained from the Mayo Clinic Cost Data Warehouse and
analyzed from one year before and up to five years after the GCA
diagnosis/index date.  Utilization and costs were compared between GCA and
non-GCA cohorts using signed rank two-tailed paired analyses.
Results: The GCA cohort consisted of 147 patients
(118 female, 29 male) with a mean (±SD) age of 77.2 (±8.2). The non-GCA cohort
comprised 147 patients with a mean (±SD) age of 76.9 (±8.5) years.
During the year preceding diagnosis, excess healthcare cost
related to GCA was only significantly increased in the month immediately
preceding GCA diagnosis [mean (±SD) excess cost $1127 (±5154)].  Following
diagnosis, significant annual excess outpatient cost was observed for patients
with GCA in each of the first four years [mean excess cost (±SD): 0-1 yrs $1307
(±15581), p<0.001; 1-2yrs $908 (±5917), p=0.009; 2-3 yrs $1324 (±4648),
p=0.007; 3-4 yrs $609 (±4596), p=0.04] but was similar between GCA and non-GCA
subjects in the 5th year. There were no significant differences in
inpatient costs between GCA and non-GCA subjects.
Patients with GCA had higher utilization of laboratory visit
days annually for each of the first 3 years following diagnosis, as well as
increased outpatient physician visits and combined radiology for years 0-1,
1-2, and 3-4 years (see figure). Ophthalmologic procedures/surgery were
increased for years 0-1, 1-2, and 4-5. Emergency medicine visits,
musculoskeletal and cardiovascular procedures/surgery were similar between GCA
and non-GCA groups throughout the study period.      
Conclusion: Direct medical costs were increased in
the month preceding and outpatient costs were increased in the first 4 years
following GCA diagnosis and then return to levels similar to non-GCA subjects.
A higher utilization of outpatient physician, laboratory and radiology visits,
as well as ophthalmologic procedures among these patients accounts for the
observed increased cost of care.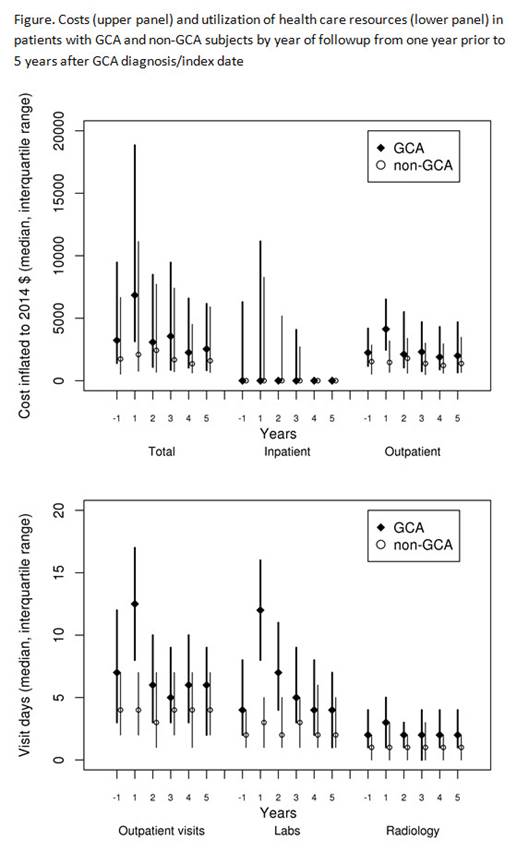 ---
Disclosure: M. J. Koster, None; S. J. Achenbach, None; C. S. Crowson, None; E. L. Matteson, Novartis/Sanofi/Centocor-Jansen/Celgene/Amgen/Roche/Genentech/Mesoblast/Pfizer, 2; H. Maradit Kremers, None; K. J. Warrington, None.
To cite this abstract in AMA style:
Koster MJ, Achenbach SJ, Crowson CS, Matteson EL, Maradit Kremers H, Warrington KJ. Healthcare Utilization and Direct Medical Costs of Giant Cell Arteritis [abstract].
Arthritis Rheumatol.
2015; 67 (suppl 10). https://acrabstracts.org/abstract/healthcare-utilization-and-direct-medical-costs-of-giant-cell-arteritis/. Accessed May 25, 2022.
« Back to 2015 ACR/ARHP Annual Meeting
ACR Meeting Abstracts - https://acrabstracts.org/abstract/healthcare-utilization-and-direct-medical-costs-of-giant-cell-arteritis/