Session Information
Session Type: Poster Session (Monday)
Session Time: 9:00AM-11:00AM
Background/Purpose: Smoking doubles the risk of developing RA, and continuing to smoke after RA diagnosis is associated with worse disease control, treatment failure, and premature mortality. Further, smoking independently contributes to the top three causes of mortality in RA: cardiovascular disease, pulmonary disease, and cancer. Thus, smoking cessation is important for patients with RA. Many sociodemographic and socioeconomic factors are associated with smoking, but factors that predict cessation, especially in patients with RA or chronic disease, are less clear. Identifying factors that predict likelihood of cessation, and populations that are less likely to quit, can help guide interventions. This study evaluated patient and healthcare factors as predictors of smoking cessation in patients with RA.
Methods: Electronic health record (EHR) data were abstracted for patients with at least one rheumatology and one primary care visit and at least two ICD diagnosis codes for RA at least two months apart from two Midwestern health systems (one rural community, one academic) in 2003-2016. Patients without baseline and end of cohort smoking statuses or without six months of follow-up were excluded. Logistic regression was used to determine predictors of smoking cessation.
Results: Overall, 3,577 patients with RA were included, with 14% (n=507) being current smokers at baseline (Figure 1). Among baseline smokers, 71% were seropositive (Table 1). Males and patients ages 40 to 59 were more likely to be current smokers. Current smokers were more likely to have a pulmonary comorbidity and to see primary care than never smokers (25% vs. 16% and 83% vs. 69% respectively; p< 0.01). Black patients were 2.77 times more likely to be current smokers (OR 2.77, CI 1.59, 4.82. p< 0.01) and patients who received Medicaid were over 4 times more likely to be smokers (OR 4.17, CI 3.37, 5.15, p< 0.01).
In this RA cohort, the overall smoking cessation rate was 5.7% per person year. Patients who were new to rheumatology care had 60% higher odds of quitting than patients already in rheumatology care (Adj. OR 1.60 CI 1.02, 2.50, p=0.04; Table 2). Patients in the rural community system were 1.66 times more likely to quit smoking (Adj. OR 1.66, CI 1.03, 2.69, p = 0.04). Odds of quitting increased 15% each year of follow-up (Adj. OR 1.15, CI 1.06, 1.25, p< 0.01). Conversely, seropositive patients were significantly less likely to quit (Adj. OR 0.57, CI 0.35, 0.91; p=0.02). Age, sex, race, ethnicity, and ever receiving Medicaid were not significant predictors of smoking cessation.
Conclusion: Healthcare factors, including health system and being new to rheumatology care, were more predictive of smoking cessation in patients with RA than patient factors, illustrating the importance of healthcare system support in cessation. While all RA patients should receive cessation support, seropositive patients, who are at higher risk for RA progression and mortality, were less likely to quit and may benefit from targeted cessation efforts. Emphasizing smoking cessation after a new RA diagnosis and leveraging system cessation interventions, as done subsequently in the academic system, could improve smoking cessation and outcomes in patients with RA.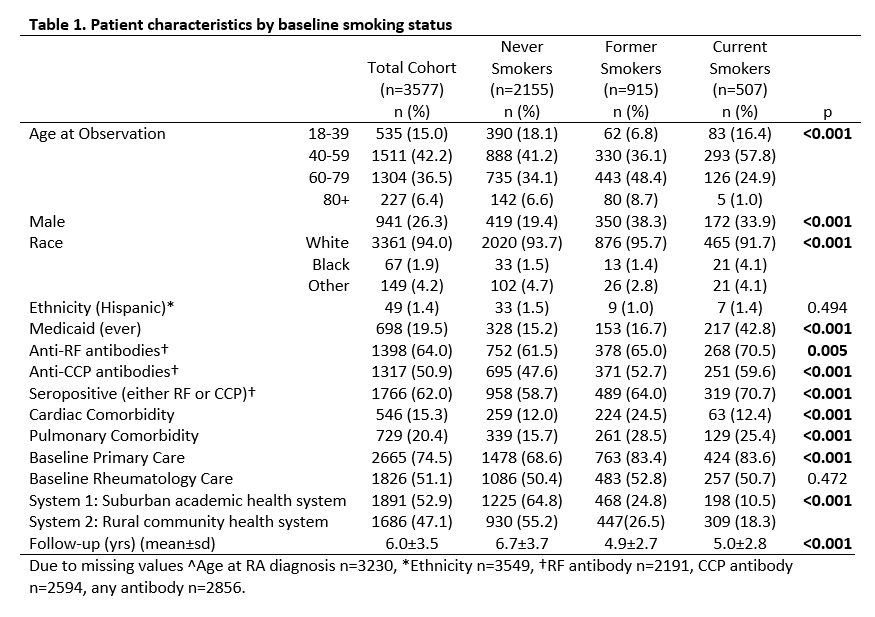 ---
Disclosure: M. Schletzbaum, None; X. Wang, None; R. Greenlee, None; C. Bartels, Pfizer, 2, Pfizer Independent Grants for Learning and Change, 2.
To cite this abstract in AMA style:
Schletzbaum M, Wang X, Greenlee R, Bartels C. Healthcare Factors More Predictive of Smoking Cessation in Patients with Rheumatoid Arthritis Than Patient Characteristics [abstract].
Arthritis Rheumatol.
2019; 71 (suppl 10). https://acrabstracts.org/abstract/healthcare-factors-more-predictive-of-smoking-cessation-in-patients-with-rheumatoid-arthritis-than-patient-characteristics/. Accessed May 11, 2021.
« Back to 2019 ACR/ARP Annual Meeting
ACR Meeting Abstracts - https://acrabstracts.org/abstract/healthcare-factors-more-predictive-of-smoking-cessation-in-patients-with-rheumatoid-arthritis-than-patient-characteristics/