Session Information
Session Type: ACR Abstract Session
Session Time: 4:30PM-6:00PM
Background/Purpose: The morbidity and mortality of osteoporotic fractures threaten our aging population. Despite advances in new therapies for osteoporosis and technology to more effectively communicate, fewer than 20 % of patients who break a bone will receive a medical evaluation and/or treatment for osteoporosis.  Since 2008, Geisinger has operated a Fracture Liaison Service (FLS) termed HiROC (High-Risk Osteoporosis Clinic).  Descriptions of our program and performance have been published (References 1,2,3).  We report our 2017-2018 performance and summarize a decade of successful FLS care. 
Methods: All inpatient HiROC fracture consultations seen by Rheumatology at Geisinger Medical Center-Danville or Geisinger Wyoming Valley- Wilkes Barre from 1/1/2017 through 12/31/2018 were identified in our database. An excel spreadsheet was constructed and the following demographic and clinical variables were extracted: mean age; sex; fracture site; Geisinger Health Plan (GHP) insurance ( %); early death (up to 6 months post-fracture); later death ( > 6 months post-fracture); osteoporosis treatment given. Specifically, we were held 'responsible' to initiate treatment in a High-Risk patient if they were seen in our outpatient HiROC clinical pathway post-discharge and did not have a medical contraindication, as this is the highest quality metric in post-fracture care. We report the outcomes of this retrospective analysis and summarize our first decade of HiROC care and performance.
Results: 740 inpatient consultations were seen, of which 74 % were women and 26 % men. Fracture sites were hip (femoral neck or intertrochanteric) 77.6 %; vertebrae 5.3 %; distal femur 3.5 %; mid shaft/subtrochanter 2.8 %; pelvis 2.4 %; wrist 1.9 %; periprosthetic 1.9 %; and other 4.6 %. Early deaths comprised 14 % of cohort and 7 % were later deaths. HiROC followup was accepted by 336 patients, 45 % of cohort. Of 288 patients drug eligible, 207/288 patients or 72 % of HiROC followed patients were initiated on an FDA-approved medication. Treatments utilized included intravenous zoledronic acid in 73 (35 %); oral bisphosphonates in 70 (34 %); denosumab in 54 (26 %); and anabolic agents in 10 (5 %). GHP insurance accounted for 256 (35 %) of entire cohort (Tables 1,3).
Conclusion: Geisinger HiROC reports treatment in 72 % of post-fracture patients who were followed in their outpatient clinical pathway. Prior performance analyses show HiROC treatment rates of 75-80 % (Table 2).  Despite our program's maturity, we face several ongoing barriers: patient activation/engagement and fear of FDA-approved medications; access to and/or cost of parenteral medications or anabolic agents; and inability to use database to capture care gaps in real time and correct/solve them.  We hope that our work will inspire others in rheumatology to implement FLS care.
References: 1) Olenginski, TP et al. HiROC: improving osteoporosis and postfracture care with an organized, programmatic approach. Osteoporos Int 2015;26(2):801-810. 2) Dunn P et al. Geisinger HiROC: 2013-2015 FLS performance analysis. Osteoporos Int 2018; 29(2):451-457. 3) Olenginski TP et al. HiROC performance measurements:2016, presented at ISO/NOF meeting 2017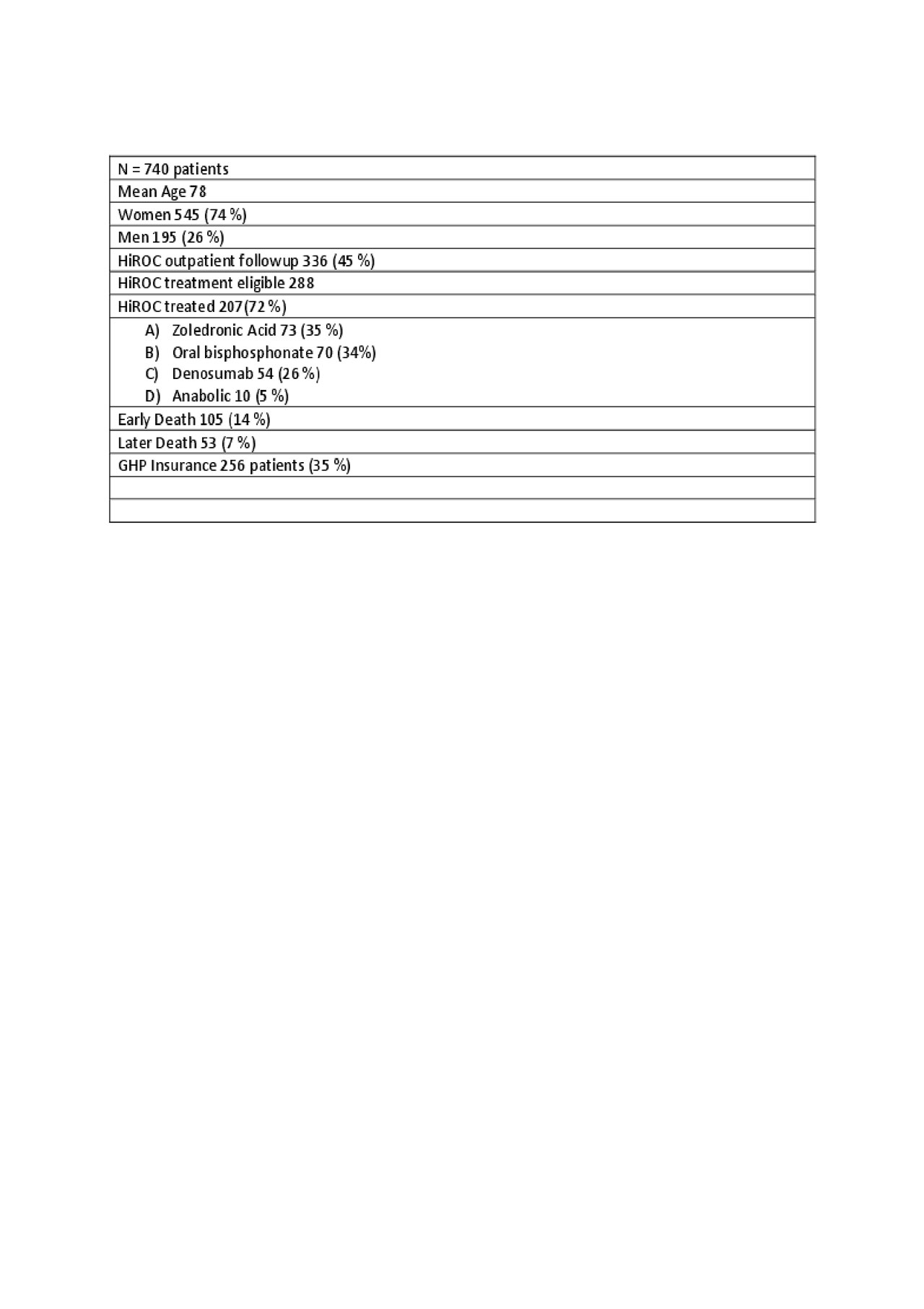 ACR 2019 abstract table 1 rev2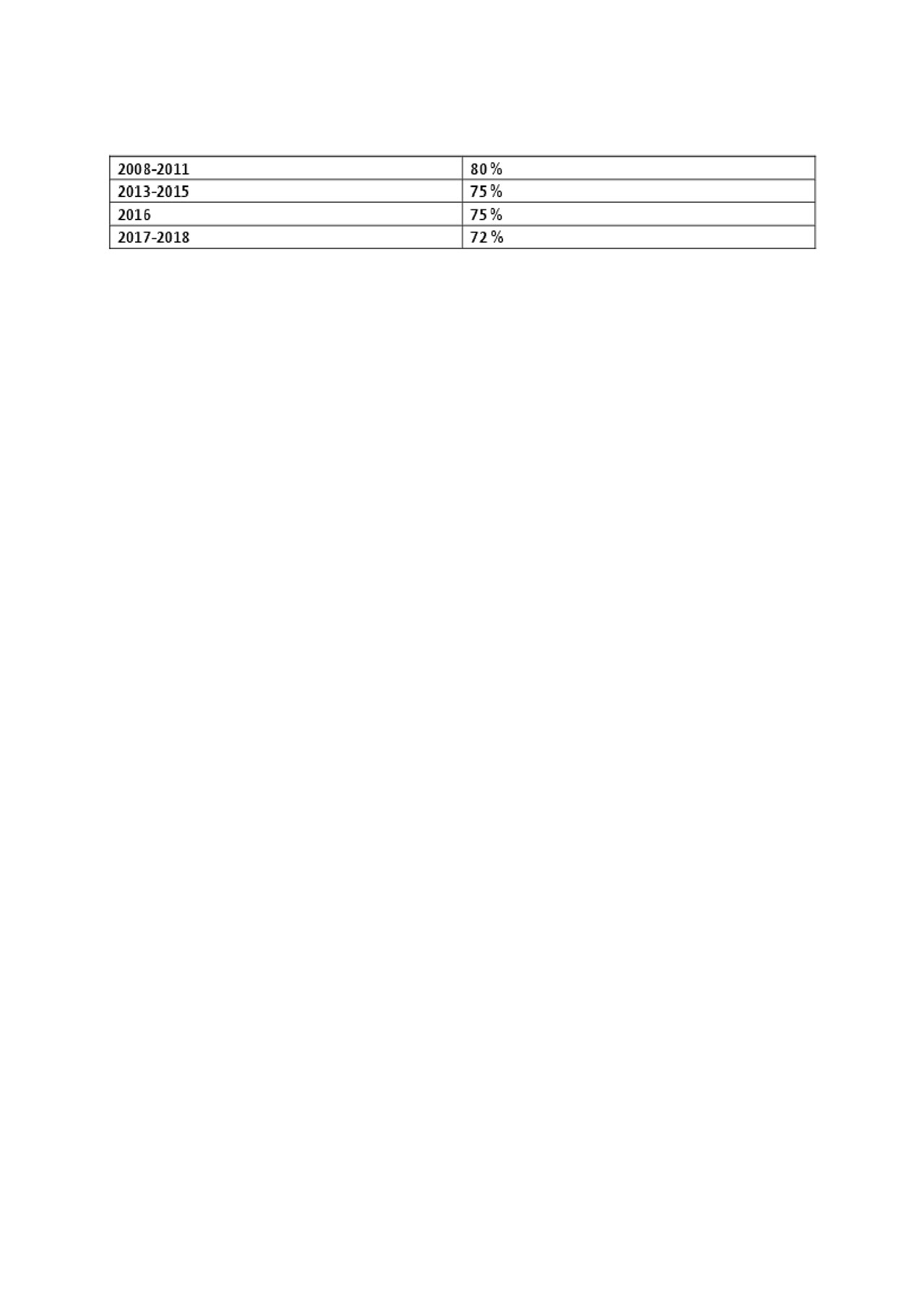 ACR 2019 abstract Table 2

ACR Table 3
---
Disclosure: T. Olenginski, Amgen, 8, Radius, 8; K. Mackiewicz, None.
To cite this abstract in AMA style:
Olenginski T, Mackiewicz K. Geisinger HiROC Performance 2017-2018: Continuing to Narrow the Post-Fracture Treatment Gap [abstract].
Arthritis Rheumatol.
2019; 71 (suppl 10). https://acrabstracts.org/abstract/geisinger-hiroc-performance-2017-2018-continuing-to-narrow-the-post-fracture-treatment-gap/. Accessed September 30, 2022.
« Back to 2019 ACR/ARP Annual Meeting
ACR Meeting Abstracts - https://acrabstracts.org/abstract/geisinger-hiroc-performance-2017-2018-continuing-to-narrow-the-post-fracture-treatment-gap/