Session Information
Session Type: ACR Concurrent Abstract Session
Session Time: 4:30PM-6:00PM
Background/Purpose: The 2015 ACR/AHRP Workforce Study examined the adequacy of the future supply of and demand for rheumatology services in the U.S. Understanding the role that GME plays in training, recruitment, and bridging the gap in excess demand for pediatric rheumatology services was a critical component.
Methods: The 2015 ACR/ARHP Workforce Study was completed using several data sources including ACR member data, state licensure registries, ABP certificates, AAMC, ACGME, and National Matching Registry Program data and the ACR Workforce Survey. Significant factors affecting demand included healthcare utilization, practice trends, disease prevalence, population demographics, per capita income, and access to care trends. Clinical FTE was defined as 1.0 FTE for private practice and 0.5 FTE for academic practice. It was assumed 5% of the workforce was in private practice vs. 95% in academic practice. Regional practice patterns were also analyzed.
Results: According to ACGME, there are 34 pediatric rheumatology programs; currently up to 40 training slots are offered annually that are 3 years in length (Table 1). Of the 3,301 general pediatric residents graduating annually, 31% enter fellowships but only 0.7% choose rheumatology. More than half (68%) of all pediatric rheumatologists are female. Of the 30% international medical graduate (IMG) fellows, 76% plan to practice in the U.S. On average, approximately 30-45% of the first year fellowship positions go unfilled with another 3.9% not graduating. By 2030, there is an anticipated 20% reduction in workforce (n=231) will result in an almost two-fold in excess demand (n=461).
Conclusion: The current U.S. pediatric rheumatology workforce is in jeopardy of accelerated decline due to inadequate productivity and increased attrition. GME future challenges include an increased unfilled positions rate, loss of 25% IMGs to practice outside the US, regional misdistribution, projected retirement rates, and increased percent women, many of whom indicate choosing part time work. Increasing training slots alone is unlikely to be effective. Innovation through GME efforts to bridge the excess demand gap is critical and may include loan repayment, recruitment incentives, further evaluation of GME requirements, IMG practice recruitment strategies, in addition to other mechanisms to improve access to care. Efforts targeting recruitment of pediatric trainees are essential to increase interest and commitment to GME in this underserved field. Table 1. Pediatric Rheumatology Fellows Trend Data
Pediatric
2010
2011
2012
2013
2014
2015
Programs
# Programs
20
23
21
30
29
30
Positions
# Positions
24
27
27
36
38
40
# Filled
13
14
15
18
26
22
# Unfilled
11
13
12
18
12
18
Applicants
# Applicants
18
18
19
21
30
27
# Matched
13
14
15
18
26
22
# Unmatched
5
4
4
3
4
5
Source: The MATCH: National Resident Matching Program. 2014 Appointment Year19-20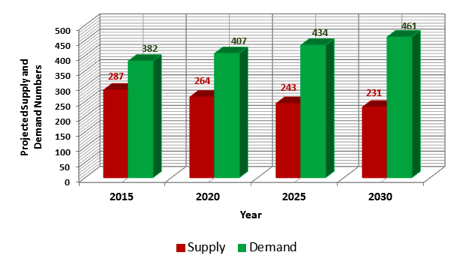 ---
Disclosure: L. Imundo, None; M. B. Bolster, None; S. Monrad, None; D. Battafarano, None; M. Klein-Gitelman, None; J. S. Hausmann, None; M. Ditmyer, None.
To cite this abstract in AMA style:
Imundo L, Bolster MB, Monrad S, Battafarano D, Klein-Gitelman M, Hausmann JS, Ditmyer M. Future Challenges in Pediatric Rheumatology: The Role of Graduate Medical Education (GME) [abstract].
Arthritis Rheumatol.
2016; 68 (suppl 10). https://acrabstracts.org/abstract/future-challenges-in-pediatric-rheumatology-the-role-of-graduate-medical-education-gme/. Accessed December 2, 2021.
« Back to 2016 ACR/ARHP Annual Meeting
ACR Meeting Abstracts - https://acrabstracts.org/abstract/future-challenges-in-pediatric-rheumatology-the-role-of-graduate-medical-education-gme/