Session Information
Session Type: ACR Poster Session B
Session Time: 9:00AM-11:00AM
Background/Purpose:
Childhood-Onset Systemic Lupus Erythematosus (cSLE) is a chronic, multi-system autoimmune disease. In addition to active inflammation, cSLE may result in irreversible damage to affected tissues: up to 58% of children will demonstrate evidence of organ damage by 5 years after diagnosis. The Systemic Lupus Collaborating Clinics-Damage Index (SDI) lists 41 damage items, and is the only widely used measure of damage in patients with cSLE. As the index was originally created to reflect damage seen in adults, we sought to find the frequency of SDI items in three cSLE cohorts, and determine if a reduction in the number of items might be justified for cSLE.
Methods:
The United Kingdom Juvenile-onset SLE Cohort Study (UK) is a longitudinal cohort of 350 cSLE patients (1,375 visits), with a mean follow-up of 4 years. Additionally, the Cincinnati ChildrenÕs cSLE registry (Cincinnati) includes data from 163 patients (243 visits). Finally, the Pediatric Rheumatology International Trials Organization (PRINTO) cSLE cohort includes data from 559 patients (1,832 visits), with mean follow-up of 3 years. Gender distribution, as well as mean and standard deviation for age at diagnosis, disease duration, and final-visit SDI score were determined for each cohort, and the combined dataset. Age at onset, disease duration, and mean SDI score were tested for differences between cohorts via one-way ANOVA. Frequency of each SDI item was also determined, in individual cohorts and overall.
Results: See table for detailed results. Mean age at diagnosis was significantly higher in the Cincinnati cohort (14.45 vs. 11.98 for PRINTO and 12.02 for UK, p < 0.0001), as was mean disease duration (6.05 years vs. 3.46 for PRINTO and 3.82 for UK, p< 0.0001). Mean final-visit SDI score was significantly lower in the UK cohort (0.56 vs. 0.92 for Cincinnati and 1.16 for PRINTO, p < 0.0001). The mean SDI of the combined dataset was 0.93, while 602 patients (56.2%) had a final-visit SDI of zero. When SDI item scores were considered, pulmonary infarct was the only item absent from all cohorts. When all datasets were combined, an additional 17 items were found to have occurred in fewer than 1% of the 1,072 patients, with 4 occurring in only a single case (tendon rupture, angina, myocardial infarct, and mesenteric insufficiency). The most common item in the combined dataset was proteinuria, (found in 103 patients or 9.6%), followed by alopecia (96 patients, 8.9%), and cognitive impairment (91 patients, 8.49 %).
Conclusion:
While many items are relatively rare (occurring in less than 1% of patients), all but one were observed at least once in the combined dataset. This is particularly noteworthy given the relatively brief disease duration (between 3.5 and 6.1 years), and diversity of manifestations described in the SDI. Our analyses do not support a substantial reduction in the number of SDI items considered for cSLE, but do underscore the rarity of many items in childhood-onset disease.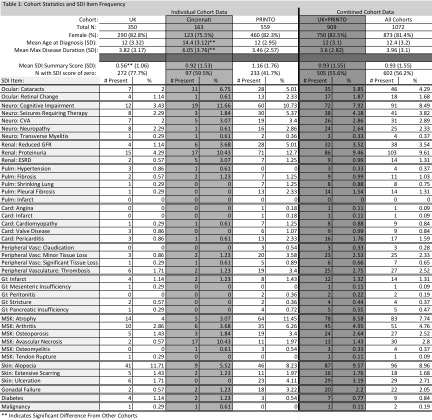 ---
Disclosure: M. J. Holland, NIH, 2; M. W. Beresford, None; N. Ruperto, Abbott, BMS, "Francesco Angelini", GlaxoSmithKline (GSK), Hoffman-La Roche, Italfarmaco, Janssen, Novartis, Pfizer, Sanofi Aventis, Schwarz Biosciences, Sobi, Xoma and Wyeth, 2,Abbott, AbbVie, Amgen, Biogenidec, Astellas, Alter, AstraZeneca, Boehringer, BMS, CDPharma, Celgene, CrescendoBio, EMD Serono,Hoffman-La Roche, Italfarmaco, Janssen, MedImmune, Medac, Novartis, Novo Nordisk, Pfizer, Sanofi Aventis, Servier, Takeda and Ver, 8; A. Watts, None; K. Wiley, None; E. Cortis, None; S. Ozen, None; O. Porras, None; F. Sztajnbok, None; M. Apaz, None; H. I. Brunner, NIH, 2.
To cite this abstract in AMA style:
Holland MJ, Beresford MW, Ruperto N, Watts A, Wiley K, Cortis E, Ozen S, Porras O, Sztajnbok F, Apaz M, Brunner HI. Frequency of the Systemic Lupus Collaborating Clinics- Damage Index Items in Three Registries of Childhood-Onset Systemic Lupus Erythematosus [abstract].
Arthritis Rheumatol.
2016; 68 (suppl 10). https://acrabstracts.org/abstract/frequency-of-the-systemic-lupus-collaborating-clinics-damage-index-items-in-three-registries-of-childhood-onset-systemic-lupus-erythematosus/. Accessed December 5, 2020.
« Back to 2016 ACR/ARHP Annual Meeting
ACR Meeting Abstracts - https://acrabstracts.org/abstract/frequency-of-the-systemic-lupus-collaborating-clinics-damage-index-items-in-three-registries-of-childhood-onset-systemic-lupus-erythematosus/