Session Information
Session Type: Abstract Session
Session Time: 5:00PM-5:50PM
Background/Purpose: Relief of symptoms is a sine qua non for successful drug development in Sjӧgren's syndrome (SS). However, symptom-based patient experience is understudied, particularly how these symptoms cluster in patients, potentially impacting immunosuppressive agent selection or outcome definitions. Recently, 4 distinct symptom-based groups with unique ESSDAI and lab profiles were identified by analyzing the UK Primary SS Registry cohort of 608 patients (Tarn et al. 2019). Our objective was to determine the generalizability of these findings in a larger US population and report medication use, quality of life, symptoms, and systemic manifestations unique to these clusters.
Methods: A survey, conducted by the Sjӧgren's Foundation, was completed by 2,961 adults with self-reported SS. Unsupervised hierarchical clustering was applied using Ward's method to identify the optimal phenotypically similar clusters based on self-reported severity of: 1) anxiety (never-daily), 2) depression (never-daily), 3) pain (visual analogue scale [VAS] 0-10), 4) fatigue (VAS), and 5) dryness (VAS). We tabulated demographic features, medications, quality of life, and SS-specific symptom frequency and systemic manifestations within each cluster. We used ANOVA or Chi-square to identify cluster differences, controlling for age, sex, race, and social security disability (SSD).
Results: The analysis yielded 4 clusters among 2,806 participants with complete data on the 5 key symptoms (Figure 1), as previously described. Clusters were characterized by low symptom burden (LSB; 14% prevalence) and high symptom burden (HSB; 30%) in all categories; high dryness and fatigue but low anxiety and depression (HDF; 34%) and high anxiety and depression but low dryness and fatigue (HAD; 22%). Diagnosis age and sex were similar but SSD significantly differed between clusters (1% in LSB and 15% in HSB) (Table). Analgesic use was significantly different between groups and highest in the HSB group (35% used opioids). HSB and HDF groups used more prescription eye drops (54% and 51%) and secretagogues (39% both), than other groups. Significant differences in systemic medication use included highest corticosteroid use in the HSB group (22%) and HCQ use in the HAD group (47%).The HSB group had more emotional burden (94%) than the LSB group (43%). The groups differed in all SS-specific symptoms (Figure 2A). Systemic manifestations differed significantly by clusters for inflammatory arthritis, interstitial lung disease, and neuropathy, but other systemic manifestations, like leukopenia and lymphoma, demonstrated no difference (Figure 2B).
Conclusion: We verified the observation by Tarn et al. that 5 key symptoms can define 4 distinct clusters in SS patients. The HSB group is associated with more disability, symptomatic medication use, SS-specific symptoms and lower quality of life, but not as consistently with systemic manifestations. Findings highlight unique SS disease cluster profiles independent of age, sex, and some classical disease manifestations. We propose future phenotypic cluster research to better define subsets of this heterogeneous disease, and ultimately inform targeted therapies.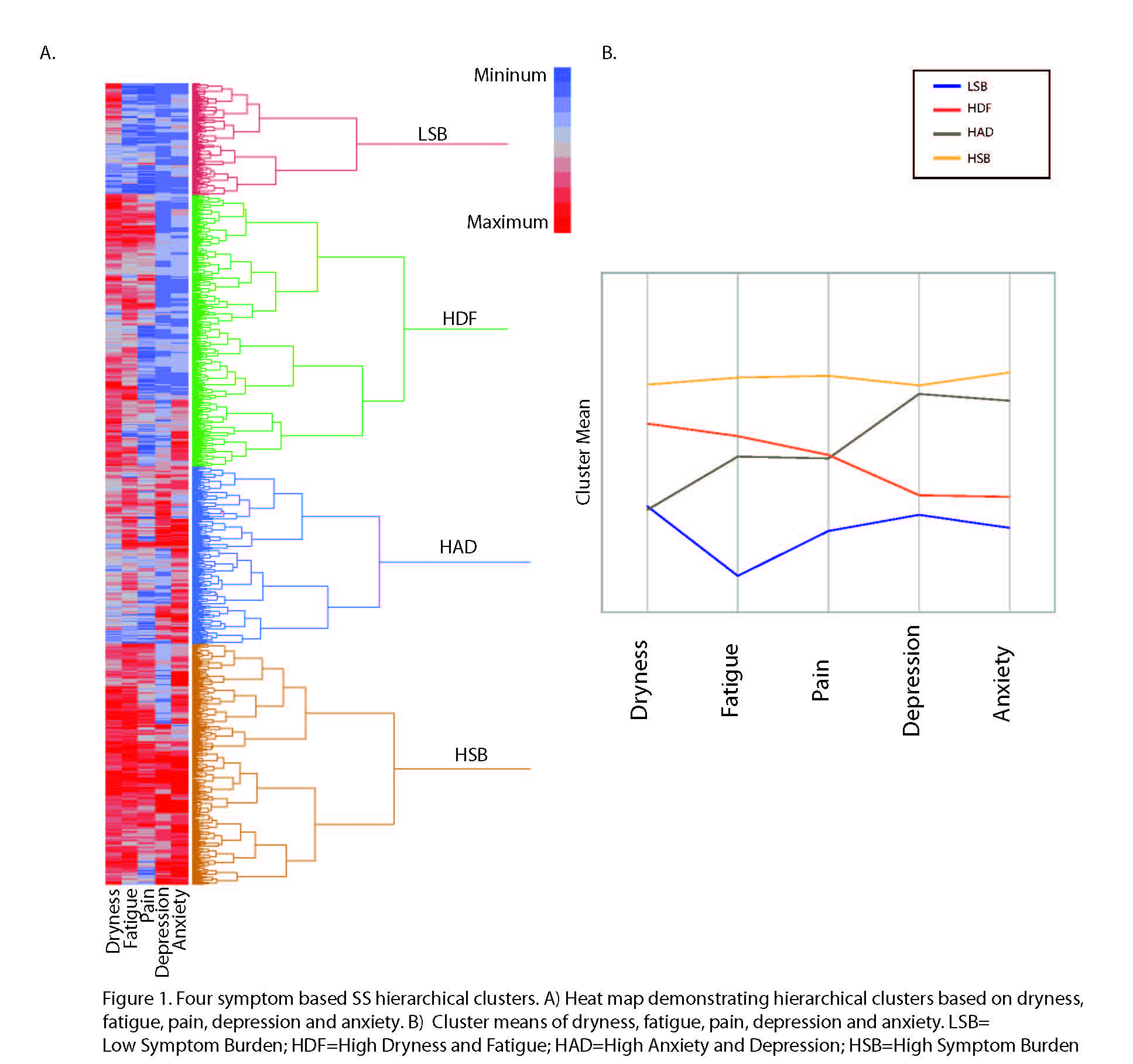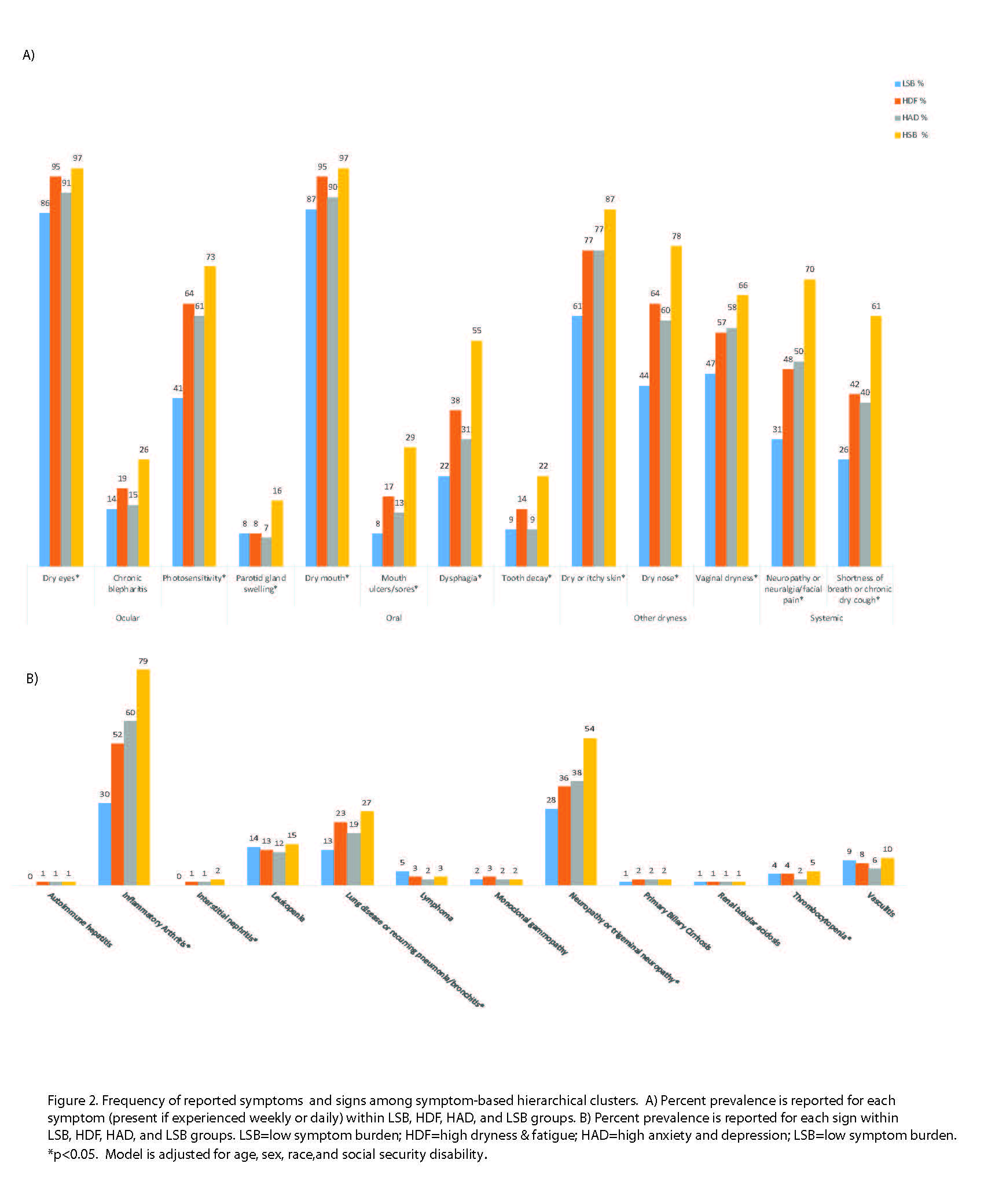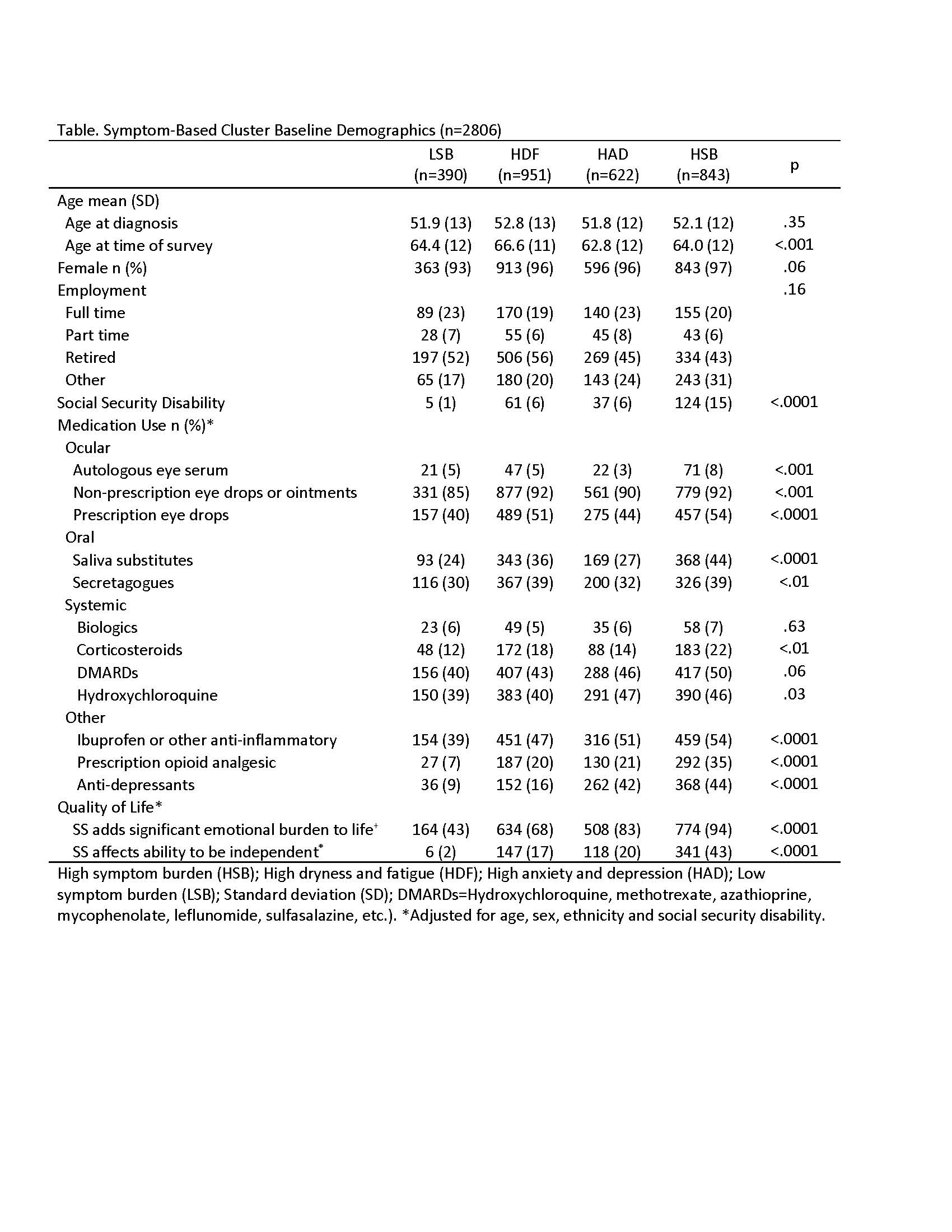 ---
Disclosure: S. McCoy, Bristol-Myers Squibb, 1, Novartis, 1; C. Bartels, Independent Grants for Learning and Change (Pfizer), 2; M. Woodham, None; N. Maerz, None; E. Akpek, None; I. Saldanha, None; M. Makara, None; A. Baer, Bristol Myers Squibb, 5, Sanofi, 5.
To cite this abstract in AMA style:
McCoy S, Bartels C, Woodham M, Maerz N, Akpek E, Saldanha I, Makara M, Baer A. Four Distinct Symptom-Based Clusters Identified from the Sjӧgren's Foundation Survey [abstract].
Arthritis Rheumatol.
2020; 72 (suppl 10). https://acrabstracts.org/abstract/four-distinct-symptom-based-clusters-identified-from-the-sj%d3%a7grens-foundation-survey/. Accessed September 17, 2021.
« Back to ACR Convergence 2020
ACR Meeting Abstracts - https://acrabstracts.org/abstract/four-distinct-symptom-based-clusters-identified-from-the-sj%d3%a7grens-foundation-survey/