Session Information
Session Type: ACR Poster Session A
Session Time: 9:00AM-11:00AM
Background/Purpose: Long-term apremilast (APR) efficacy and safety were evaluated for up to 5 yrs in adults with active PsA in the phase III PALACE 1-3 studies.
Methods: Subjects were randomized (1:1:1) at baseline (BL) to placebo (PBO), APR 30 mg BID (APR30), or APR 20 mg BID (APR20). PBO subjects were re-randomized (1:1) to APR30 or APR20 at Wk 16 (early escape) or Wk 24. Double-blind APR treatment continued to Wk 52; subjects could continue APR during an open-label, long-term treatment phase for up to an additional 4 yrs. Efficacy and safety were assessed and reported as observed.
Results: A total of 1,493 subjects were randomized and received ≥1 dose of study medication (PBO: n=496; APR30: n=497; APR20: n=500). Of those randomized to APR30 at BL, 44.5% (221/497) completed 260 wks of treatment. Among APR30 subjects entering Wk 52, 63.2% (331/524) completed 260 wks, regardless of when APR was started (BL, Wk 16, or Wk 24). At Wk 52, ACR20/50/70 response rates were 55.3%/26.1%/11.9% for APR30 subjects. Sustained response rates were observed with continued APR30 treatment at Wk 260 (Table). Marked swollen joint count improvements were seen, with a mean percent reduction of 82.3% at Wk 260; tender joint count reduction was 72.7%. At Wk 260, 62.4% (136/218) of APR30 subjects with BL enthesitis achieved a Maastricht Ankylosing Spondylitis Enthesitis Score of 0; 80.9% (114/141) with BL dactylitis achieved a dactylitis count of 0. A HAQ-DI minimal clinically important difference of ≥0.35 was achieved by 52.6% of APR30 subjects at Wk 260; 60.4% achieved low disease activity or remission, defined as a Clinical Disease Activity in Psoriatic Arthritis score ≤13. Sustained improvements in psoriatic skin involvement were observed with continued treatment at Wk 260 in APR30 subjects with ≥3% BL body surface area involvement, with 65.8% (98/149) and 43.6% (65/149) of subjects, respectively, achieving ≥50%/≥75% reductions from BL Psoriasis Area and Severity Index score. APR 20 results were similar (Table). Consistent efficacy results were seen across the individual studies. During the 0- to ≤52-wk APR-exposure period, adverse events (AEs) occurring in ≥5% of APR30-exposed subjects were diarrhea, nausea, headache, upper respiratory tract infection, and nasopharyngitis. Most diarrhea and nausea AEs were reported within the first 2 wks of treatment and usually resolved within 4 wks; gastrointestinal AE frequency decreased with longer APR30 exposure, and frequency of other common AEs decreased/remained stable with prolonged exposure. Serious AE rate during Wks >208 to ≤260 was 5.8%, consistent with earlier periods.
Conclusion: APR demonstrated sustained, clinically meaningful improvements in PsA signs/symptoms, physical function, and associated psoriasis in the subjects continuing treatment over 5 yrs. APR continued to demonstrate a favorable safety profile and was generally well tolerated at 5 yrs.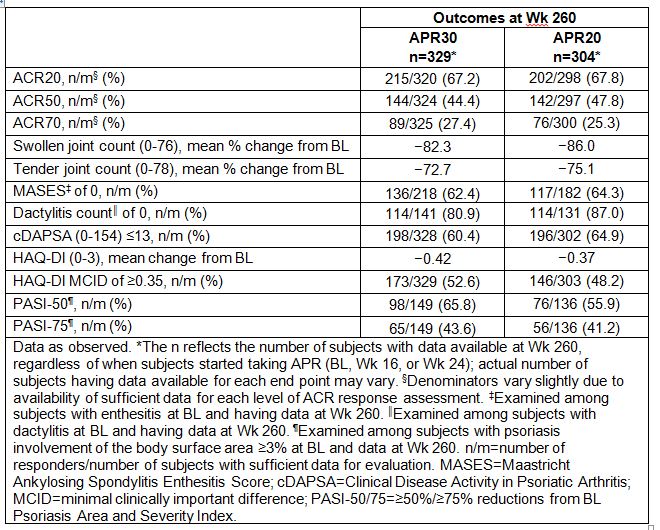 ---
Disclosure: A. Kavanaugh, Abbott, Amgen, AstraZeneca, BMS, Celgene Corporation, Centocor-Janssen, Pfizer, Roche, UCB, 2; D. D. Gladman, AbbVie, Amgen, BMS, Celgene Corporation, Janssen, Novartis, Pfizer, UCB, 2, 5; C. J. Edwards, Celgene Corporation, Pfizer, Roche, Samsung, 2, 5,Abbott, GSK, Pfizer, Roche, 8; G. Schett, Abbott, Celgene Corporation, Roche, UCB, 2, 5; B. Guerette, Celgene Corporation, 3; N. Delev, Celgene Corporation, 3; L. Teng, Celgene Corporation, 3; M. Paris, Celgene Corporation, 3; P. J. Mease, Abbott, Amgen, Biogen Idec, BMS, Celgene Corporation, Eli Lilly, Genentech, Janssen, Novartis, Pfizer, Roche, UCB, 2, 5,Abbott, Amgen, Biogen Idec, BMS, Eli Lilly, Genentech, Janssen, Pfizer, UCB, 8.
To cite this abstract in AMA style:
Kavanaugh A, Gladman DD, Edwards CJ, Schett G, Guerette B, Delev N, Teng L, Paris M, Mease PJ. Five-Year Efficacy and Safety of Apremilast Treatment in Subjects with Psa: A Pooled Analysis of the 3 Phase III Studies [abstract].
Arthritis Rheumatol.
2018; 70 (suppl 9). https://acrabstracts.org/abstract/five-year-efficacy-and-safety-of-apremilast-treatment-in-subjects-with-psa-a-pooled-analysis-of-the-3-phase-iii-studies/. Accessed December 9, 2022.
« Back to 2018 ACR/ARHP Annual Meeting
ACR Meeting Abstracts - https://acrabstracts.org/abstract/five-year-efficacy-and-safety-of-apremilast-treatment-in-subjects-with-psa-a-pooled-analysis-of-the-3-phase-iii-studies/