Session Information
Session Type: ACR Poster Session B
Session Time: 9:00AM-11:00AM
Background/Purpose: Stiffness is a hallmark of RA, but little is known about the etiology. We investigated stiffness association with RA disease activity and determined whether synovial histologic features are associated with stiffness severity or stiffness duration.
Methods: 194 patients with RA meeting ACR criteria undergoing arthroplasty were included (Table 1). Morning stiffness duration was determined using the RADAI question, "Were your joints stiff when you woke up today? If yes, how long did the stiffness last?"; "no stiffness, <30 min, 30-60 mins, 1-2 hrs, 2-4 hrs, >4 hrs, all day". Stiffness severity was measured by the OMERACT Flare question, "How severe was your stiffness over the past week" on a 10 point Likert scale. Histopathology of synovium was scored for 10 features: synovial lining hyperplasia, lymphocytes, plasma cells, Russell bodies, binucleate plasma cells, fibrin, synovial giant cells detritus, neutrophils and mucin. Severity was modeled as a continuous outcome and duration was modeled as a binary outcome using < 30 mins vs ≥ 30 mins. Simple regression models were performed to examine the association between DAS28-ESR and RAPID3, with severity and duration. Multivariable regression models were performed with (either DAS28-ESR or RAPID3) and the following clinical variables: age, gender, BMI, duration of diagnosis, anti-CCP, and RF. Chi-squared or Fisher's exact test was used to test the association between 10 histology features and morning stiffness outcomes. FDR-adjusted p-values were reported to correct for multiple comparisons.
Results: Morning stiffness duration of greater than 30 minutes was significantly associated with both DAS28-ESR (OR: 1.79 [1.26, 2.55], p value =0.001) and RAPID3 (OR: 1.17 [1.06, 1.29], p value =0.002) and remained significantly associated after incorporating age, gender, BMI, duration of diagnosis, anti-CCP and RF. Stiffness severity was also significantly associated with both DAS28 (β=0.51, p value =0.006) and RAPID3 (β =0.29, p value <0.0001) and remained significantly associated after incorporating age, gender, BMI, duration of diagnosis, anti-CCP, and RF into the model. After adjusting for multiple comparisons, neutrophils (Padj=0.005) and fibrin (Padj=0.005) were significantly associated with greater than 30 minutes of morning stiffness. None of the 10 synovial features examined were significantly associated with stiffness severity.
Conclusion: Both stiffness severity over the past week and duration of morning stiffness were significantly associated with the disease activity measurement instruments, DAS28 and RAPID3. Fibrin deposition and neutrophil infiltration are associated with the duration of morning stiffness in RA, suggesting acute synovial inflammation and relatively recent or ongoing neutrophil recruitment may play a role in the pathogenesis of this symptom.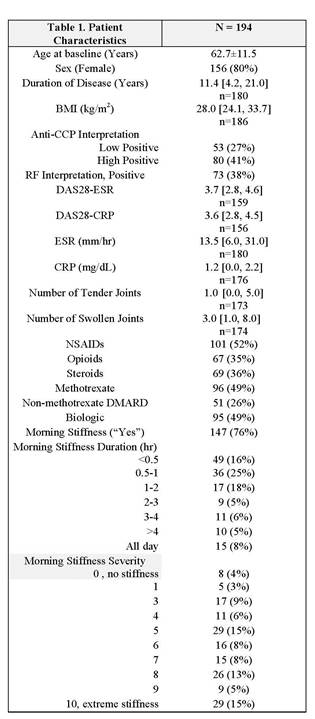 ---
Disclosure: D. Orange, None; C. Jiang, None; E. F. DiCarlo, None; T. Pannellini, None; L. T. Donlin, None; S. Z. Mirza, None; M. P. Figgie, None; V. P. Bykerk, None; A. M. Orbai, None; S. Mackie, PMRGCAuk, 6,PMR and GCA North East, 6,Sanofi, 5,GSK, 5; S. M. Goodman, Roche, Novartis, 4.
To cite this abstract in AMA style:
Orange D, Jiang C, DiCarlo EF, Pannellini T, Donlin LT, Mirza SZ, Figgie MP, Bykerk VP, Orbai AM, Mackie S, Goodman SM. Fibrin Deposition and Neutrophil Infiltration of Rheumatoid Arthritis Synovium Are Associated with Duration of Morning Stiffness [abstract].
Arthritis Rheumatol.
2018; 70 (suppl 10). https://acrabstracts.org/abstract/fibrin-deposition-and-neutrophil-infiltration-of-rheumatoid-arthritis-synovium-are-associated-with-duration-of-morning-stiffness/. Accessed January 18, 2022.
« Back to 2018 ACR/ARHP Annual Meeting
ACR Meeting Abstracts - https://acrabstracts.org/abstract/fibrin-deposition-and-neutrophil-infiltration-of-rheumatoid-arthritis-synovium-are-associated-with-duration-of-morning-stiffness/