Session Information
Session Type: Poster Session D
Session Time: 9:00AM-11:00AM
Background/Purpose: We aimed to evaluate the experience of pregnant rheumatology patients during the peak of the COVID-19 pandemic in New York City.
Methods: We emailed a secure web-based survey to 26,045 patients aged ≥18 years who were evaluated at least once by a rheumatologist from April 1, 2018-April 1, 2020 at a tertiary academic center in New York City. Patients received three secure e-mail invitations to complete the survey; a subset of patients with missing or incorrect e-mails were contacted by telephone. We collected detailed information including COVID-19 exposure and symptoms, rheumatic disease history and medications, sociodemographic factors, and 5 domains from the PROMIS-29 to assess psychosocial factors. We requested pregnancy data from any women aged 18 to 50. Women were asked to indicate pregnancy status on January 1, 2020 or at the time of survey completion. T-tests and Chi-square tests were used when appropriate to compare pregnant and non-pregnant patients.
Results: 6,908 patients responded to our survey overall, of whom 1,510 were women aged 18 to 50 (22%). 61/1,510 (4%) were either pregnant on January 1, 2020 or pregnant at the time of completing the survey. Mean age of the 61 pregnant women was 36.1±4.9 years, 74% were white, 85% not Hispanic or Latino, and 88% were married/partnered (p < 0.001). Pregnant survey respondents were significantly younger, more likely to be married, have higher household income, and less likely to be Hispanic than non-pregnant patients (Table 1).Although fewer pregnant women took biologics, DMARDs, or corticosteroids the differences were not significant.Nearly one-third of patients in both groups reported taking antimalarials in the previous 6 months. Both groups lived with an average of 2.3 other people, and a similar percent had confirmed or suspected COVID-19 (by positive nasopharyngeal PCR test or physician indicated) (8% and 11%). Among patients who were employed, significantly more pregnant patients indicated a high risk of COVDI-19 exposure at work. Depression and pain interference were significantly worse in non-pregnant patients based on PROMIS-29 scores, but not clinically significant(Table 2).In the pregnancy group, 57% noted changes to prenatal OB/GYN care during the COVID-19 pandemic; in-person OB/GYN visits were rescheduled to telemedicine visits (28%) and some in-person OB/GYN visits were cancelled and not rescheduled (16%). By the time of survey completion, 22/61 pregnancies were complete, with a mean gestational age of 38.1±1weeks. Pregnancy outcomes included: 10 (45%) vaginal deliveries, 5 (23%) C-Sections, and 3 (14%) miscarriage/termination. 23% of women who delivered stated the pandemic affected their deliveries, with the most frequent reason being no visitors permitted in the hospital or spouses needing to depart shortly after delivery (Table 3).
Conclusion: During the peak of the COVID-19 pandemic in New York City, pregnant rheumatology patients had unique experiences that influenced their prenatal OB/GYN care and pregnancy experience. Future longitudinal studies will investigate the underlying risk factors and impact of the COVID-19 pandemic on pregnancy outcomes in rheumatic disease patients.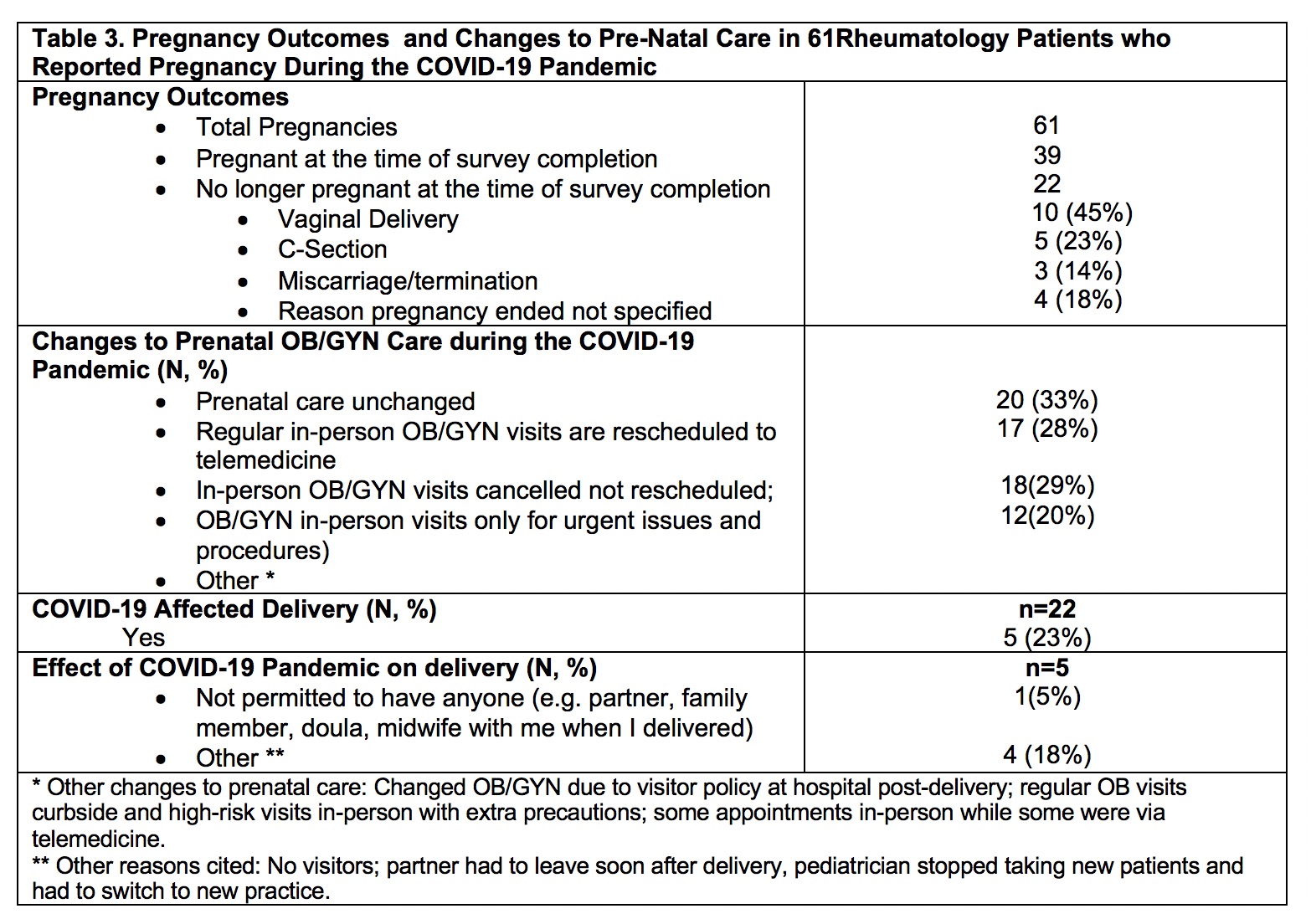 ---
Disclosure: B. Stamm, None; G. Vitone, None; M. Frey, None; J. Vega, None; J. Salmon, UCB, 1, 2, BMS, 1, 2, Abbott, 1, Pfizer, 1, Johnson & Johnson, 1, Lilly, 1, Merck, 1, Regeneron, 1; M. Crow, Bristol Myers Squibb, 5, Gilead, 5, Lilly, 5, Principia, 5; V. Bykerk, Amgen, 2, 5, UCB, 5, National Institute of Health, 2, 9, Bristol-Myers Squibb Company, 2, 5, Gilead, 5, Pfizer, 5, Brainstorm Therapeutics, 1, 3; M. Lockshin, None; L. Sammaritano, None; L. Mandl, Annals of Internal Medicine, 9, UpToDate, 7, Regeneron, 2; M. Barbhaiya, None.
To cite this abstract in AMA style:
Stamm B, Vitone G, Frey M, Vega J, Salmon J, Crow M, Bykerk V, Lockshin M, Sammaritano L, Mandl L, Barbhaiya M. Experience of Pregnant Rheumatology Outpatients from a Tertiary Hospital in New York City During the COVID-19 Pandemic [abstract].
Arthritis Rheumatol.
2020; 72 (suppl 10). https://acrabstracts.org/abstract/experience-of-pregnant-rheumatology-outpatients-from-a-tertiary-hospital-in-new-york-city-during-the-covid-19-pandemic/. Accessed January 19, 2022.
« Back to ACR Convergence 2020
ACR Meeting Abstracts - https://acrabstracts.org/abstract/experience-of-pregnant-rheumatology-outpatients-from-a-tertiary-hospital-in-new-york-city-during-the-covid-19-pandemic/