Session Information
Session Type: Plenary Session
Session Time: 11:30AM-1:00PM
Background/Purpose: Type I interferons (IFN-I), inflammatory mediators principally produced by plasmacytoid dendritic cells (pDCs), components of the innate immune system, have been implicated in the pathogenesis of SLE.1-3 BIIB059 is a humanized IgG1 mAb that binds blood dendritic cell antigen 2 (BDCA2), a pDC-specific receptor, which upon ligation and internalization results in inhibition of the production of IFN-I and other inflammatory cytokines.4 Administration of BIIB059 in a phase 1 SLE study (NCT02106897) resulted in decreased expression of IFN-response genes in the skin and peripheral blood; reductions of myxovirus resistance protein 1, an IFN-modulated protein, in the skin; reduction in Cutaneous Lupus Erythematosus Disease Area and Severity Index-Activity (CLASI-A) scores; and was associated with an acceptable safety profile.5 LILAC (NCT02847598) is a 2-part, phase 2 study that evaluated the efficacy and safety of BIIB059 in participants with SLE in part A, presented here, and participants with cutaneous lupus erythematosus in part B.
Methods: Enrollment was open to adults fulfilling 4 of 11 1997 revised ACR classification criteria, with ≥4 tender and ≥4 swollen joints (28-joint assessment), active skin disease defined by SLEDAI-2K, and positive ANA and/or elevated anti-dsDNA antibodies. Oral CS doses could not exceed 20 mg/day of prednisone (or equivalent), and mandatory CS tapering was initiated 4 weeks after the first dose of investigational therapy. Concomitant SLE therapy had to be initiated ≥12 weeks and remain stable ≥4 weeks before randomization and throughout the study. Participants were randomized to BIIB059 450 mg or placebo administered subcutaneously every 4 weeks for 20 weeks (additional dose at week 2). The primary endpoint was the change in total active joint count (sum of tender and swollen joints) from baseline to week 24. Secondary endpoints compared the proportions of participants with 50% improvement from baseline in CLASI-A score and the proportions of participants who achieved an SRI-4 response at week 24. Safety was assessed.
Results: Of 56 and 64 participants dosed in the placebo and 450 mg BIIB059 groups, respectively, 89.3% and 90.6% completed treatment. The study met its primary endpoint: At week 24, there was a significant difference in least squares mean absolute changes (SE) from baseline in the total active joint count between placebo (-11.6 [1.3]) vs BIIB059 450 mg (-15.0 [1.2], p=0.037). There was a 26-percentage point difference (95% CI: 9.46, 43.24, p=0.003) in the SRI-4 response rate between the BIIB059 450 mg vs placebo group at week 24 (Table 1). Although there was a higher CLASI-50 response rate in the BIIB059 group vs placebo, statistical significance was not attained. The percentages of participants in the placebo and pooled BIIB059 groups that experienced any adverse event were 67.9% and 59.2%, respectively (Table 2).
Conclusion: The LILAC study (part A) met its primary endpoint and a key secondary endpoint (SRI-4). These results, and the observed safety profile, support the continued development of BIIB059 in SLE.
Proc Natl Acad Sci USA 2003;100:2610; 2. Lupus 2008;17:394; 3. J Exp Med 2010;207:2053; 4. EMBO Mol Med. 2015;7:464; 5. J Clin Invest. 2019;129:1359.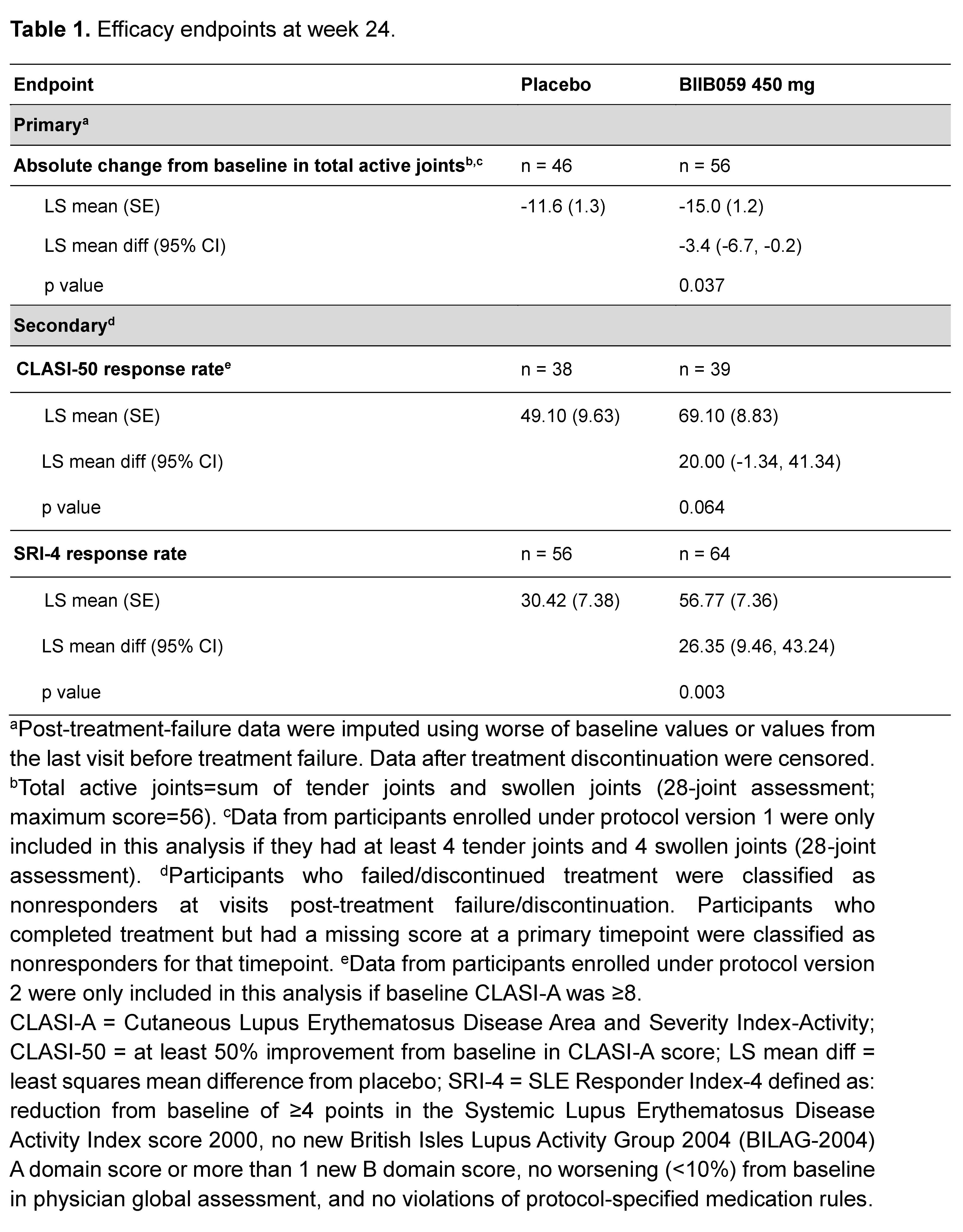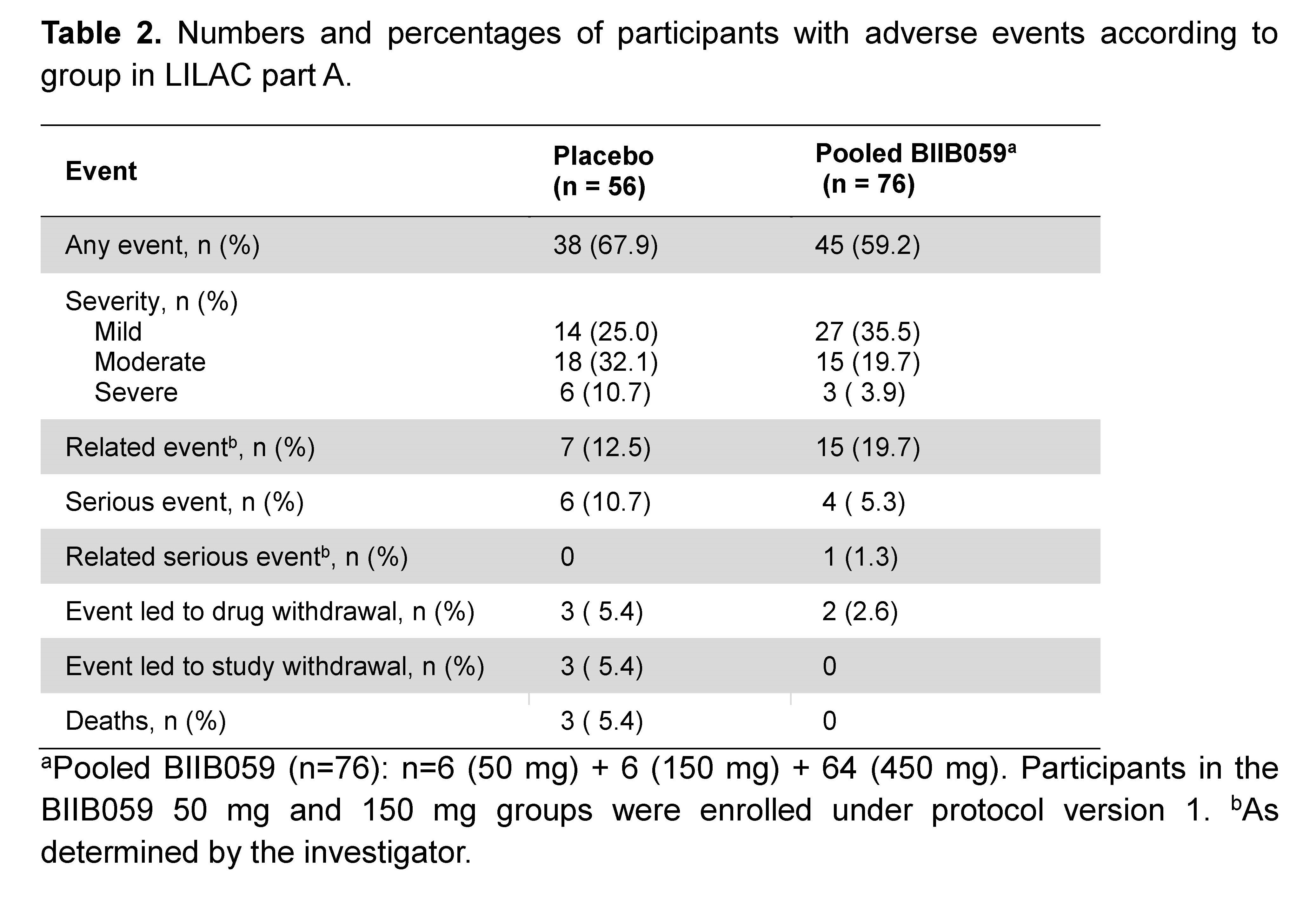 ---
Disclosure: R. Furie, AstraZeneca/MedImmune, 2, 5; R. van Vollenhoven, AbbVie, 2, 5, Bristol-Meyers Squibb, 2, 5, GlaxoSmithKline, 2, 5, Lilly, 2, 5, Pfizer, 2, 5, UCB, 2, 5, 8, AstraZeneca, 5, 8, Biotest, 2, 5, Celgene, 5, Janssen, 5, 8, Roche, 5, Biogen, 5, Galapagos, 5, 8, Gilead, 5, Servier, 5; K. Kalunian, Roche, 5, Biogen, 5, Janssen, 5, AstraZeneca, 5, Lupus Research Alliance, 2, Pfizer, 2, Sanford Consortium, 2, Eli Lilly, 5, Genetech, 5, Gilead, 5, ILTOO, 5, Nektar, 5, Viela, 5, Equillium, 5, Bristol-Meyers Squibb, 5; S. Navarra, Eli Lilly, 5, 8, Astra-Zeneca, 5, 8, Astellas, 8, Janssen, 5, 8, Novartis, 8, Pfizer, 8, Biogen, 2, 5; J. Romero-Díaz, Biogen, 5; V. Werth, Biogen, 2, 5; X. Huang, Biogen, 1, 3; H. Carroll, Biogen, 1, 3; A. Meyers, Biogen, 1, 3; C. Musselli, Biogen, 1, 3; C. Barbey, Biogen, 1, 3; N. Franchimont, Biogen, 1, 3.
To cite this abstract in AMA style:
Furie R, van Vollenhoven R, Kalunian K, Navarra S, Romero-Díaz J, Werth V, Huang X, Carroll H, Meyers A, Musselli C, Barbey C, Franchimont N. Efficacy and Safety Results from a Phase 2, Randomized, Double-Blind Trial of BIIB059, an Anti-Blood Dendritic Cell Antigen 2 Antibody, in SLE [abstract].
Arthritis Rheumatol.
2020; 72 (suppl 10). https://acrabstracts.org/abstract/efficacy-and-safety-results-from-a-phase-2-randomized-double-blind-trial-of-biib059-an-anti-blood-dendritic-cell-antigen-2-antibody-in-sle/. Accessed .
« Back to ACR Convergence 2020
ACR Meeting Abstracts - https://acrabstracts.org/abstract/efficacy-and-safety-results-from-a-phase-2-randomized-double-blind-trial-of-biib059-an-anti-blood-dendritic-cell-antigen-2-antibody-in-sle/