Session Information
Session Type: ACR Concurrent Abstract Session
Session Time: 2:30PM-4:00PM
Background/Purpose:
In the USA, certolizumab pegol (CZP) is approved for treatment of adults with active ankylosing spondylitis (AS) and not for non-radiographic axial spondyloarthritis (nr-axSpA). The Food and Drug Administration (FDA) expressed concerns that the natural history of nr-axSpA is poorly understood, with potential for spontaneous remission. C-axSpAnd was initiated, following FDA recommendations, to assess CZP efficacy vs conventional standard of care treatment in patients (pts) with active nr-axSpA and objective signs of inflammation (OSI) during a 52-week (wk) placebo (PBO)-controlled study.

Methods:

C-axSpAnd (NCT02552212) was a 52-wk, phase 3, multicenter, double-blind, PBO-controlled study. Pts were randomized 1:1 to PBO or CZP (400 mg at Weeks 0, 2, and 4, then 200 mg every 2 wks) and stratified by sacroiliitis on MRI and C-reactive protein (CRP) at baseline (BL) and region. Pts were ≥18 years with OSI (elevated CRP and/or positive MRI of the sacroiliac [SI] joint), symptom duration ≥12 months, documented diagnosis of axSpA and met ASAS (but not modified New York) classification criteria. Randomized pts could switch to open-label (OL) CZP treatment or alternative OL treatment at any time, and concomitant medication could be adjusted at any point during the trial. The primary efficacy variable was Ankylosing Spondylitis Disease Activity Score Major Improvement (ASDAS-MI; defined as ASDAS decrease from BL ≥2.0 points or reaching lowest possible value) at Wk52. ASAS40 Wk12 response was assessed as the first secondary variable.

Results: 317 pts were randomized (PBO: 158, CZP: 159; Table). At Wk52, ASDAS-MI response was shown in 47.2% CZP vs 7.0% PBO pts (p-value: <0.001; Figure). All sensitivity analyses supported the primary outcome. Rapid improvement (ASDAS-MI Wk2 response) was observed in 20.8% CZP vs 1.3% PBO pts. ASAS40 response was reached in 47.8% CZP vs 11.4% PBO pts at Wk12. 60.8% PBO pts escaped to OL CZP vs 12.6% CZP pts by Wk52. No new safety signal was identified.

Conclusion: C-axSpAnd is the first study to assess efficacy of an anti-TNF in nr-axSpA using a 52-wk, PBO-controlled period. Clinically relevant and statistically significant improvements were seen in CZP vs PBO pts. This study shows clear evidence for the limitations of current standard of care to provide adequate disease control in nr-axSpA pts.

This study was funded by UCB Pharma, medical writing by Eleanor Thurtle, Costello Medical, UK.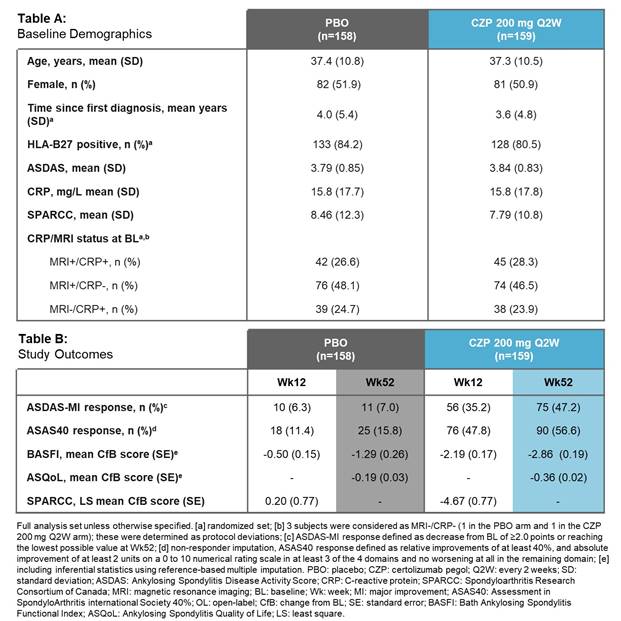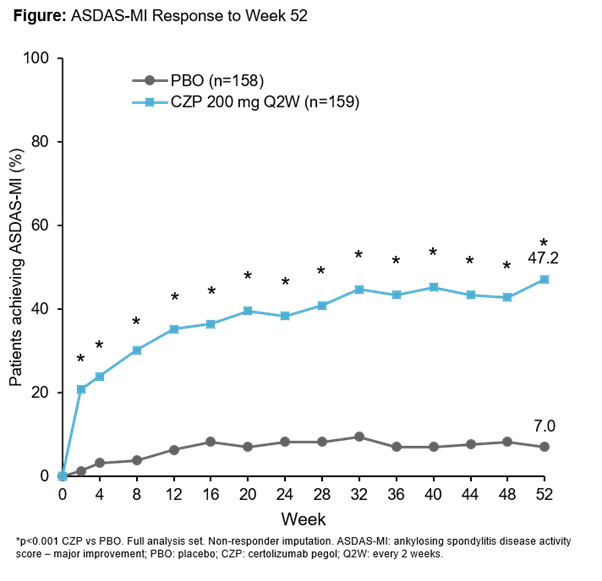 ---
Disclosure: A. A. Deodhar, Abbvie, Eli Lilly, Janssen, Novartis, Pfizer, UCB Pharma, 2, 5; L. S. Gensler, UCB Pharma, 2; J. Kay, Eli Lilly, Gilead, UCB Pharma, 2,Amgen, Boehringer Ingelheim, Celltrion Healthcare, Janssen, Merck, Roche, Samsung Bioepis, Sandoz, 5,Pfizer, 2, 5; W. P. Maksymowych, AbbVie, Eli Lilly, Janssen, Novartis, Pfizer, UCB Pharma, 2, 5; N. Haroon, AbbVie, Amgen, Janssen, Merck, Novartis, UCB Pharma, 5; R. B. M. Landewé, AbbVie, Ablynx, Amgen, AstraZeneca, Bristol-Myers Squibb, Centocor, Galapagos, GlaxoSmithKline, Jansen, Eli Lilly, Merck, Novartis, Pfizer, Roche, Schering, UCB Pharma, 2, 5; M. Rudwaleit, AbbVie, BMS, Celgene, Janssen, Lilly, MSD, Novartis, Pfizer, Roche, UCB, 5; S. Hall, AbbVie, Eli Lilly, Novartis, UCB Pharma, 2, 5; L. Bauer, UCB Pharma, 3; B. Hoepken, UCB Pharma, 3; N. de Peyrecave, UCB Pharma, 3; B. Kilgallen, UCB Pharma, 3; D. van der Heijde, Imaging Rheumatology BV, 3,AbbVie, Amgen, Astellas, AstraZeneca, Bristol-Myers Squibb, Boehringer Ingelheim, Celgene, Daiichi, Eli Lilly, Galapagos, Gilead, Janssen, Merck, Novartis, Pfizer, Regeneron, Roche, Sanofi, UCB Pharma, 5.
To cite this abstract in AMA style:
Deodhar AA, Gensler LS, Kay J, Maksymowych WP, Haroon N, Landewé RBM, Rudwaleit M, Hall S, Bauer L, Hoepken B, de Peyrecave N, Kilgallen B, van der Heijde D. Efficacy and Safety Outcomes in Patients with Non-Radiographic Axial Spondyloarthritis Treated with Certolizumab Pegol: Results from the First 52-Week Randomized Placebo-Controlled Study (NCT02552212) [abstract].
Arthritis Rheumatol.
2018; 70 (suppl 10). https://acrabstracts.org/abstract/efficacy-and-safety-outcomes-in-patients-with-non-radiographic-axial-spondyloarthritis-treated-with-certolizumab-pegol-results-from-the-first-52-week-randomized-placebo-controlled-study-nct02552212/. Accessed October 26, 2021.
« Back to 2018 ACR/ARHP Annual Meeting
ACR Meeting Abstracts - https://acrabstracts.org/abstract/efficacy-and-safety-outcomes-in-patients-with-non-radiographic-axial-spondyloarthritis-treated-with-certolizumab-pegol-results-from-the-first-52-week-randomized-placebo-controlled-study-nct02552212/