Session Information
Session Type: Abstract Submissions (ACR)
Background/Purpose: Juvenile dermatomyositis (JDM) is a rare autoimmune vasculopathy affecting primarily the muscle and skin, but can also involve other organs.
 Early and aggressive treatment improves outcome and prevents complications. Cyclophosphamide has been used as a second-line agent in the treatment of severe or refractory JDM. The published literature on the effectiveness of cyclophosphamide in JDM is limited to a small case series and case reports.
The objective of the study is to describe the response to cyclophosphamide in the patients with severe or refractory JDM. 
Methods:  56 patients treated with cyclophosphamide between years 2000-2011 were identified in the JDM National (UK and Ireland) Cohort Biomarker Study and Repository for Idiopathic Inflammatory Myopathies. 8 patients were excluded due to incomplete data or too short follow up. For the 48 patients included, demographics, myositis core outcome variables, skin measures, laboratory measures, steroid dose and other treatments were recorded at baseline, time 6, 12, 18, 24 months and last follow up post commencement of the drug.
Results:  Indications for starting cyclophosphamide were ulcerative or severe skin disease, profound muscle weakness, lung disease, gastro-intestinal vasculopathy or refractory disease. Previous medications were steroids and Methotrexate for 47 patients and steroids and Cyclosporin for 1 patient. 
All patients starting with muscle weakness (n=44) significantly improved at time12, and the gains were maintained at follow up (see table1). Physician VAS was available for 32 patients and these all improved by 12 and 24 months, and for 31 remained stable at follow up.  
At last follow up 26/46(56%) had no rash, 32/46(69%) had normal nailfolds, 37/45(82%) had no Gottron's, and calcinosis improved in 9/14(64%). 
Conclusion: This study, the largest to date, demonstrated significant improvement in both muscle and skin domains in patients with JDM treated with intravenous cyclophosphamide.
Cyclophosphamide appears effective  in the treatment of severe or refractory JDM.
Table 1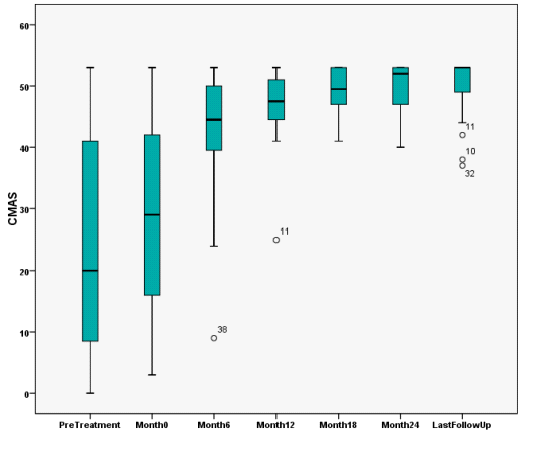 Table 2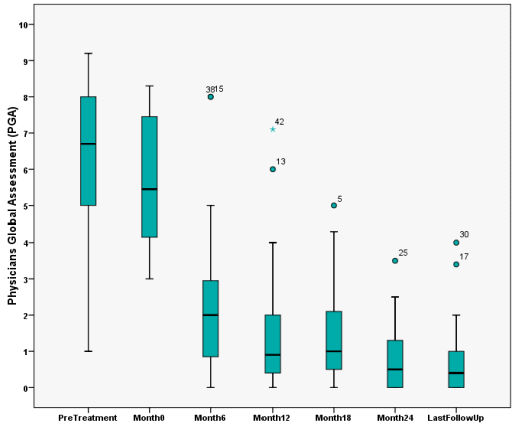 ---
Disclosure:
E. Moraitis,
None;
K. Arnold,
None;
C. Pilkington,
None;
« Back to 2012 ACR/ARHP Annual Meeting
ACR Meeting Abstracts - https://acrabstracts.org/abstract/effectiveness-of-intravenous-cyclophosphamide-in-severe-or-refractory-juvenile-dermatomyositis-a-national-cohort-study-uk-and-ireland/