Session Information
Session Type: Poster Session (Monday)
Session Time: 9:00AM-11:00AM
Background/Purpose: Glucocorticoid-induced osteoporosis (GIOP) is a common, preventable and treatable complication of glucocorticoid therapy. We defined quality indicator (QI) for GIOP and took a hospital-wide systematic approach with QI monitoring to improve real-world GIOP care. However, there was still room for improvement. Then, we introduced a clinical decision support system (CDSS) in our electronic health record (EHR) to increase the prescription rate of anti-osteoporotic drugs.
Methods: We defined a QI for GIOP care for the prescription rate of anti-osteoporotic drugs according to 2010 American College of Rheumatology GIOP management recommendations, with the target being patients prescribed ≥7.5 mg prednisolone daily or its equivalent for ≥3 months. We monitored the glucocorticoid and anti-osteoporotic medication dose for all patients who visited our hospital, since May 2011. In October 2017, we introduced CDSS to EHR in Immuno-Rheumatology Center (IRC) in our hospital. CDSS were developed as a guide for clinicians to prescribe anti-osteoporotic drugs appropriately. CDSS were designed to appear as a box in a display on the date of target patients' visit, if they have not been prescribed anti-osteoporotic drugs. Clinicians can choose to prescribe the drugs or not. If they didn't prescribe the drugs, they were urged to choose the reasons and such cases were excluded from QI monitoring. We retrospectively analyzed QI trends for 6 months before and after the induction of the CDSS in 2017-2018.
Results: The total number of participants was 3072, 1573 in 6 months before and 1499 after the induction of the CDSS, with pooled QI rates of 57.9% and 61.6%. The number of participants from IRC was 1815(59.0%). Changes in QI improvements between the periods are statistically significant. In subanalysis, the prescription rate for women who were younger than 50 years old and men showed an increasing trend(Fig 1).
Conclusion: CDSS that guide clinicians to prescribe anti-osteoporotic drugs improved QI of GIOP. In addition, changes of rheumatologists' prescription contributed to the improvement of QI in the whole of our hospital.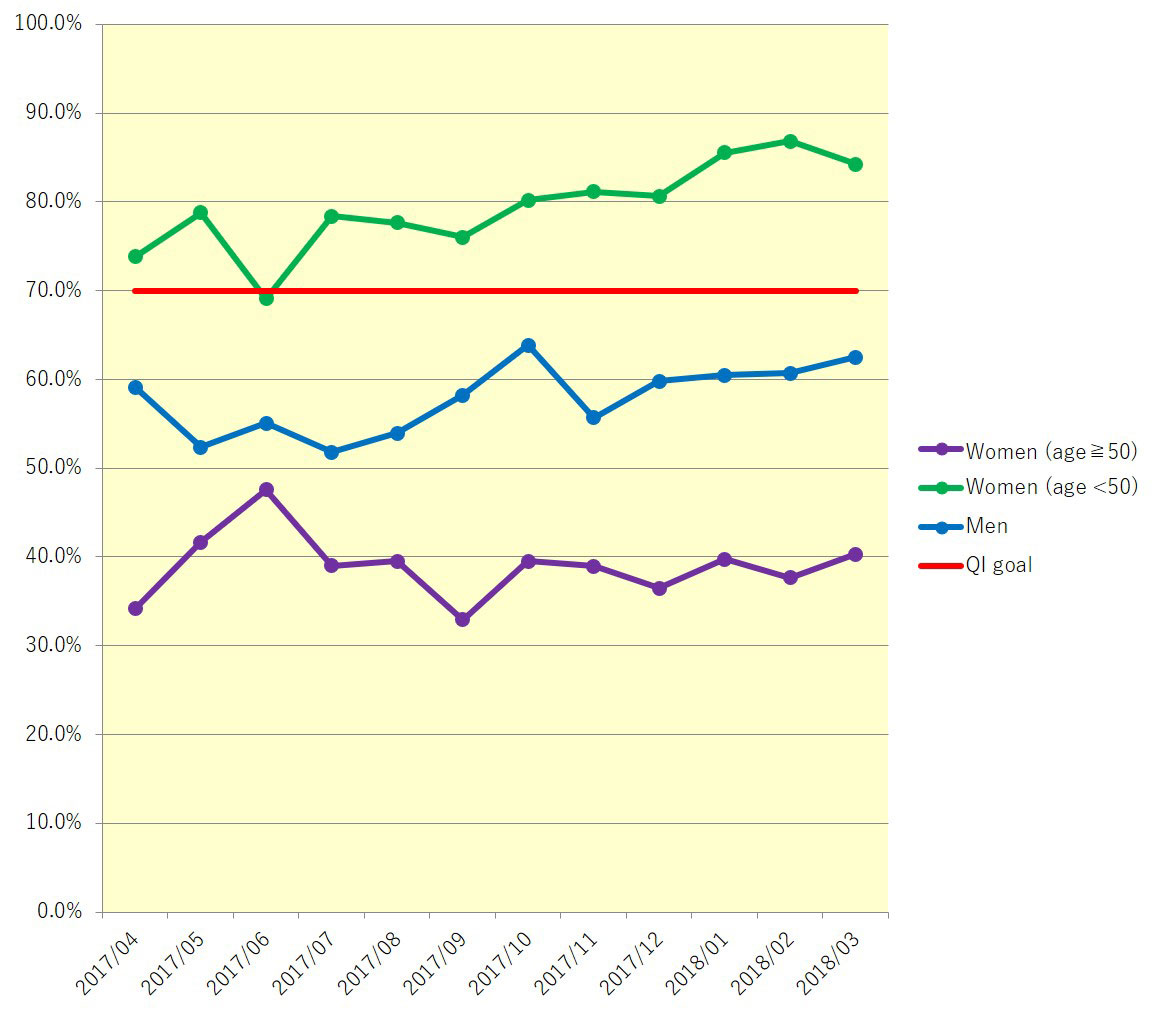 ---
Disclosure: H. Ozawa, None; S. Fukui, None; G. Kidoguchi, None; T. Nakai, None; S. Kawaai, None; A. Koido, None; Y. Ikeda, None; M. Suda, None; H. Yanaoka, None; H. Shimizu, None; H. Tamaki, None; T. Tsuda, None; M. Kishimoto, AbbVie, 8; K. Yamaguchi, None; M. Okada, Abbott Japan, 8, Ayumi Pharmaceutical, 8, Mitsubishi Tanabe Pharma, 8, Ono Pharmaceutical,, 8, Pfizer, 8.
To cite this abstract in AMA style:
Ozawa H, Fukui S, Kidoguchi G, Nakai T, Kawaai S, Koido A, Ikeda Y, Suda M, Yanaoka H, Shimizu H, Tamaki H, Tsuda T, Kishimoto M, Yamaguchi K, Okada M. Effect of a Clinical Decision Support System on a Quality Indicator of Glucocorticoid-induced Osteoporosis and Trends of Drug Treatment in a Japanese Hospital [abstract].
Arthritis Rheumatol.
2019; 71 (suppl 10). https://acrabstracts.org/abstract/effect-of-a-clinical-decision-support-system-on-a-quality-indicator-of-glucocorticoid-induced-osteoporosis-and-trends-of-drug-treatment-in-a-japanese-hospital/. Accessed June 24, 2021.
« Back to 2019 ACR/ARP Annual Meeting
ACR Meeting Abstracts - https://acrabstracts.org/abstract/effect-of-a-clinical-decision-support-system-on-a-quality-indicator-of-glucocorticoid-induced-osteoporosis-and-trends-of-drug-treatment-in-a-japanese-hospital/