Session Information
Session Type: Poster Session (Sunday)
Session Time: 9:00AM-11:00AM
Background/Purpose: Rheumatoid arthritis (RA) is a systemic autoimmune disease characterized by inflammation of the synovial joints. The gut microbe with RA has been reported recently, though the specific components of the microbiota that affect the host response leading to disease remain unknown. This study aimed to study the diversity and the abundance of intestinal microbes in patients with RA and further provide new strategy and target for the treatment of RA.
Methods: The stool specimens of 100 RA patients were analyzed at the level of the phylum, family and genus, and compared with that of 125 healthy controls(HC).
Results: Compared with controls,the abundance of intestinal microbiota in patients with RA was significantly different (P< 0.05).At the level of Phylum,the abundance of Proteobacteria was significantly increased (P< 0.05),and the abundance of Firmicutes was significantly reduced (P=0.05),the abundance of Actinomycetes and Bacteroidetes increased in RA patients compared with that of HC(P >0.05).Compared with healthy individules,Patients had more abundance of Micrococcaceae, Porphyromonadaceae, Enterococcaceae, Lactobacillus, Streptococcus, Turicibacteraceae, Hyphomicrobiaceae and Enterobacteriaceae(P< 0.05), but less abundance of Veillonellaceae and Alcaligenes was significantly lower (P< 0.05) at the level of family. At the genus level, in the RA group, the abundance of Rothia, Enterococcus, Lactobacillus, Streptococcus, Turicibacter, Anaerostipes, Blautia, Lauterium, Dorea, Ruminococcus, Clostridium, Veillonella, Oscillospira, Devosia and Halomonas were significantly increased (P< 0.05), but the abundance of Lachnospira, Roseburia, Faecalibacteriu, Megamonas and Sutterella was significantly lower than that of healthy controls. (P< 0.05).
Conclusion: The diversity and balance of bacterial community in intestinal microecological environment of patients with RA are significantly different from the healthy control.  Intestinal microbiota disorder may be related to the pathogenesis of RA, which might provide theoretical foundation for the regulation of intestinal flora for disease intervention.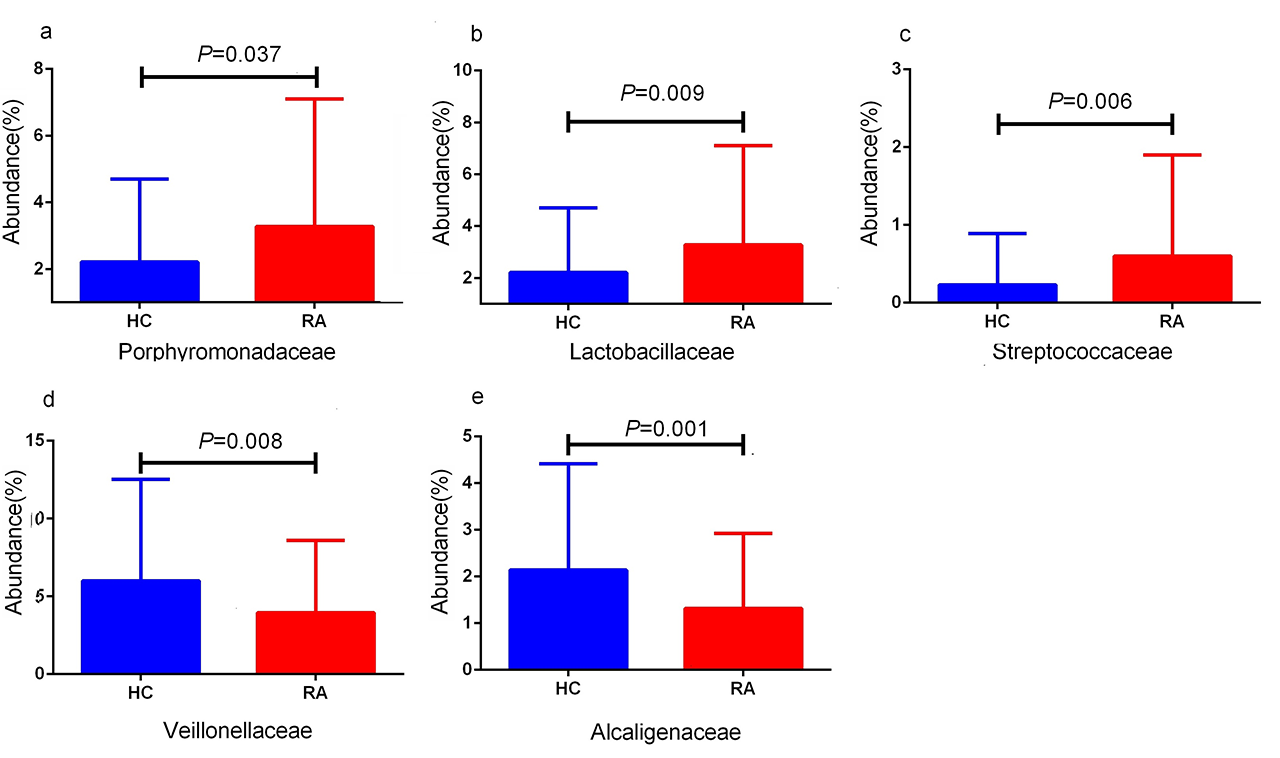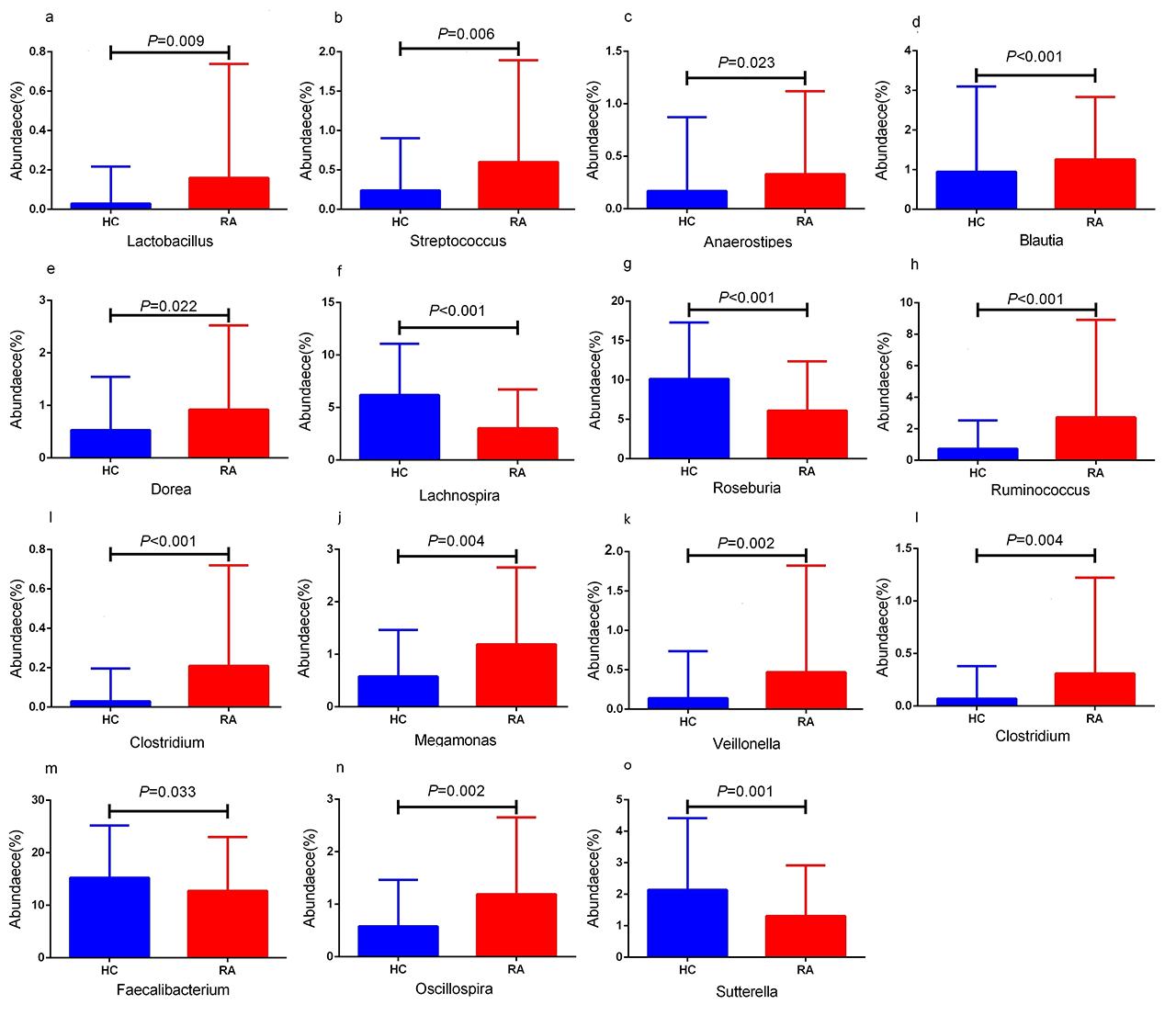 ---
Disclosure: X. Yin, None; S. Zhang, None; M. Zhang, None; M. Chang, None; X. Mao, None; J. Wang, None; J. Zhang, None; M. Qiu, None; C. Gao, None; X. Li, None.
To cite this abstract in AMA style:
Yin X, Zhang S, Zhang M, Chang M, Mao X, Wang J, Zhang J, Qiu M, Gao C, Li X. Diversity Analysis of Intestinal Flora in Patients with Rheumatoid Arthritis [abstract].
Arthritis Rheumatol.
2019; 71 (suppl 10). https://acrabstracts.org/abstract/diversity-analysis-of-intestinal-flora-in-patients-with-rheumatoid-arthritis/. Accessed .
« Back to 2019 ACR/ARP Annual Meeting
ACR Meeting Abstracts - https://acrabstracts.org/abstract/diversity-analysis-of-intestinal-flora-in-patients-with-rheumatoid-arthritis/