Session Information
Session Type: Abstract Submissions (ACR)
Background/Purpose . Long delays in diagnosis of haemochromatosis are frequent and lead to an adverse affect on hepatic and cardiac outcome. Arthropathy is a highly prevalent and early feature, which could act as a trigger for diagnosis if sufficiently distinctive. We conducted a survey of patients with haemochromatosis to assess the prevalence and distribution of joint symptoms and their relation to the diagnosis.
Methods . A questionnaire was sent to members of the UK Haemochromatosis Society (~1500) in December 2013. Questions assessed how the diagnosis of haemochromatosis was made; symptoms, duration, the prevalence and distribution of affected joints, and the role of a rheumatologist.
Results . Questionnaires were returned by 470 people with haemochromatosis, 97% white, 53% male. The genotype was C282Y homozygous 52%, C282Y/H63D heterozygous 7%, C282Y/wild type heterozygous 5%, unknown 33%. The diagnosis was made at a mean age of 56 years, following family member screening in 20%, well man/woman screening in 23% and as result of symptoms in 57%. At diagnosis the most frequent symptoms attributed to haemochromatosis were fatigue 65% and joint pain 60% (Fig 1), with a mean duration of 8 years (0-65) and mean Ferritin 1752 mg/L.  The diagnosis was most frequently made by a GP 38%, Haematologist 24%, Gastroenterologist 21.5% and Rheumatologist 7%.
88% of respondents reported joint pain, stiffness or swelling. Joint symptoms preceded the diagnosis of haemochromatosis by more than 5 years in 47%, by more than 1 year in 78.5% and post dated the diagnosis in 14.5%. The most prevalent areas affected were hand or wrist 66%, ankle or mid foot 49%, and knee 44% (Fig 2). In the hands the prevalence of symptoms was 1st CMC 60%, wrist 52%, MCP 47%, PIP 48%, and DIP joints 41%. No formal arthritic diagnosis was given to 45%, OA 29%, haemochromatosis arthropathy 11.5%. Dupuytrens disease was reported by 13% of men and 8% of women. Venesection was reported to have helped joint symptoms in 5%, made no impact in 20% and in 51% new joints had become affected following de ironing. A negative impact on employment from arthropathy was reported by 21%, with 9% losing their job.
Conclusion . In haemochromatosis, joint symptoms are highly prevalent at diagnosis, with the ankle and mid foot involved in 49%. In addition to MCP joint disease, an osteoarthritis-like presentation at a relatively young age in the hind or mid foot might be a distinguishing feature to prompt investigations leading to an earlier diagnosis.  
Figure 1 Symptoms at diagnosis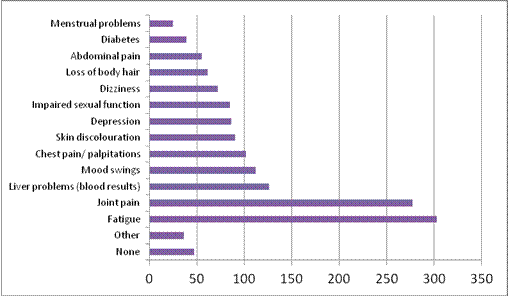 Figure 2 Distribution of joint symptoms
---
Disclosure:
P. Kiely,
None;
A. Richardson,
None.
« Back to 2014 ACR/ARHP Annual Meeting
ACR Meeting Abstracts - https://acrabstracts.org/abstract/distribution-of-haemochromatosis-arthropathy-high-ankle-and-mid-foot-prevalence-a-diagnostic-clue/