Session Information
Session Type: ACR Poster Session B
Session Time: 9:00AM-11:00AM
Background/Purpose: Prior studies showed psoriatic arthritis (PsA) patients with enthesitis had greater disease burden than patients without enthesitis, yet it is unknown whether the impact of enthesitis differs by its location. This study compared patients with PsA who had enthesitis in different locations vs patients without enthesitis.
Methods: This study included adult patients with PsA enrolled in the Corrona PsA/SpA Registry between March 2013 and March 2018. Enthesitis at enrollment was assessed via the Spondyloarthritis Research Consortium of Canada (SPARCC) Enthesitis Index. Those with enthesitis were further classified by affected site locations as upper extremities only, lower extremities only, or both upper and lower. Enrollment demographics, clinical characteristics, treatment profile, disease activity, quality of life, and work productivity in each of the 3 enthesitis groups were compared to PsA patients without enthesitis using t tests or χ2 tests.
Results: Of 2003 patients with PsA, 391 (19.5%) had enthesitis, among whom 80 (20.5%) had upper sites only, 137 (35.0%) had lower sites only, and 174 (44.5%) had both upper and lower sites. In patients with enthesitis, 61.5% were treated with biologics and 21.7% with csDMARD monotherapy, and there was a higher prevalence of fibromyalgia vs those without enthesitis (10.7% vs 3.4%; P < 0.05). Patients with lower sites only had increased prevalence of depression, and patients with upper sites only and both upper and lower sites had increased nail psoriasis compared to patients without enthesitis (Table 1). Regardless of enthesitis site location, patients with enthesitis had worse disease activity (modified MDA, tender and swollen joint counts, CDAI scores, DAPSA and cDAPSA scores, modified DAS28 scores, and physician global assessment) and quality of life (pain, fatigue, patient global assessment, HAQ scores, EQ VAS scores, and percentage impairment while working and overall activity impairment) than patients without enthesitis (Table 2). Patients with both upper and lower site involvement tended to have worse disease activity and quality of life than those with either location alone, and patients with lower sites only tended to have worse patient-reported outcomes vs patients with upper sites only (Table 2).
Conclusion: These results confirm the previously observed relation between presence of enthesitis and higher disease activity and worse quality of life; however, this study suggests that some aspects of disease burden may differ according to site location. Further analyses are needed to determine whether lower, upper, or specific sites have greater impact on disease burden.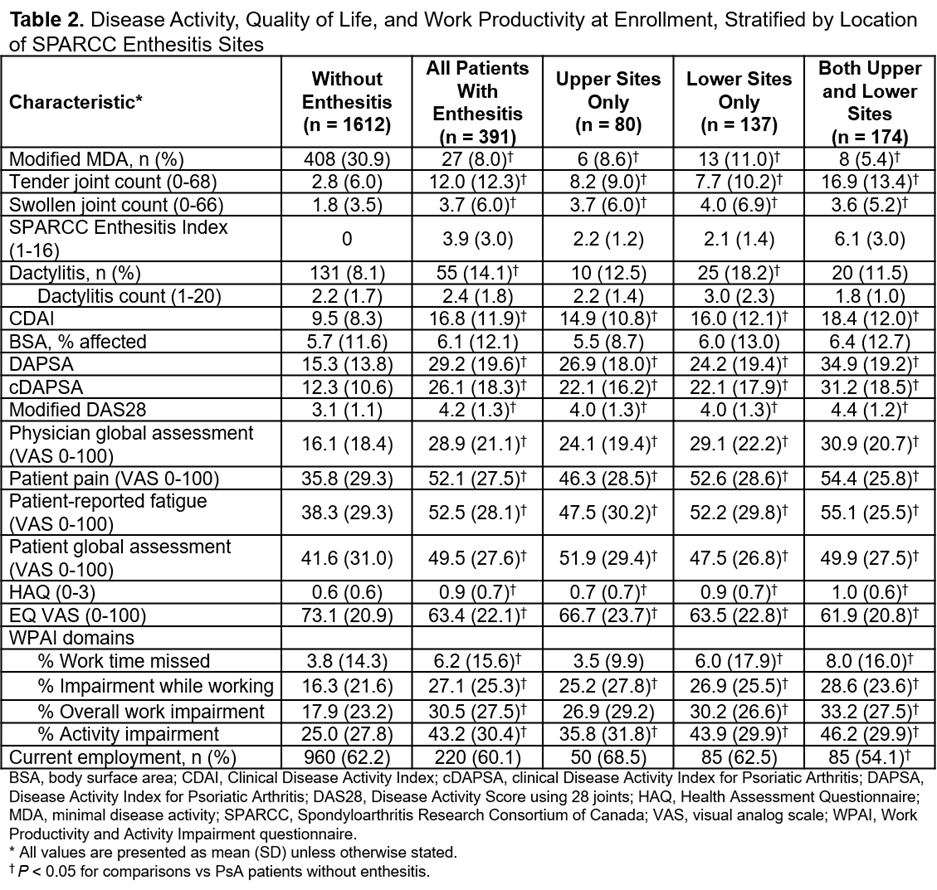 ---
Disclosure: P. J. Mease, Celgene, Novartis, AbbVie, Amgen, Bristol-Myers Squibb, Lilly, Pfizer, and UCB, 2,Celgene, Corrona, Novartis, AbbVie, Amgen, Bristol-Myers Squibb, Crescendo, Genentech, Janssen, Lilly, Merck, Pfizer, and UCB, 5,AbbVie, Amgen, Bristol-Myers Squibb, Crescendo, Celgene, Genentech, Janssen, Pfizer, and UCB, 8; M. Liu, Corrona, LLC, 3; S. Rebello, Corrona, LLC, 3; W. Hua, Corrona, LLC, 3; R. R. McLean, Corrona, LLC, 3; P. Hur, Novartis Pharmaceuticals Corporation, 3; A. Ogdie, Amgen, AbbVie, BMS, Celgene, Lilly, Novartis, Pfizer, and Takeda, 5,National Institutes of Health/National Institute of Arthritis and Musculoskeletal and Skin Diseases, Rheumatology Research Foundation, Pfizer, and Novartis, 2.
To cite this abstract in AMA style:
Mease PJ, Liu M, Rebello S, Hua W, McLean RR, Hur P, Ogdie A. Disease Characteristics, Quality of Life, and Work Productivity By Enthesitis Sites: Real-World Data from the US Corrona Psoriatic Arthritis/Spondyloarthritis (PsA/SpA) Registry [abstract].
Arthritis Rheumatol.
2018; 70 (suppl 10). https://acrabstracts.org/abstract/disease-characteristics-quality-of-life-and-work-productivity-by-enthesitis-sites-real-world-data-from-the-us-corrona-psoriatic-arthritis-spondyloarthritis-psa-spa-registry/. Accessed August 3, 2021.
« Back to 2018 ACR/ARHP Annual Meeting
ACR Meeting Abstracts - https://acrabstracts.org/abstract/disease-characteristics-quality-of-life-and-work-productivity-by-enthesitis-sites-real-world-data-from-the-us-corrona-psoriatic-arthritis-spondyloarthritis-psa-spa-registry/