Session Information
Session Type: Poster Session (Tuesday)
Session Time: 9:00AM-11:00AM
Background/Purpose: Following knee replacement, patients see an improvement in both function and pain, but physical activity often remains at pre-operative levels. One possible influence on an individual's physical activity may be their exercise identity. Exercise identity is the degree to which one views themselves as an exerciser. This is used to assess the importance of identifying with exercise as an integral part of each person's self-concept. Those who identify themselves as exercisers could potentially be more active than those who do not identify with exercise. The purpose of this study was to determine if there is a difference in objectively measured steps per day and minutes per day spent upright, standing, and stepping between participants with positive exercise identity and those with negative exercise identity.
Methods: Participants were aged 40-79 years and were recruited at their first out-patient physical therapy appointment following knee replacement. Participants completed an online self-reported exercise identity survey and wore an activPAL monitor for 7 days. The activPAL monitor assessed the number of steps/day and average minutes/day spent upright, standing, and stepping. Only valid days consisting of 24 hours of wear time were used for analyses. The self-reported exercise identity survey (Wilson & Muon, 2008) asked participants 9 questions to rate their feelings about exercise on a 1 (Strongly Disagree) to 5 (Strongly Agree) Likert scale. All 9 items were summed to create an exercise identity score. Participants median score of exercise identity (29) was used to separate the sample into groups. Analysis was done comparing the two groups as those who have a positive exercise identity (30) and those who have a negative exercise identity (≤29). Independent t-tests were used to compare means of the two groups to see if there was a difference in objectively measured physical activity outcomes based on exercise identity.
Results: Participants (n=19) were an average age of 63.0±7.4 years and body mass index of 32.8±6.2 kg/m2. As a full sample, participants averaged 5.6±1.4 valid days with the activPAL. Participants in the positive exercise identity group (n=9) had significantly higher steps/day (5145±2034 vs 3128±1578; p=.027), time spent upright (283.9±96.8 vs 170.7±61.4 mins/day; p=.007), time spent standing (203.4±70.2 vs 121±40.8 mins/day; p=.006), and time spent stepping (80.6±31.6 vs 49.7±22.3 mins/day; p=.024) compared to the negative exercise identity group. (Figure 1).
Conclusion: Participants with knee replacement with positive exercise identity took significantly more steps and spent more time per day upright, standing, and stepping than those with negative exercise identity. Future researchers should consider using this information to tailor physical activity interventions based on the participant's exercise identity. If a participant identifies negatively with exercise, different strategies may be required to increase activity than if the participant identified positively with exercise.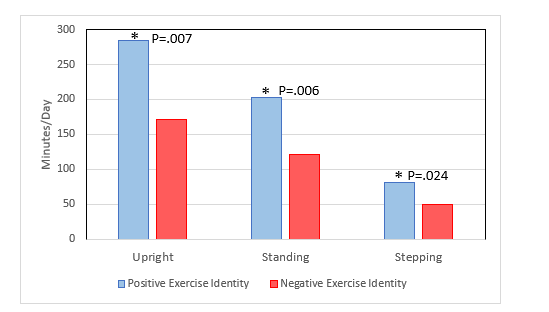 ---
Disclosure: N. Mook, None; K. DeVivo, None; D. Brown, None; A. Rebar, None; C. Pellegrini, None.
To cite this abstract in AMA style:
Mook N, DeVivo K, Brown D, Rebar A, Pellegrini C. Differences in Stepping and Standing Based on Self-reported Exercise Identity in Persons Following Total Knee Replacement [abstract].
Arthritis Rheumatol.
2019; 71 (suppl 10). https://acrabstracts.org/abstract/differences-in-stepping-and-standing-based-on-self-reported-exercise-identity-in-persons-following-total-knee-replacement/. Accessed December 5, 2022.
« Back to 2019 ACR/ARP Annual Meeting
ACR Meeting Abstracts - https://acrabstracts.org/abstract/differences-in-stepping-and-standing-based-on-self-reported-exercise-identity-in-persons-following-total-knee-replacement/