Session Information
Session Type: ACR Abstract Session
Session Time: 2:30PM-4:00PM
Background/Purpose: Antiphospholipid antibody (aPL) nephropathy is a distinct entity that can be challenging to recognize and treat; it remains unknown if uniform pathologic criteria are used to characterize this diagnosis worldwide. The primary aim of this project was to evaluate how aPL nephropathy lesions as described in renal biopsy reports of APS ACTION registry patients with "biopsy-proven aPL nephropathy".
Methods: APS ACTION "Registry" was created to study long-term outcomes in persistently aPL-positive patients with and without other systemic autoimmune diseases. The registry includes adults aged 18 to 60 years with positive aPL, based on the Updated Sapporo APS Classification Criteria, tested on two occasions at least twelve weeks apart within one year prior to enrollment. We descriptively reviewed the results and conclusion sections of the renal biopsy reports of APS ACTION registry patients with biopsy proven aPL nephropathy. For biopsies not reported in English, translation was provided by specific APS ACTION centers. We categorized patients based on whether the biopsy report conclusion specifically stated "acute" versus "chronic" aPL nephropathy. We compared the terminology used in the biopsy reports to the aPL-nephropathy definitions from the 2006 APS Sapporo Classification Criteria (thrombotic microangiopathy [TMA] involving both arterioles and glomerular capillaries, fibrous intimal hyperplasia involving organized thrombi with/without recanalization, fibrous/fibrocellular occlusions of arteries and arterioles, focal cortical atrophy, and tubular thyroidization). Under the guidance of a team of experts in aPL-nephropathy (MT, MT, SS), we used our clinical judgement in the interpretation of "alternative" biopsy report terms representative of the Sapporo criteria terms. Based on our literature review of terminology used to define aPL nephropathy, we also included "other" biopsy findings that may be associated with aPL.
Results: Of 804 patients included in the registry as of Jan 2019, 23 patients (3%) had "biopsy-proven aPL nephropathy". Twelve (52%) patients had primary APS, and 11 (48%) fulfilled the ACR lupus classification criteria. Two patients had kidney biopsies twice; thus 25 biopsy reports, performed between 1997 and 2018 were reviewed. Majority of biopsies (14/25) did not specify "acute" versus "chronic" aPL nephropathy. The number of biopsy reports with aPL-nephropathy related terms (Sapporo, alternative, and other) is shown in Table; four out of 7 Sapporo terms were also represented by alternative terminology . While "TMA" was reported in 11/25 (44%) of the biopsies: a) 9/11 (82%) used the term in the conclusion; b) 3/11 (27%) used the term "chronic TMA"; and c) 2/11 biopsies did not report the type of TMA (glomerular: 6; arterial/arteriolar: 2; both: 1; and unspecified: 2).
Conclusion: The use of aPL-nephropathy related terms varies among pathologists while reporting the biopsy findings of kidney involvement in aPL-positive patients. An international effort/consensus is needed to update and harmonize the terminology used to describe aPL-nephropathy.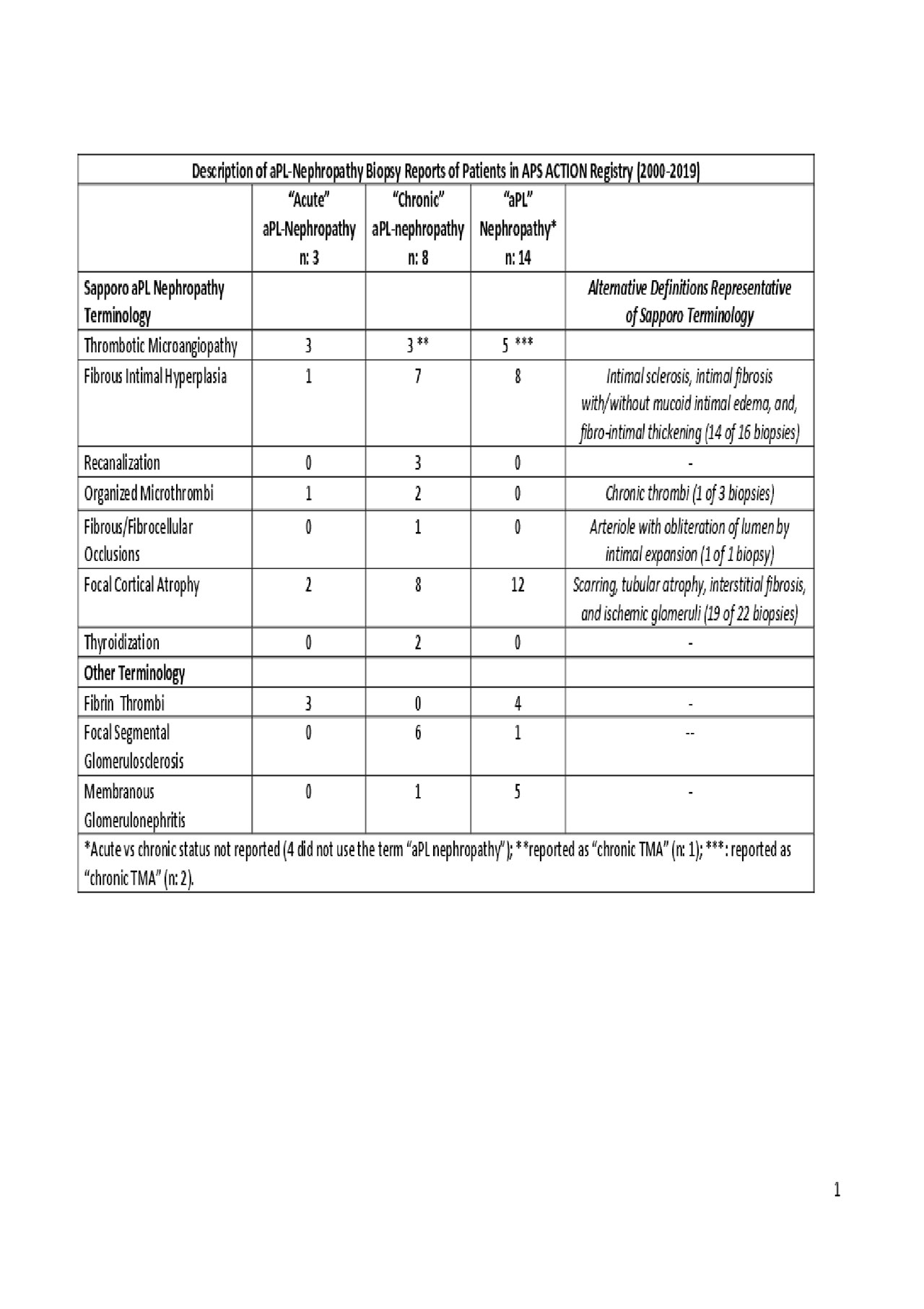 ACR TABLE
---
Disclosure: M. Taghavi, None; M. Barbhaiya, None; M. Tektonidou, None; P. Fortin, None; D. Andrade, None; J. Knight, None; B. Artim-Esen, None; T. Atsumi, AbbVie, 5, 8, Abbvie, 5, 8, Asahi Kasei Pharma Corporation, 8, Astellas Pharma, 8, 9, Astellas Pharma Inc, 8, AstraZeneca, 5, AstraZeneca plc, 5, 8, Bayer Yakuhin, 8, Bayer Yakuhin, Ltd., 8, Bristol-Myers Squibb, 8, 9, Chugai Pharmaceutical Co Ltd, 8, Chugai Pharmaceutical Co., 8, 9, Daiichi Sankyo, 8, 9, Daiichi Sankyo Co Ltd, 8, Eisai Co., Ltd, 8, Eli Lilly and Company, 8, 9, Eli Lilly Japan KK, 8, Elsai Co Ltd, 8, Gilead Sciences, 8, Gilead Sciences, Inc., 8, MEDICAL & BIOLOGICAL LABORATORIES CO., 5, Medical and Biological Laboratories Co Ltd, 5, Mitsubishi Tanabe Pharma, 8, 9, Nippon Shinyaku Co., 8, Novartis, 5, Novartis Pharma KK, 5, Ono Pharmaceutical, 5, ONO Pharmaceutical Co Ltd, 5, Otsuka Pharmaceutical, 8, Pfizer, 5, 9, Pfizer Inc, 5, 8, Sanofi, 9, Takeda Pharmaceutical Company, 8, Takeda Pharmaceuticals, 8; H. Cohen, None; L. Ji, None; S. Sciascia, None; S. Seshan, None; D. Erkan, None; o. APS ACTION, None.
To cite this abstract in AMA style:
Taghavi M, Barbhaiya M, Tektonidou M, Fortin P, Andrade D, Knight J, Artim-Esen B, Atsumi T, Cohen H, Ji L, Sciascia S, Seshan S, Erkan D, APS ACTION o. Descriptive Analysis of Biopsy-proven Antiphospholipid Antibody-associated Nephropathy Patients Included in the AntiPhospholipid Syndrome Alliance for Clinical Trials and InternatiOnal Networking (APS ACTION) Clinical Database and Repository ("Registry") [abstract].
Arthritis Rheumatol.
2019; 71 (suppl 10). https://acrabstracts.org/abstract/descriptive-analysis-of-biopsy-proven-antiphospholipid-antibody-associated-nephropathy-patients-included-in-the-antiphospholipid-syndrome-alliance-for-clinical-trials-and-international-networking-aps/. Accessed May 13, 2021.
« Back to 2019 ACR/ARP Annual Meeting
ACR Meeting Abstracts - https://acrabstracts.org/abstract/descriptive-analysis-of-biopsy-proven-antiphospholipid-antibody-associated-nephropathy-patients-included-in-the-antiphospholipid-syndrome-alliance-for-clinical-trials-and-international-networking-aps/