Session Information
Session Type: Poster Session (Tuesday)
Session Time: 9:00AM-11:00AM
Background/Purpose: There is limited prospective data as to the frequency of axial spondyloarthritis (axSpA) in unselected patients referred to rheumatologists with undiagnosed back pain who have presented with acute anterior uveitis (AAU), psoriasis, or colitis to their respective specialists. It is also unclear which clinical features discriminate between axSpA and non-specific causes of back pain that might inform the development of a screening strategy to expedite referral of patients to rheumatologists. Our aims were: 1. To determine the prevalence of axSpA in unselected patients referred with undiagnosed back pain presenting with AAU, psoriasis, or colitis. 2. To determine which clinical characteristics define patients with axSpA.
Methods: The multicenter Screening for Axial Spondyloarthritis in Psoriasis, Iritis, and Colitis (SASPIC) Study is aimed at facilitating early detection of axial SpA. First and last patients were recruited on February 2013 and March 2018, respectively. Consecutive patients ≤45 years of age with ≥3 months undiagnosed back pain with any one of psoriasis, AAU, or colitis undergo routine clinical evaluation by a rheumatologist for axial SpA and MRI evaluation is ordered per rheumatologist decision. Differences in clinical characteristics between those who were diagnosed as axSpA or non-specific back pain were analyzed using chi-squared and t-tests.
Results: A total of 246 patients were recruited, 47.6% were diagnosed with axSpA, and these included 68.5% of B27 positive patients. Symptom duration was 7-8 years and the majority had back pain severity >5 on a 0-10 scale (Table 1). Diagnosis of axSpA was established in 45.7%, 61.6%, and 40.2% of patients, while ASAS classification criteria were met by 26.1%, 71.2%, and 27.6% of patients with psoriasis, AAU, and IBD, respectively. Inflammatory back pain, male gender, lateral lumbar flexion, CRP, B27 positivity, and positive imaging discriminated axSpA from other causes of back pain (Table 2) and these remained significant in multivariate analysis adjusted for age, gender, and symptom duration.
Conclusion: Substantial diagnostic delay was evident in this prospective cohort of patients presenting with extra-articular manifestations despite a substantial burden of back pain. Referral to a rheumatologist should constitute standard of care, especially if B27 positive and presenting with psoriasis or AAU.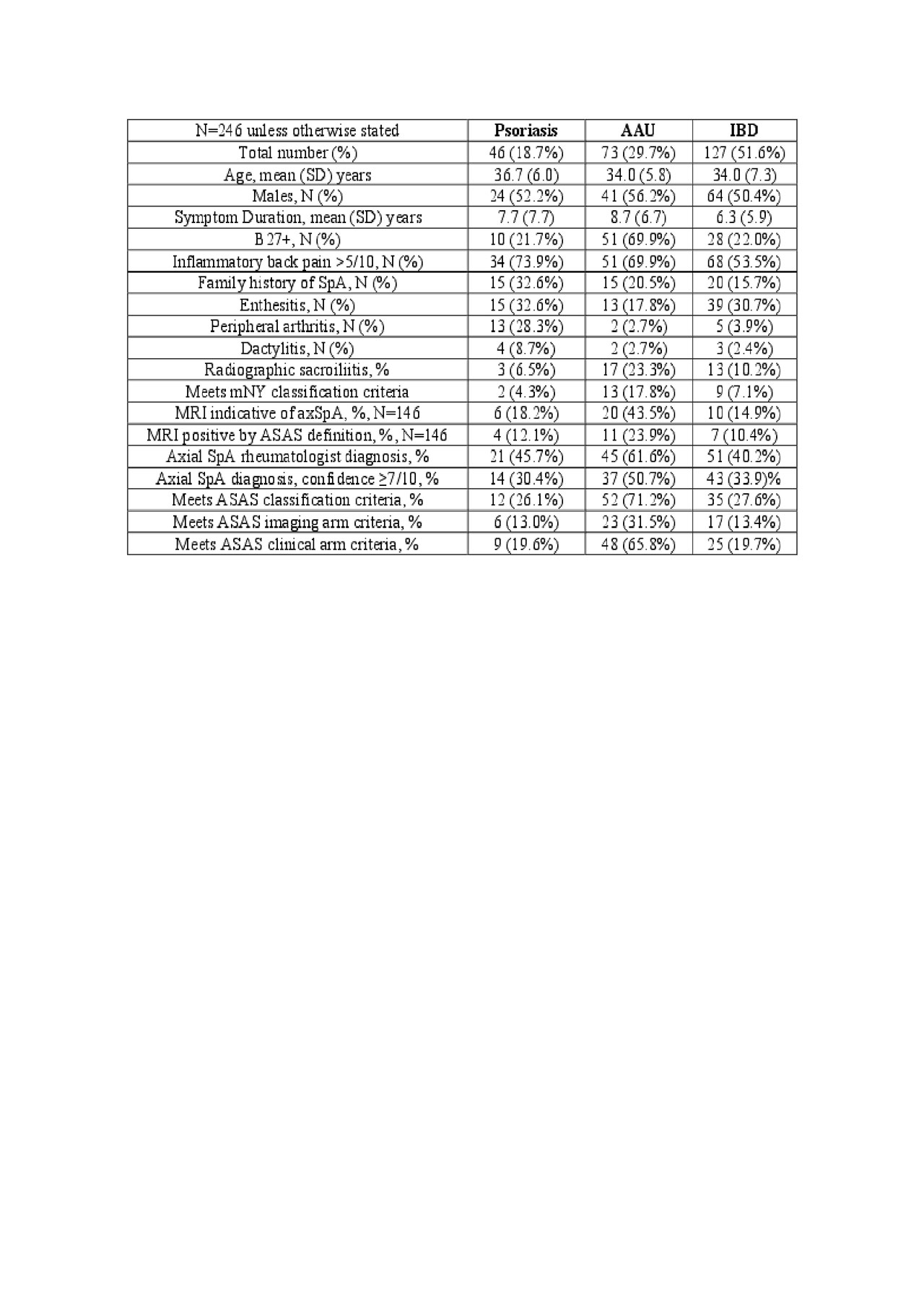 Table 1

Table 2
---
Disclosure: W. Maksymowych, Abbvie, 2, 5, 8, AbbVie, 2, 5, 8, AbbVie Inc., 2, 5, 8, Abbvie, Amgen, Eli Lilly, Janssen, Merck, Pfizer, Synarc, Sanofi, and UCB Pharma ], 2, 5, 8, Amgen, 2, 5, 8, Boehringer, 5, 8, Boehringer-Ingelheim, 5, 8, Canadian Research and Education Arthritis, 6, CARE ARTHRITIS, 3, 6, 9, Celgene, 5, 8, Eli Lilly, 2, 5, 8, Galapagos, 5, 8, Janssen, 2, 5, 8, Lilly, 2, 5, 8, Merck, 2, 5, 8, Novartis, 2, 5, 8, Pfizer, 2, 5, 8, Sanofi, 2, 5, 8, Synarc, 2, 5, 8, UCB, 2, 5, 8, UCB Pharma, 2, 5, 8; R. Carmona, None; J. Chan, Janssen Inc., 8; J. Yeung, None; S. Aydin, None; L. Martin, None; A. Masetto, None; D. Mosher, None; O. Ziouzina, None; S. Keeling, None; S. Rohekar, None; R. Dadashova, None; J. Paschke, None; A. Carapellucci, None; R. Lambert, None.
To cite this abstract in AMA style:
Maksymowych W, Carmona R, Chan J, Yeung J, Aydin S, Martin L, Masetto A, Mosher D, Ziouzina O, Keeling S, Rohekar S, Dadashova R, Paschke J, Carapellucci A, Lambert R. Description and Prevalence of Spondyloarthritis in Unselected Patients with Psoriasis, Acute Anterior Uveitis, and Inflammatory Bowel Disease Presenting with Undiagnosed Back Pain [abstract].
Arthritis Rheumatol.
2019; 71 (suppl 10). https://acrabstracts.org/abstract/description-and-prevalence-of-spondyloarthritis-in-unselected-patients-with-psoriasis-acute-anterior-uveitis-and-inflammatory-bowel-disease-presenting-with-undiagnosed-back-pain/. Accessed June 5, 2020.
« Back to 2019 ACR/ARP Annual Meeting
ACR Meeting Abstracts - https://acrabstracts.org/abstract/description-and-prevalence-of-spondyloarthritis-in-unselected-patients-with-psoriasis-acute-anterior-uveitis-and-inflammatory-bowel-disease-presenting-with-undiagnosed-back-pain/