Session Information
Session Type: ACR Abstract Session
Session Time: 11:00AM-12:30PM
Background/Purpose: Targeting the interleukin(IL)-1 pathway with anti-IL-1 drugs is a treatment option in patients with autoinflammatory diseases like monogenic periodic fever syndromes. The study aims to gain further insights into long-term effectiveness and safety of canakinumab (CAN), an anti-IL1 inhibitor, under routine clinical practice conditions in pediatric and adult patients with CAPS (cryopyrin-associated periodic syndrome, including Muckle-Wells syndrome [MWS], familial cold autoinflammatory syndrome [FCAS], neonatal onset multisystem inflammatory disease [NOMID]/chronic infantile neurological cutaneous and articular syndrome [CINCA]), FMF (familial Mediterranean fever), TRAPS (tumor necrosis factor receptor-associated periodic syndrome) and HIDS/MKD (hyperimmunoglobulinemia D syndrome/mevalonate kinase deficiency).
Methods: RELIANCE is a prospective, non-interventional, multi-center, observational study based in Germany with a 3-year follow-up enrolling pediatric (age ≥2 years) and adult patients with clinically confirmed diagnoses of CAPS, FMF, TRAPS and HIDS/MKD who routinely received CAN. 6-monthly clinical assessment and evaluation of patient-reported outcomes is aligned with routine clinic visits. Endpoints were effectiveness and safety of CAN under standard clinical practice conditions.
Results: The interim analysis includes 58 CAPS patients (45.6% females; 41.4% participated in the β-Confident study) with prior long-term CAN treatment enrolled by September 2018. The mean age was 21.7 years (4.0–79.0 years) at baseline and the mean duration of prior CAN treatment was 5.2 years (0.0–11.0 years). 48 patients (82.7%) were diagnosed with MWS, the other patients had FCAS (N=1), NOMID/CINCA (N=6) or atypical CAPS (N=1) (subtype diagnosis of 2 patients not available). The following parameters were determined at baseline, month 6 and month 12: (1) disease activity by patients' assessment (table 1), (2) days absent in school/from work due to study indication (table 2), (3) hearing ability (table 3). The results demonstrate a sustained remission and control of disease in patients with long-term CAN treatment. Serious adverse events were reported for 4 patients including pyrexia (N=1), tonsillitis (N=2) and a delivery at week 31 (N=1).
Conclusion: An interim analysis of the RELIANCE study, the longest running real-life CAN registry, shows that long-term CAN treatment is safe and effective in CAPS patients.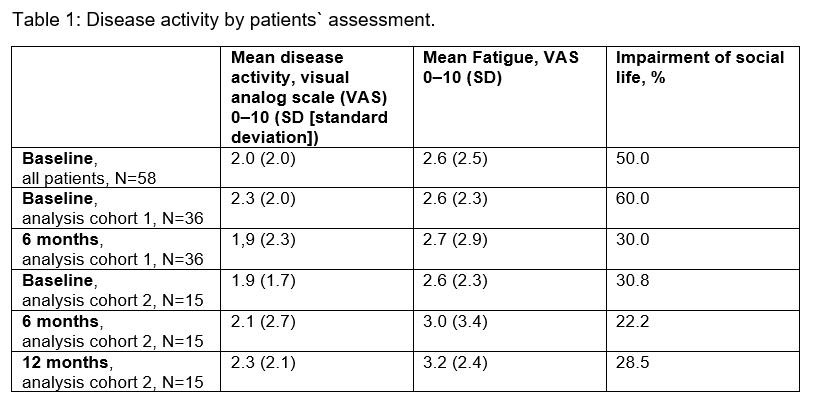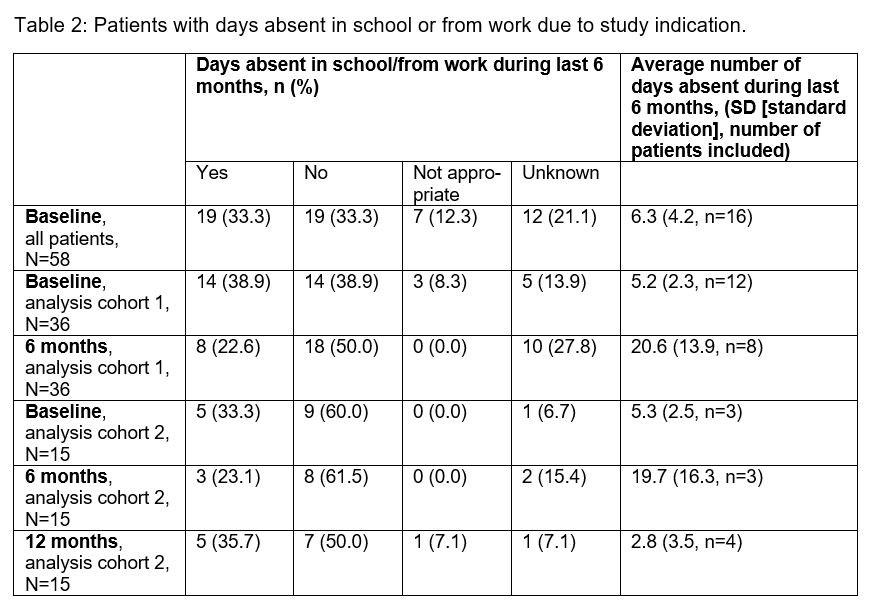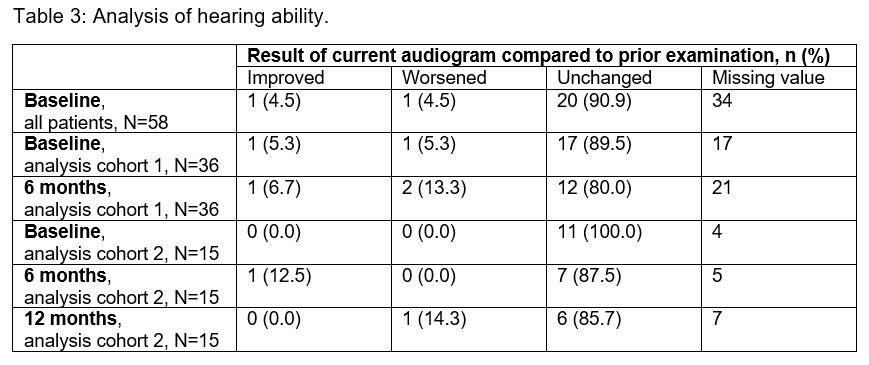 ---
Disclosure: J. Kuemmerle-Deschner, SOBI, 2, 8, Novartis, 2, 8; N. Blank, SOBI, 2, 8, Novartis, 2, 8; M. Borte, Pfizer, 2, Shire, 2; I. Foeldvari, Beyer, 5, BMS, 5, Glaxo, 5, Inventa, 5, Novartis, 5; G. Horneff, Chugai, 5, 8, GlaxoSmithKline, 5, 8, Novartis, 5, 8, Sanofi, 5, 8; P. Oommen, None; C. Schuetz, None; F. Weller-Heinemann, None; J. Weber-Arden, Novartis, 3; T. Kallinich, None.
To cite this abstract in AMA style:
Kuemmerle-Deschner J, Blank N, Borte M, Foeldvari I, Horneff G, Oommen P, Schuetz C, Weller-Heinemann F, Weber-Arden J, Kallinich T. Cryopyrin-Associated Periodic Syndrome Treated with Canakinumab – Long-Term Follow-up Data Documents Sustained Safety and Remission [abstract].
Arthritis Rheumatol.
2019; 71 (suppl 10). https://acrabstracts.org/abstract/cryopyrin-associated-periodic-syndrome-treated-with-canakinumab-long-term-follow-up-data-documents-sustained-safety-and-remission/. Accessed May 13, 2021.
« Back to 2019 ACR/ARP Annual Meeting
ACR Meeting Abstracts - https://acrabstracts.org/abstract/cryopyrin-associated-periodic-syndrome-treated-with-canakinumab-long-term-follow-up-data-documents-sustained-safety-and-remission/