Session Information
Session Type: Abstract Submissions (ACR)
Background/Purpose
The association between lipids and bone mass in adult life is controversial and there is limited evidence in childhood. The aim of this study was to describe the association between cholesterol measured in childhood and young adult life and bone mineral density (BMD) in younger adults.
Methods
Subjects broadly representative of the Australian population (n=1431, female=52%, age=26-36) were selected from the Australian Schools Health and Fitness Survey of 1985. They underwent various measurements including leg strength, standing long jump, and physical work capacity at 170 heart beats per minute (PWC170). Physical activity, smoking and alcohol history were recorded using questionnaires. Fasting lipid profiles were assessed in childhood and 20 years later in adulthood. A single Sahara bone ultrasound densitometer was used to determine heel bone mass in adulthood.
Results
In multivariable analysis, childhood High Density Lipoprotein (HDL) was positively (β: 0.056 g/cm2, 95% CI: 0.005, 0.108) and total cholesterol (TCH, normal Vs high β: -0.042 g/cm2, 95% CI: -0.081, -0.003) and Low Density Lipoprotein (LDL, normal Vs high β: -0.019 g/cm2, 95% CI: -0.039, 0.000) were negatively associated with BMD in adulthood. Similarly, adulthood TCH (β: -0.007 g/cm2, 95% CI: -0.015, -0.001) and LDL (β: -0.011 g/cm2, 95% CI: -0.019, -0.003) were negatively associated with adult life BMD. The association between childhood HDL and adulthood BMD remained significant after further adjustment for adulthood HDL levels. Subjects who remained in the abnormal category of TCH from childhood to adulthood (high-high) had the least bone mass compared to other category changes of TCH from childhood to adulthood.
These results were independent of gender, alcohol consumption and duration of follow-up from childhood to adulthood. The other confounders included in this analysis were independently associated with BMD, such as age (negatively associated with BMD, β: -3.58 mg/cm2 per year, 95% CI: -6.14, -1.01), physical activity (vigorous activity, β: 0.04 mg/cm2 per min/week, 95% CI: 0.01, 0.08), BMI in childhood and adulthood (both positively associated with BMD) and smoking (β: -18.34 mg/cm2, 95% CI: -27.35, -9.34). Duration and pack year of smoking were independently and negatively associated with BMD while performance measures including PWC170 (β: 0.33 mg/cm2 per Watts, 95% CI: 0.15, 0.51), leg muscle strength (β: 0.24 mg/cm2 per Kg, 95% CI: 0.02, 0.45) and long jump (β: 0.71 mg/cm2 per cm, 95% CI: 0.40, 1.02) were positively associated with BMD.
Conclusion
HDL in childhood was beneficially and high TCH was detrimentally associated with adulthood BMD. LDL and TCH in adulthood were detrimentally associated with BMD. The effect of childhood HDL was independent of the adulthood HDL levels. These results indicate that cholesterol may have long-term effects on bone mass from childhood to early adulthood.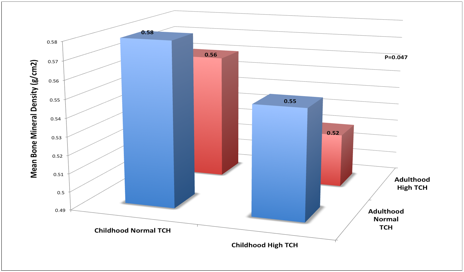 ---
Disclosure:
B. S. Eathakkattu Antony,
None;
C. Ding,
None;
A. Venn,
None;
T. Dwyer,
None;
G. Jones,
None.
« Back to 2014 ACR/ARHP Annual Meeting
ACR Meeting Abstracts - https://acrabstracts.org/abstract/correlates-of-heel-bone-mass-in-young-adults-the-role-of-cholesterol-over-20-years-from-childhood-to-early-adulthood/