Session Information
Session Type: Poster Session A
Session Time: 8:30AM-10:30AM
Background/Purpose: Compare factors associated with interstitial lung disease (ILD) progression determined on CT-scan analysis and survival in two distinct populations, patients with rheumatoid arthritis associated interstitial lung disease (RA-ILD) and patients with idiopathic pulmonary fibrosis (IPF).
Methods: RA and IPF patients with ILD confirmed by 2 CT-scans spaced from 6 or more months apart (T0: first CT chest scan describing ILD; Tx: last CT chest scan available) were consecutively included in this retrospective multicenter study from 2010 to 2020. CT-scans were blindly analyzed for each patient at T0 and Tx by 2 independent radiologists to determinate ILD pattern (definite usual interstitial pneumonia (UIP), probable UIP, indeterminate UIP, non-UIP) and progression during the follow-up (progressive or stable ILD) defined by the variation of the fibrosis score. Characteristics of patients (demographic-clinical-biological findings, pulmonary function tests, and treatments exposure) at T0 and during the follow-up (T0-Tx) were analyzed as potential determinants of ILD progression through multivariable logistic regression analysis. Overall survival was analyzed using Kaplan-Meier method.
Results: 74 RA-ILD patients and 70 IPF patients were included. During a T0-Tx follow-up of 2.8 ± 2 years, ILD progression was identical in the two populations, of 36%. RA-ILD patients and IPF patients were comparable in terms of age, sex, BMI, smoking history, and severity of initial pulmonary function tests, but T0 CRP rate was higher in RA-ILD patients (29 ± 36mg/L vs 9 ± 35mg/L; p< 0.0001) and T0 CT damage was slightly more pronounced in RA-ILD patients (T0 fibrosis score=27% vs 21%; p=0.05). Multivariate analysis identified different risk factors for ILD progression in the 2 populations. A treatment by Methotrexate at ILD diagnosis was associated negatively with ILD progression in RA-ILD patients (OR=0.14 [0.04-0.52]; p=0.0031) while UIP pattern was positively associated with ILD progression (OR=12 [4.38; 39.85], p=0.0001). In IPF patients, pulmonary comorbidities (OR=8.4 [1.4; 51.4], p=0.02) and the need to oxygen therapy during T0-Tx (OR=5.2 [1.2-22.3], p=0.03) were poor prognosis factors. The follow-up to death or end of collection (July 2020) was longer in RA-ILD patients (5.1 years vs 3.8; p=0.001) but survival rate was not significantly different (31% in RA-ILD patients vs 38 % in IFP patients; HR=1.59 [0.89; 2.84], p=0.1) and better for stable ILD than for progressive ILD in both RA-ILD and IPF populations.
Conclusion: We did not identify any common risk factors for ILD progression in RA-ILD and IPF patients, but in both populations, about one third of patients had ILD progression and died.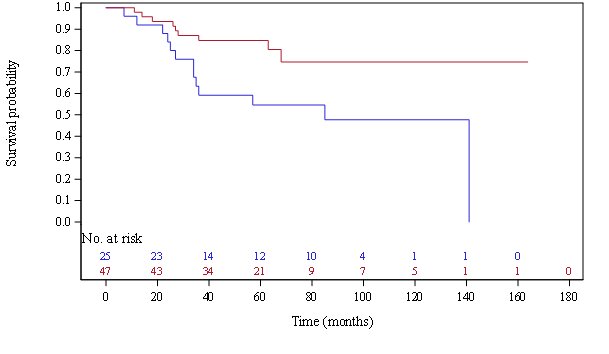 ---
Disclosures: C. Lucas, None; A. Tremblay, None; T. Lapotre, None; S. Jouneau, Actelion, 12, Conferences, AIRB, 1, 2, 5, 12, Conferences, AstraZeneca, 12, Conferences, Bellorophon Therapeutics, 5, Biogen, 5, Boehringer Ingelheim, 1, 2, 5, 12, Conferences, Chiesi, 12, Conferences, FibroGen, 5, Galecto Biotech, 5, Genzyme, 12, Conferences, Gilead, 5, GlaxoSmithKline, 12, Conferences, LVL, 5, 12, Conferences, Mundipharma, 12, Conferences, Novartis, 1, 2, 5, 12, Conferences, Pfizer, 12, Conferences, Pharm-Olam, 5, Pliant Therapeutics, 5, Roche, 1, 2, 5, 12, Conferences, Sanofi, 12, Conferences, Savara-Serendex, 5; M. Lederlin, None; A. Perdriger, None.
To cite this abstract in AMA style:
Lucas C, Tremblay A, Lapotre T, Jouneau S, Lederlin M, Perdriger A. Comparison of Factors Associated with CT-Scan Progression of Interstitial Lung Disease in Rheumatoid Arthritis and Idiopathic Pulmonary Fibrosis. Retrospective Multicenter Study of 144 Patients [abstract].
Arthritis Rheumatol.
2021; 73 (suppl 10). https://acrabstracts.org/abstract/comparison-of-factors-associated-with-ct-scan-progression-of-interstitial-lung-disease-in-rheumatoid-arthritis-and-idiopathic-pulmonary-fibrosis-retrospective-multicenter-study-of-144-patients/. Accessed January 22, 2022.
« Back to ACR Convergence 2021
ACR Meeting Abstracts - https://acrabstracts.org/abstract/comparison-of-factors-associated-with-ct-scan-progression-of-interstitial-lung-disease-in-rheumatoid-arthritis-and-idiopathic-pulmonary-fibrosis-retrospective-multicenter-study-of-144-patients/