Session Information
Session Type: Poster Session D
Session Time: 8:30AM-10:30AM
Background/Purpose: COVID-19 has been implicated in an exaggerated inflammatory response by activating both innate and adaptive immune responses. Rheumatic disease patients are a vulnerable population because of the underlying dysregulated immune system. The data regarding the impact of COVID-19 on rheumatic disease patients is limited. Data is heterogenous whether the patients on immunomodulatory therapy have lower mortality due to mitigation of immune response. Our study aimed to analyze the clinical characteristics of COVID-19 in hospitalized inflammatory rheumatic disease patients. And, compared the patients on chronic immunosuppression with those who weren't on immunosuppressive therapy.
Methods: This is a single-center study performed in a community hospital in the state of New Jersey. The adult patients with confirmed SARS-CoV-2 infection by nasopharyngeal RT-PCR who were hospitalized from March 2020 to January 2021 were screened for RMD. Data were manually extracted using the hospital's electronic medical record retrospectively after IRB approval. Categorical variables were compared by conducting a chi-square test while continuous ones were compared by conducting a median two-sample t-test. Statistical analysis was done with SAS software.
Results: A total of 600 patients were admitted under medicine service. Out of these, 19 patients (3.1 %) had documented RMD. These included Rheumatoid arthritis (n=4), SLE (n=1), systemic sclerosis ( n=2), Sjogren syndrome(n=1), gout (n=8), sarcoidosis (n=1), familial Mediterranean fever (n=1 ), psoriatic arthritis ( n=1), ANCA induced vasculitis (n=1) and polymyalgia rheumatica (n=1). The median age was 73 years, 57.9% were male (Table 1). The most common comorbidity was hypertension (n=13) followed by diabetes mellitus(n=6) and chronic kidney disease (n=5). Shortness of breath was the most common presenting symptom followed by fever. None had a rheumatic disease flare-up. In terms of treatment, 52.6% received steroids, 31.6% hydroxychloroquine, 31.6% remedesivir, 26.1% IL-6 inhibitor, and 10.5 % were treated with convalescent plasma. ICU level of care was required in 26.3% and 10.5% were intubated. Overall, 84.2% were discharged from the hospital and 15.8% had a poor outcome and died. The patients were further divided into two cohorts. Cohort 2 included patients who were on chronic DMARDs or immunosuppression therapy (methotrexate, cyclosporine, hydroxychloroquine, and oral steroids). None of the patients were on biologic DMARDs. There was no statistically significant difference in inflammatory markers (CRP, LDH, D-dimer, ferritin) on admission and peak values during the hospitalization ( Table 2). There was no significant difference in complication rate and final outcomes ( ICU admission, intubation, discharged alive) between the two cohorts (Table 3).
Conclusion: Our study revealed that 3.1% of hospitalized COVID-19 patients had the RMD. There was no statistically significant difference in inflammatory markers, complication rate, and final outcomes among patients on chronic immunosuppressive therapy vs those who were not on any immunosuppressant. The limitation of our study is a small sample size and a single-center retrospective data.
Table 1- Baseline characteristics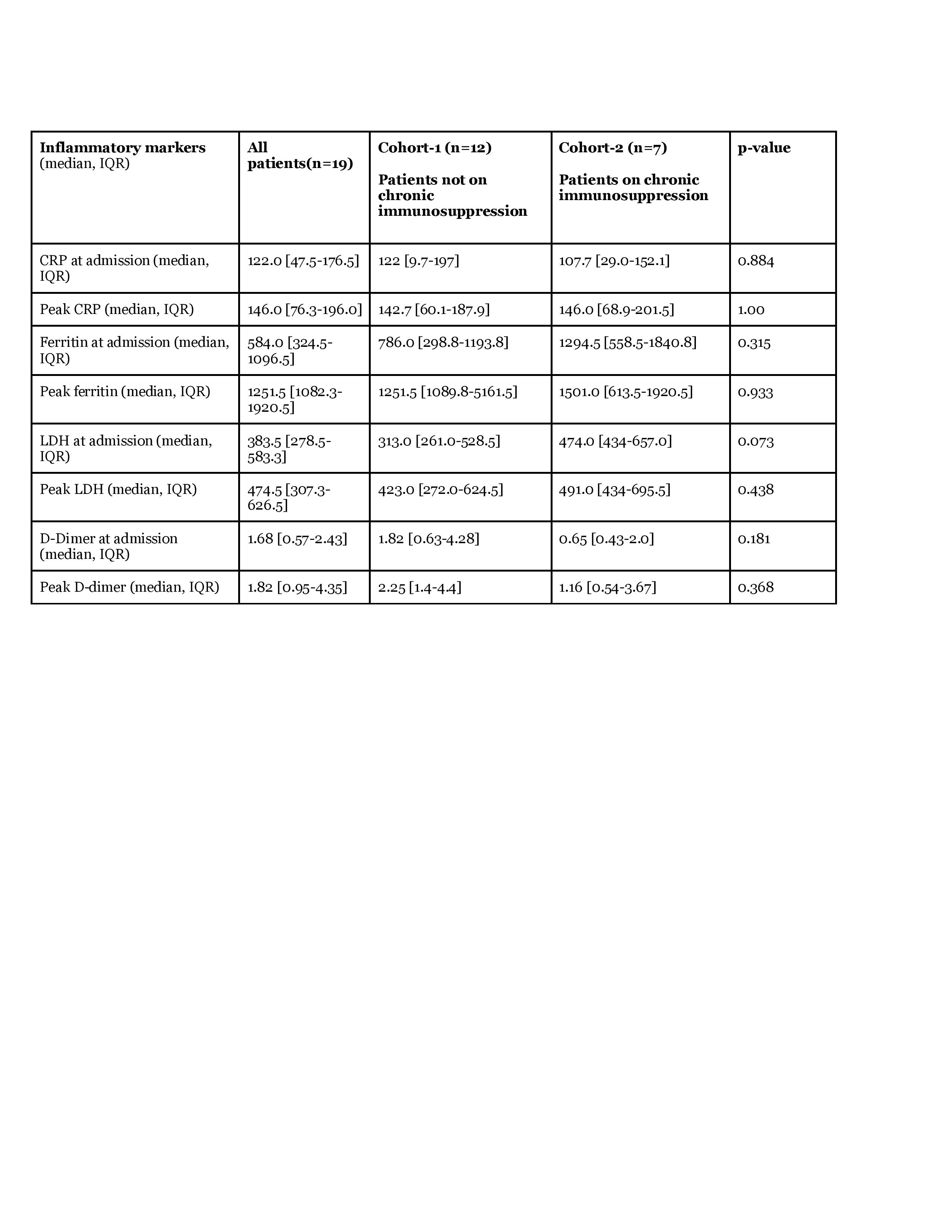 Table 2- Inflammatory markers
Table 3-Complications and final outcomes
---
Disclosures: I. Kaur, None; M. Mughal, None; A. Asbeutah, None; M. Kakadia, None; R. Alhashemi, None; H. Mirza, None; H. Jagdey, None; R. Alhashimi, None; v. sirpal, None; P. Jariwala, None; E. Capitle, None.
To cite this abstract in AMA style:
Kaur I, Mughal M, Asbeutah A, Kakadia M, Alhashemi R, Mirza H, Jagdey H, Alhashimi R, sirpal v, Jariwala P, Capitle E. Clinical Outcomes of Coronavirus Disease-2019 (COVID-19) in Hospitalized Patients with Rheumatic and Musculoskeletal Diseases (RMD) [abstract].
Arthritis Rheumatol.
2021; 73 (suppl 10). https://acrabstracts.org/abstract/clinical-outcomes-of-coronavirus-disease-2019-covid-19-in-hospitalized-patients-with-rheumatic-and-musculoskeletal-diseases-rmd/. Accessed August 12, 2022.
« Back to ACR Convergence 2021
ACR Meeting Abstracts - https://acrabstracts.org/abstract/clinical-outcomes-of-coronavirus-disease-2019-covid-19-in-hospitalized-patients-with-rheumatic-and-musculoskeletal-diseases-rmd/