Session Information
Session Type: Poster Session (Monday)
Session Time: 9:00AM-11:00AM
Background/Purpose: The SAPHO syndrome is a rare inflammatory disorder of bones, joints and skin first coined by Chamot in 1987 characterized by synovitis, acne, pustulosis, hyperostosis and osteitis1. No validated diagnostic criteria exist; diagnostic delay is not uncommon and observational data from the Western Hemisphere is sparse
Methods: Adult patients with a diagnosis of SAPHO seen between 2001 and 2018 at a single tertiary referral center were retrospectively identified. Cases were reviewed by a physician abstractor to determine whether they fulfilled either of the following 2 proposed criteria for SAPHO: Benhamou1,2 or modified Kahn (2003)3. Sociodemographics, clinical characteristics, laboratory parameters, radiology, histopathology, management and outcomes were abstracted from direct medical record review. Patients with non-inflammatory bony lesions, infectious osteitis and CRMO were excluded.
Results: Twenty-one patients with complete clinical and treatment data were identified (71% female, 76% Caucasian). The average age at the time of diagnosis was 36.9 ± 13.4 years and the mean time from symptom onset to diagnosis was 3.4 years. 20/21 had cutaneous involvement: 10 with palmoplantar pustulosis or psoriasis vulgaris and 10 with severe acne. Osteoarticular manifestations included anterior chest wall/clavicle 15 (71%), peripheral arthritis 9 (43%), inflammatory back pain 8 (38%) and 2 (10%) with mandibular osteitis. Uveitis and mucositis were uncommon (2 out of 21 cases). 52% had elevated inflammatory markers at diagnosis while HLA-B27 positivity was uncommon (1/11). 13 of 13 radionuclide bone scans performed were positive while 8 of 9 MRI's were diagnostic.
18 patients (86%) were treated with NSAIDs; addition of immunosuppressive therapy with oral DMARDs (n=14, 66%) and TNF inhibitor (n=12, 57%) was quite common. 9 of 12 patients treated with TNFi experienced loss of efficacy requiring an alternate TNF inhibitor or switch to IL 17 or 23 blockade. 6/21 received oral antibiotics (doxycycline or penicillin); 50% of whom responded well. 7/21 proved refractory requiring bisphosphonate therapy; 5/7 responded at time of last follow up. Outcomes were favorable overall with 15 (71%) being in/near remission at the end of the follow up period (mean of 3 years). 2 patients required reconstructive surgery; and they both had active disease at last visit.
Conclusion: This large case series presents a heterogenous group of SAPHO patients with a long period of follow up. A significant delay was noted between symptom onset and diagnosis. Concomitant cutaneous and osteoarticular manifestations were seen in the majority (20) of patients. HLA B27 was frequently negative in our group; advanced imaging with bone scan or MRI helped to confirm the diagnosis. Though NSAID and DMARD use were quite common, biologic and/or bisphosphonate therapy was frequently required. Female predominance and chest wall involvement in this series may explain the lack of response to NSAIDs4.Further studies are needed to guide diagnostic strategies and management. Greater awareness and multi-disciplinary collaboration are imperative in the provision of care to these patients.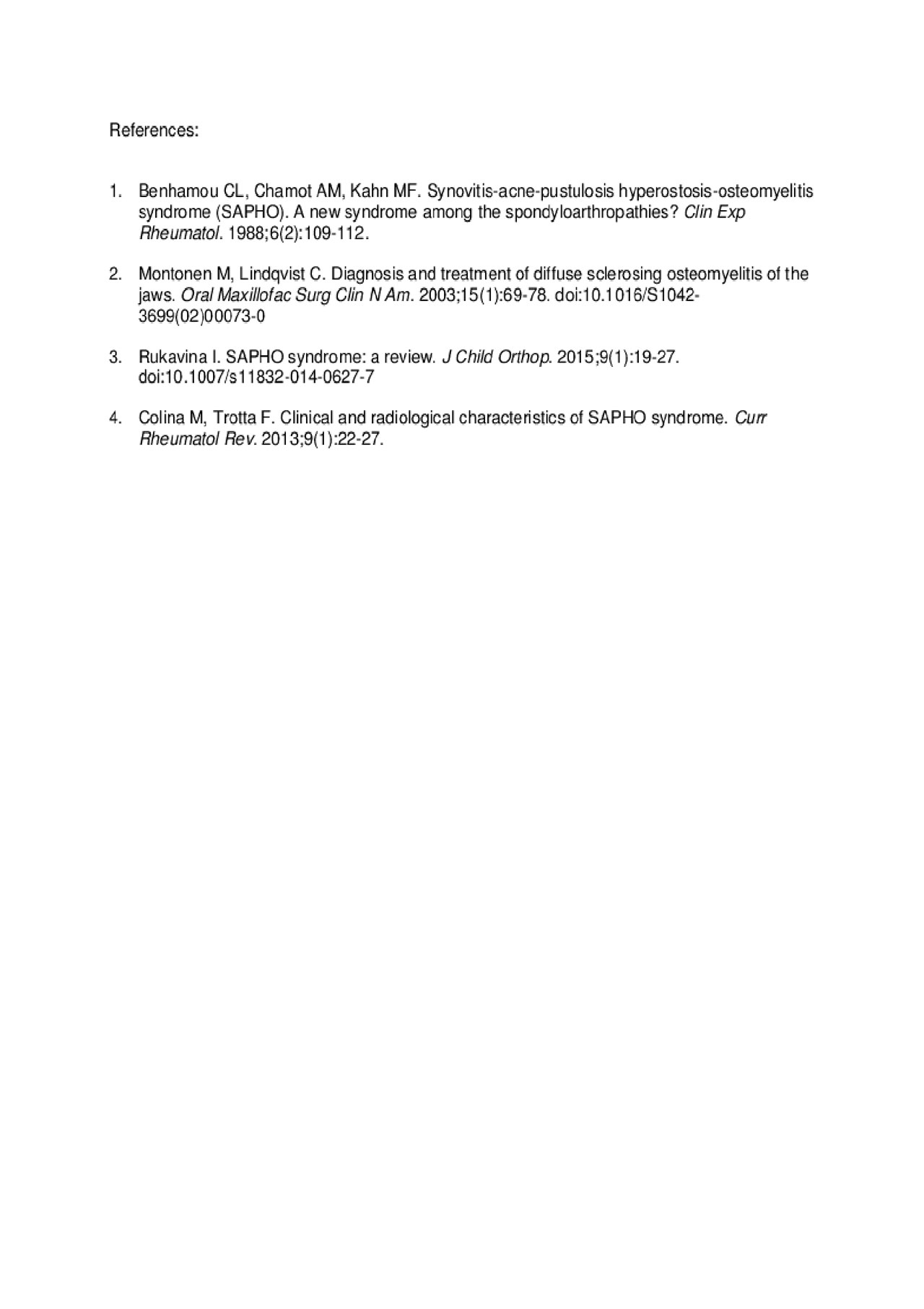 References
---
Disclosure: D. Bekele, None; P. Karmacharya, None; K. Wright, Pfizer, 2; C. Michet, None.
To cite this abstract in AMA style:
Bekele D, Karmacharya P, Wright K, Michet C. Clinical Manifestations and Management of US Patients with SAPHO (Synovitis, Acne, Pustulosis, Hyperostosis, Osteitis) Syndrome, a Retrospective Study [abstract].
Arthritis Rheumatol.
2019; 71 (suppl 10). https://acrabstracts.org/abstract/clinical-manifestations-and-management-of-us-patients-with-sapho-synovitis-acne-pustulosis-hyperostosis-osteitis-syndrome-a-retrospective-study/. Accessed November 28, 2020.
« Back to 2019 ACR/ARP Annual Meeting
ACR Meeting Abstracts - https://acrabstracts.org/abstract/clinical-manifestations-and-management-of-us-patients-with-sapho-synovitis-acne-pustulosis-hyperostosis-osteitis-syndrome-a-retrospective-study/