Session Information
Session Type: Poster Session (Sunday)
Session Time: 9:00AM-11:00AM
Background/Purpose: Routine use of musculoskeletal ultrasound (MSK-US) to aid in clinical decision-making for rheumatology patients is less common in the United States than in Europe, and while MSK-US is widely perceived as additive to the clinical impression, the measured clinical impact is unknown.  Our aim was to evaluate diagnostic and therapeutic outcomes of patients with rheumatic disease referred to a rheumatology MSK-US clinic.
Methods: All patients seen at an MSK-US clinic over a 12-week period were reviewed for the study.  Subjects referred for non-rheumatologic queries as well as subjects lacking referral documentation were excluded.  Data were extracted from the referral documentation, MSK-US clinic notes, and clinic notes from the referring provider pre- and post-US visit (± 6 months).  Subjects were categorized into groups pertaining to diagnostic and clinical impact of the MSK-US visit: 1) No diagnostic or clinical impact 2) US findings leading to subsequent clinical action by the referring provider 3) Unknown impact (follow-up data unavailable).  All MSK-US examinations were performed using a GE Logiq e ultrasound (GE Healthcare, WI) with 12-L and 18-L transducers.  Diagnostic regional MSK exams were performed according to published EULAR protocols, enthesitis exams utilized the Madrid Sonographic Enthesis Index (MASEI), and synovitis exams utilized the ARCTIC protocol (Aiming for Remission in rheumatoid arthritis: a randomized trial examining the benefit of ultrasound in a Clinical Tight Control regimen).
Results: 86 referrals met inclusion criteria.  Mean age was 53 ± 14 years, 81% were female, and mean time from referral to US visit was 24 ± 25 days (Table 1).  Most referrals were generated from rheumatologists (93%, n=80), and disease activity assessment was the most frequent referral reason (60%, n=51).  Overall, MSK-US led to a change in the underlying diagnosis in 28% (n=24) of cases (Table 1).  In 58% (n=50) of cases, MSK-US examination led to a subsequent clinical action by the referring provider (Figure 1); the majority of these cases were subjects referred for diagnostic exam or disease activity assessment (Table 1).  Discordance between the US visit recommendations and the subsequent referring provider's treatment plan occurred in 11% (n=3) of patients with non-inflammatory US findings.
Conclusion: The most common referral reason in an academic rheumatology MSK-US clinic was for disease activity assessment.  MSK-US findings led to a change in the underlying existing rheumatologic diagnosis or clinical impression of the chief complaint in 28% of cases and led to a change in clinical management in 58% of cases.  These findings suggest that rheumatologists utilize MSK-US findings to make significant clinical decisions and support the utility of a dedicated MSK-US clinic to aid in the diagnosis and management of patients with rheumatic disease.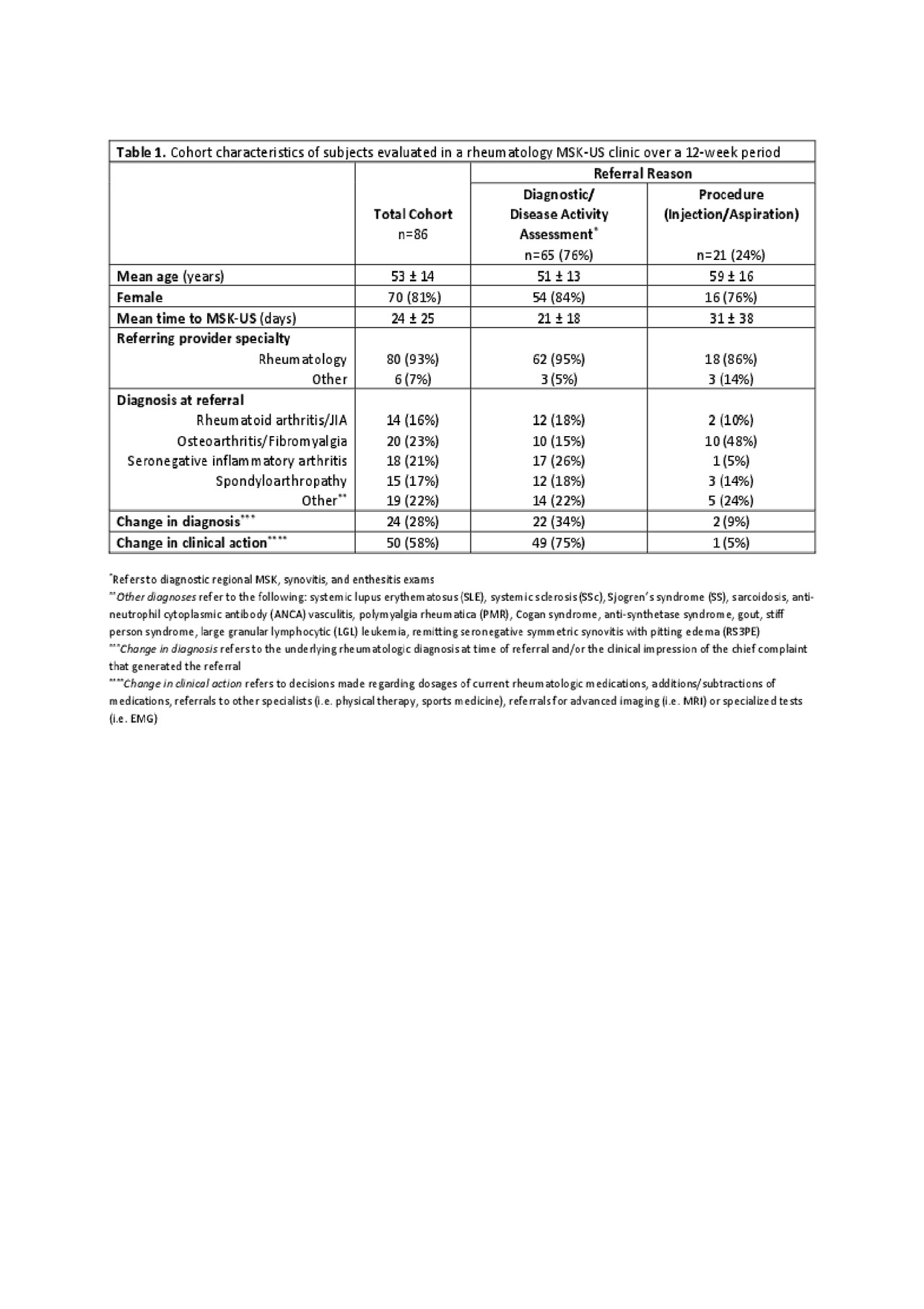 US Table 1

US Figure 1
---
Disclosure: S. Chung, None; K. Wysham, None; E. Jernberg, None; I. Sacksen, None; S. Pollock, None; A. Bays, None.
To cite this abstract in AMA style:
Chung S, Wysham K, Jernberg E, Sacksen I, Pollock S, Bays A. Clinical Impact of a Rheumatology Musculoskeletal Ultrasound Clinic at a U.S. Academic Center [abstract].
Arthritis Rheumatol.
2019; 71 (suppl 10). https://acrabstracts.org/abstract/clinical-impact-of-a-rheumatology-musculoskeletal-ultrasound-clinic-at-a-u-s-academic-center/. Accessed September 24, 2022.
« Back to 2019 ACR/ARP Annual Meeting
ACR Meeting Abstracts - https://acrabstracts.org/abstract/clinical-impact-of-a-rheumatology-musculoskeletal-ultrasound-clinic-at-a-u-s-academic-center/