Session Information
Session Type: ACR Concurrent Abstract Session
Session Time: 4:30PM-6:00PM
Background/Purpose:
Racial differences exist in the severity of systemic sclerosis (SSc). To enhance our knowledge about SSc in African Americans, we established a comprehensive clinical database from the largest multicenter cohort of African American SSc patients assembled to date (the Genome Research in African American Scleroderma Patients (GRASP) cohort). We compared the phenotypic manifestations of SSc in the GRASP cohort to that reported in the European League Against Rheumatism Scleroderma Trials and Research (EUSTAR) cohort1.
Methods:
African American SSc patients were enrolled retrospectively and prospectively over a 30-year period (1987 to 2016), from 18 academic centers throughout the United States. 945 (94%) patients met the 2013 ACR/EULAR classification criteria for SSc, with the remaining 64 (6%) meeting the 1980 ACR or CREST criteria. The cross-sectional prevalence of sociodemographic, clinical and serological features was evaluated using data obtained at the time of study enrollment. Factors associated with clinically significant manifestations of SSc were assessed using multivariate logistic regression analyses.
Results:
The study population included a total of 1009 African American SSc patients comprised of 84% women. While 43% were actively employed, 33% required disability support. The majority (57%) had the more severe diffuse subtype and a young age at symptom onset (39.1±13.7 years), in marked contrast to that reported in the EUSTAR cohort. 11% of patients had a severe Medsger cardiac score2 of 4 (Figure 1). Pulmonary fibrosis evident on computed tomography (CT) chest was present in 43% of patients, and was significantly associated with anti-topoisomerase I positivity (Table 1). 38% of patients with CT evidence of pulmonary fibrosis had a severe restrictive ventilator defect with forced vital capacity (FVC) £50% predicted. 16% of patients in the GRASP cohort required oxygen therapy compared to 3% in the EUSTAR cohort. A significant association was noted between longer disease duration and higher odds of pulmonary hypertension (Table 1). The prevalence of potentially fatal scleroderma renal crisis was 7%, 3.5 times higher than that reported in the EUSTAR cohort.
Conclusion:
Our study emphasizes the unique and severe disease burden of SSc in African Americans compared to those of European ancestry.
1. Meier FM, et al. Update on the profile of the EUSTAR cohort: an analysis of the EULAR Scleroderma Trials and Research group database. Ann Rheum Dis. 2012;71:1355-60.
2. Medsger TA, Jr., et al. Assessment of disease severity and prognosis. Clin Exp Rheumatol. 2003;21:S42-6.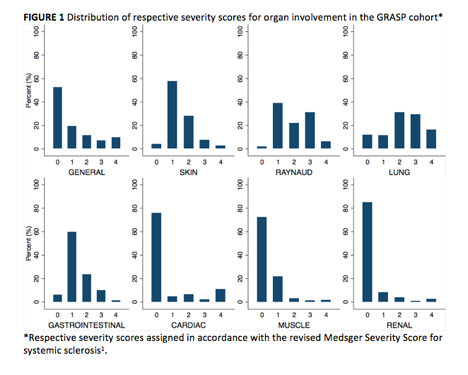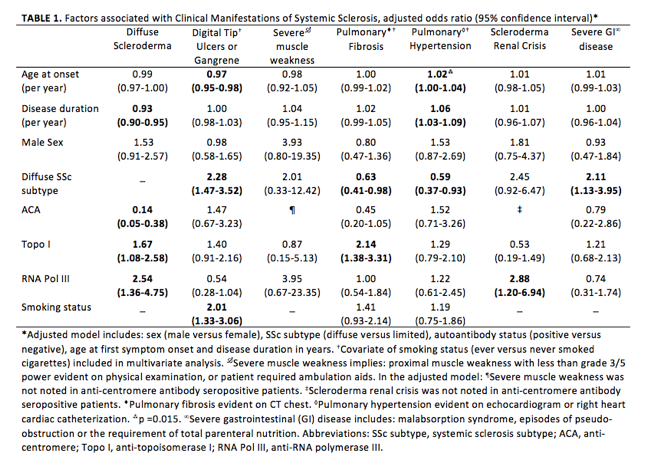 ---
Disclosure: N. D. Morgan, None; A. A. Shah, None; M. D. Mayes, None; R. T. Domsic, None; T. A. Medsger Jr., None; V. D. Steen, None; J. Varga, BMS, 2,Pfizer Inc, 2; M. A. Carns, None; P. S. Ramos, None; R. M. Silver, None; E. Schiopu, None; D. Khanna, Actelion, Bayer, BoehringerIngelheim, Chemomab, Corbus, Covis, Cytori,Eicos, EMD Serono, Genentech/Roche, Gilead, GSK, Sanofi-Aventis,UCB Pharma, 5,NIH/NIAMS, NIH/NIAID,Bayer, BMS, Genentech/Roche, Pfizer, 2,Eicos, 4; V. Hsu, None; J. K. Gordon, None; H. Gladue, None; L. A. Saketkoo, None; L. A. Criswell, None; C. T. Derk, None; M. A. Trojanowski, None; V. K. Shanmugam, Multiple, 9; L. Chung, Cytori, Actelion, Reata, 5; A. Valenzuela, None; R. Jan, None; A. Goldberg, None; E. F. Remmers, None; D. L. Kastner, None; F. M. Wigley, None; P. Gourh, None; F. Boin, None.
To cite this abstract in AMA style:
Morgan ND, Shah AA, Mayes MD, Domsic RT, Medsger TA Jr., Steen VD, Varga J, Carns MA, Ramos PS, Silver RM, Schiopu E, Khanna D, Hsu V, Gordon JK, Gladue H, Saketkoo LA, Criswell LA, Derk CT, Trojanowski MA, Shanmugam VK, Chung L, Valenzuela A, Jan R, Goldberg A, Remmers EF, Kastner DL, Wigley FM, Gourh P, Boin F. Clinical and Serological Features of Systemic Sclerosis in a Multicenter African American Cohort: Analysis of the Genome Research in African American Scleroderma Patients Clinical Database [abstract].
Arthritis Rheumatol.
2017; 69 (suppl 10). https://acrabstracts.org/abstract/clinical-and-serological-features-of-systemic-sclerosis-in-a-multicenter-african-american-cohort-analysis-of-the-genome-research-in-african-american-scleroderma-patients-clinical-database/. Accessed September 26, 2022.
« Back to 2017 ACR/ARHP Annual Meeting
ACR Meeting Abstracts - https://acrabstracts.org/abstract/clinical-and-serological-features-of-systemic-sclerosis-in-a-multicenter-african-american-cohort-analysis-of-the-genome-research-in-african-american-scleroderma-patients-clinical-database/