Session Information
Session Type: Poster Session (Sunday)
Session Time: 9:00AM-11:00AM
Background/Purpose: Progression of Juvenile Idiopathic Arthritis (JIA) can lead to growth disturbances in affected joints. Fibroblast-like synoviocytes (FLS) play a key role in the pathogenesis of JIA; however, the mechanisms of communication between FLS and growth plate chondrocytes is not well described. We have previously shown that JIA FLS overexpress BMP4, which promotes chondrocyte hypertrophy during endochondral bone formation (EBF) [1,2]. We examined the influence of chondrocytes (Ch) on diseased FLS to establish a possible mechanism for the bony overgrowth seen in JIA.
Methods: RNA was collected from three control FLS (CFLS) and JIA FLS (JFLS) cell lines cultured in their respective media at 6 and 24 hours. Concurrently, RNA was collected from three CFLS and JFLS cell lines cultured in conditioned media from Ch (CFLS-Ch and JFLS-Ch). Clariom S microarray was performed and log ratios of fold change over time calculated using linear expression.
Results: JFLS favor TGFβ signaling via an increase in Smad2 expression over BMP related genes (BMPR1a and BMP2) when compared to CFLS (Fig 1A). When exposed to chondrocyte-conditioned media, CFLS-Ch downregulate BMP-related genes (Smad5, Smad7, BMPR1b, BMP2, and GDF5) compared to untreated CFLS (Fig 1B). TGFβ-induced gene is significantly downregulated in JFLS-Ch compared to untreated JFLS (Fig 1C). Untreated JFLS overexpress genes related to proliferating/prehypertrophic chondrocytes (MMP9, MMP12, PCNA) than genes expressed during hypertrophy (VEGFA and SPP1) (Fig 2A). Both CFLS-Ch and JFLS-Ch express genes of chondroprogenitor cells (MMP2, FGFR2 in CFLS and MATN3 in JFLS) as opposed to genes of prehypertrophic/hypertrophic Ch (COLX, VEGFA, COL1, IGF1 in CFLS and MMP9, COL1, SOX6, MMP2 in JFLS) (Fig 2B and 2C).
Conclusion: While untreated JFLS favor TGFβ signaling via increases in Smad2 expression, JFLS-Ch have a reduction in TGFβ signaling through TGFBI, a gene induced by TGFβ ligands with a role in EBF and Ch maturation [3]. Ch influencing JFLS to abrogate TGFβ signaling leads JFLS-Ch to express markers of chondroprogenitor cells as opposed to markers that promote chondrocyte hypertrophy. Ch may have mechanisms to prevent JFLS from influencing the growth plate Ch to undergo EBF. Untreated JFLS express genes related to chondrocyte hypertrophy and proliferation, suggesting that JFLS may play a direct role in the growth discrepancies seen in JIA (Fig 3).
 References:
Brescia, A.C., et al., The role of transforming growth factor beta signaling in fibroblast-like synoviocytes from patients with oligoarticular juvenile idiopathic arthritis: dysregulation of transforming growth factor beta signaling, including overexpression of bone morphogenetic protein 4, may lead to a chondrocyte phenotype and may contribute to bony hypertrophy. Arthritis Rheumatol. 66(5): p. 1352-62.
Chen, G., Deng, C., & Li, Y. TGF-β and BMP Signaling in Osteoblast Differentiation and Bone Formation. International Journal of Biological Sciences. 8(2), 272-288.
Lee, JM, et al., Tgfbi deficiency leads to a reduction in skeletal size and degradation of the bone matrix. Calcif Tissue Int. (1):56-64.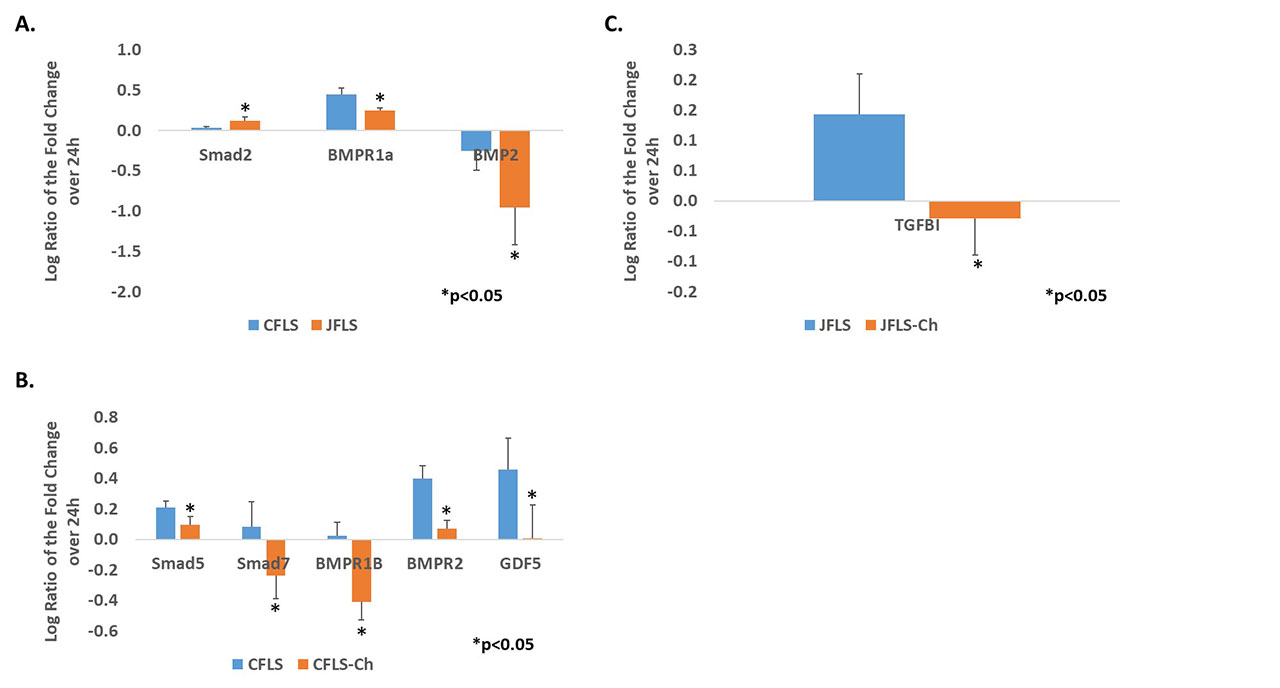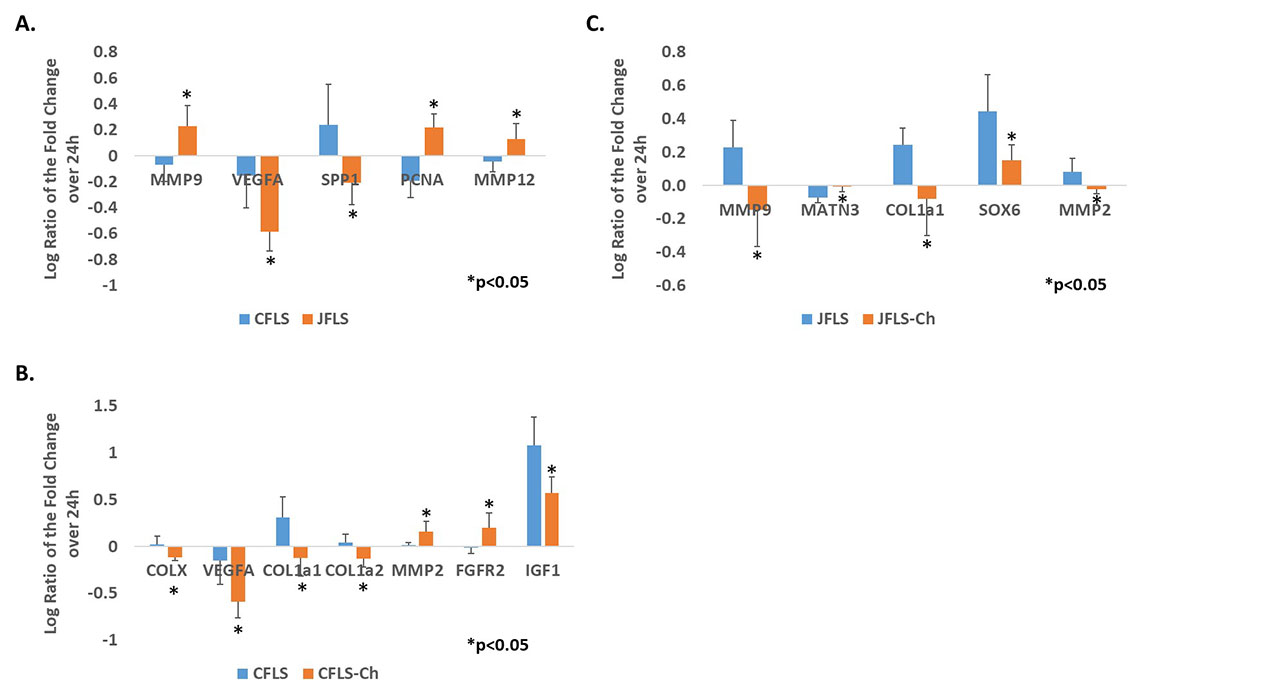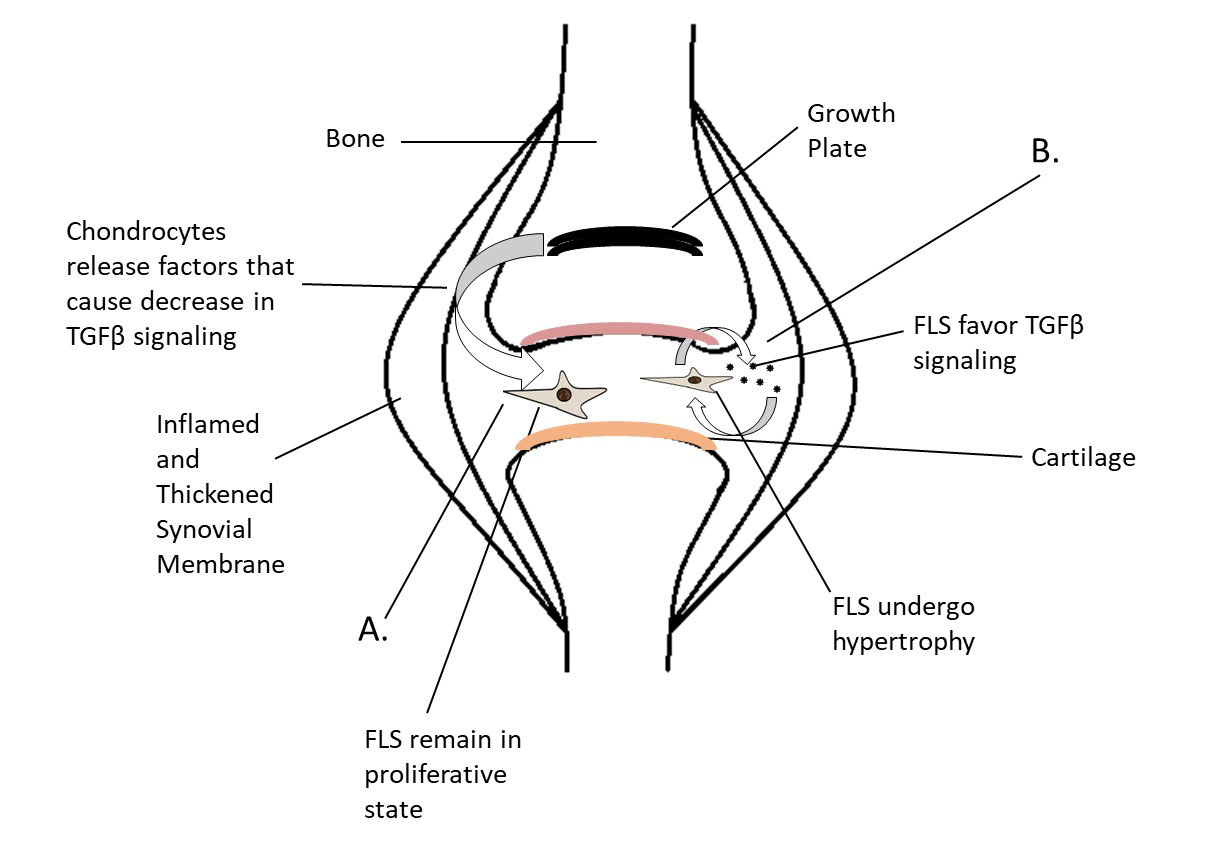 ---
Disclosure: M. Simonds, None; A. Schlefman, None; S. McCahan, None; K. Sullivan, None; C. Rose, None; A. Brescia, None.
To cite this abstract in AMA style:
Simonds M, Schlefman A, McCahan S, Sullivan K, Rose C, Brescia A. Chondrocytes Influence Fibroblast-like Synoviocytes from Patients with Juvenile Idiopathic Arthritis, Through the Abrogation of TGFβ Signaling, to Delay Cell Differentiation and Maturation [abstract].
Arthritis Rheumatol.
2019; 71 (suppl 10). https://acrabstracts.org/abstract/chondrocytes-influence-fibroblast-like-synoviocytes-from-patients-with-juvenile-idiopathic-arthritis-through-the-abrogation-of-tgf%ce%b2-signaling-to-delay-cell-differentiation-and-maturation/. Accessed December 5, 2020.
« Back to 2019 ACR/ARP Annual Meeting
ACR Meeting Abstracts - https://acrabstracts.org/abstract/chondrocytes-influence-fibroblast-like-synoviocytes-from-patients-with-juvenile-idiopathic-arthritis-through-the-abrogation-of-tgf%ce%b2-signaling-to-delay-cell-differentiation-and-maturation/