Session Information
Session Type: Poster Session (Sunday)
Session Time: 9:00AM-11:00AM
Background/Purpose: Takayasu arteritis (TA) is a large vessel vasculitis that affects aorta and its main branches. Despite being the third most common vasculitis in childhood, it still rare and data are scarce in the literature. Diagnosis may be delayed due to its non-specific manifestations. Early diagnosis and treatment are essential due to its high morbidity and mortality in these patients.
Methods: A descriptive single-center study of pediatric patients that met the EULAR/PRINTO/PReS criteria for childhood TA (cTA) between January 2000 and April 2019. Demographic data, time to diagnosis, clinical features, laboratory markers, imaging features, extension according to the Numano classification and treatment were documented. Disease activity was retrospectively assessed at the time of diagnosis by Paediatric Vasculitis Activity Score (PVAS). Damage was assessed by Paediatric Vasculitis Damage Index (PVDI) at last follow-up.
Results: Ten patients were included. Demographic data and main features are shown in table 1. Non-specific symptoms were the predominant ones at presentation (90%) followed by more specific manifestations in most cases. In our population, there is a tendency to present extensive vascular disease (Numano V in 50%). Most frequently involved vessels are shown in table 2. All patients were active at the time of their recruitment in our institution (documented by clinical and laboratory findings or by positron emission tomography). Nevertheless, only 40% of them had acute phase reactants elevation (ESR 30% and CRP 30%), which suggests that these analytes do not always correlate with cTA activity. Medical treatment included: glucocorticoids (100%), methotrexate (80%), azathioprine (20%), biological therapy (20%) and others (mycophenolic acid and cyclophosphamide). Six patients (60%) required interventional treatment, five of them (50%) endovascular intervention with stenting. Arteries that required interventional treatment (Stenting) are shown in table 3. Thoracic and abdominal aorta were the more frequently arteries that required surgical replacement with stenting. Two patients required intra-stent balloon angioplasty; one of them required this procedure 3 times. In the first time with placement of a non-medicated stent in one renal artery and twice more placement of medicated stents in both renal arteries because stent restenosis (intra-stent stenting in one side). One patient was treated with balloon angioplasty in both renal arteries and abdominal aorta without stenting. Only three patients (30%) required a surgical procedure. Mortality was 10%, after non-coronary Valsalva sinus plasty with supra-coronary replacement of ascending aorta).
Conclusion: In our cohort, cTA tends to present with extensive vascular disease, associated in most of the cases with nonspecific symptoms. The percentage of acute phase reactants elevation was less than 50% despite having detected cTA activity in 100% of patients at diagnosis, so thorough exploration is essential. Mortality was related to a surgical complication (part of the treatment) and not to the activity of vasculitis.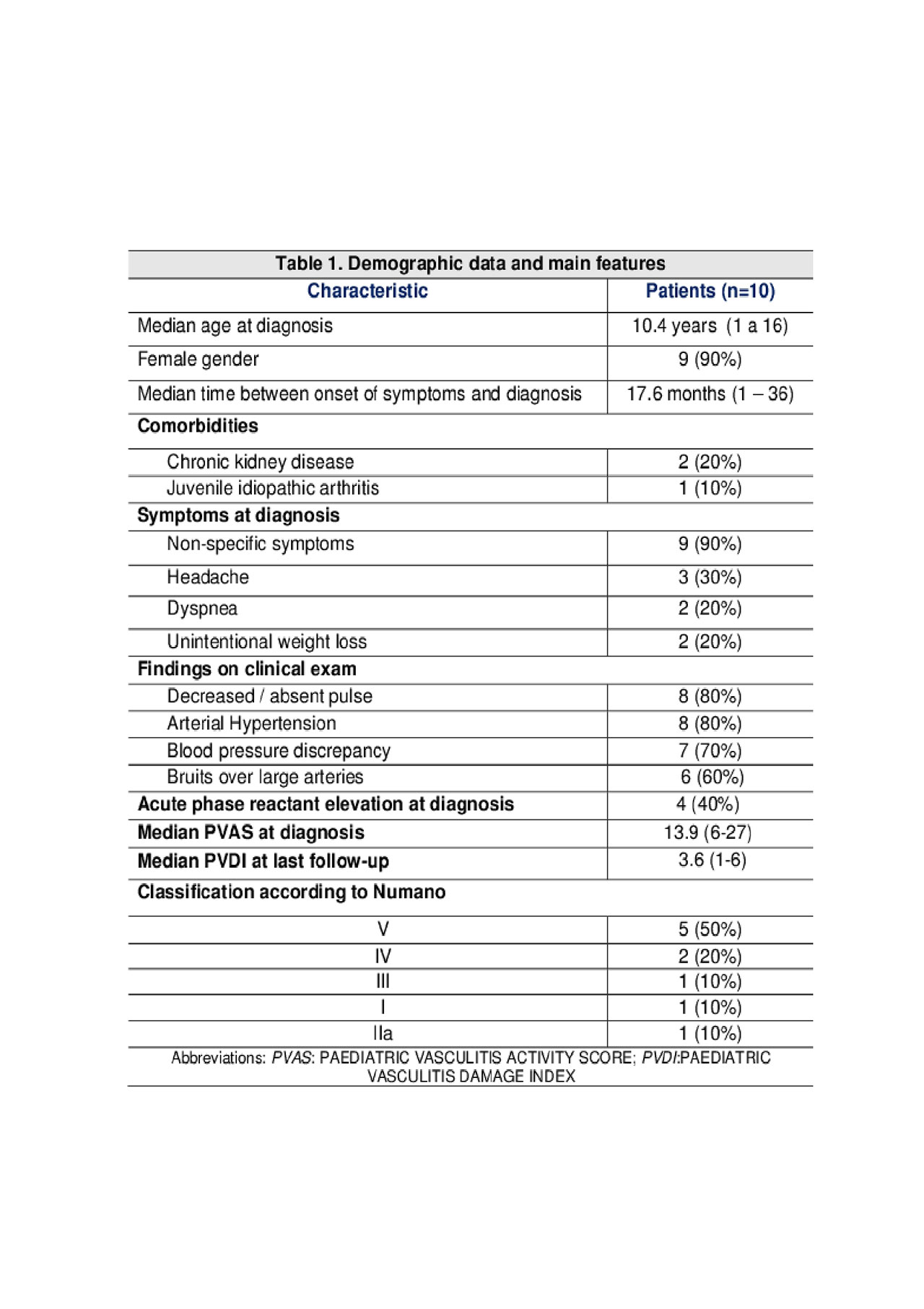 Demographic data and main features

Arterial vessel involvement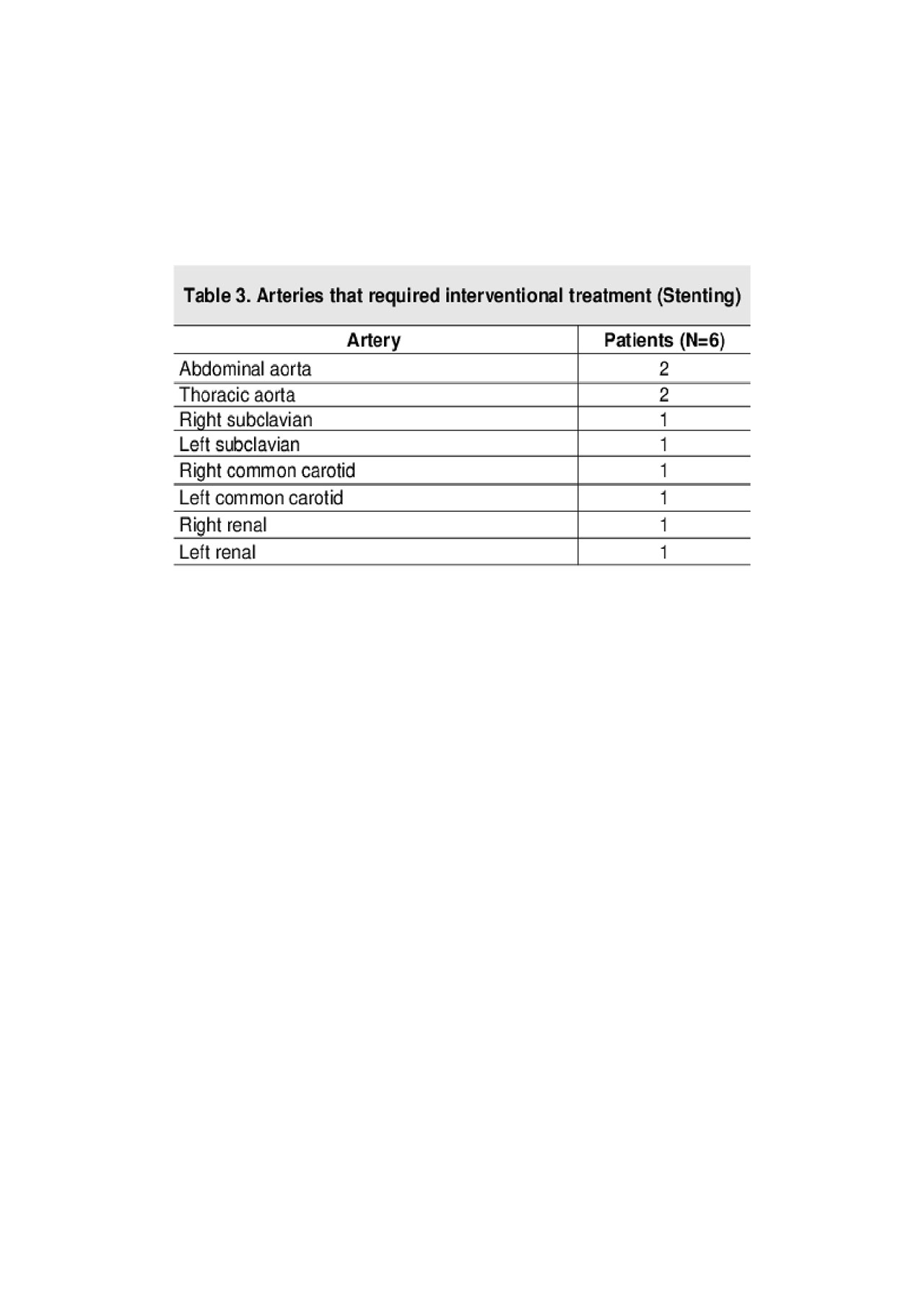 Arteries that required interventional treatment -Stenting-
---
Disclosure: G. Valero-Gaona, None; E. Faugier-Fuentes, None; A. Vargas Guerrero, None.
To cite this abstract in AMA style:
Valero-Gaona G, Faugier-Fuentes E, Vargas Guerrero A. Childhood Takayasu Arteritis: Characteristics and Outcomes of a Mexican Cohort [abstract].
Arthritis Rheumatol.
2019; 71 (suppl 10). https://acrabstracts.org/abstract/childhood-takayasu-arteritis-characteristics-and-outcomes-of-a-mexican-cohort/. Accessed November 25, 2020.
« Back to 2019 ACR/ARP Annual Meeting
ACR Meeting Abstracts - https://acrabstracts.org/abstract/childhood-takayasu-arteritis-characteristics-and-outcomes-of-a-mexican-cohort/