Session Information
Session Type: Abstract Submissions (ACR)
Background/Purpose:   There is no standardized approach to the initial treatment of polyarticular juvenile idiopathic arthritis (pJIA) among North American pediatric rheumatologists. Understanding the comparative effectiveness of the diverse therapeutic options available will result in better health outcomes for children with pJIA. The Childhood Arthritis and Rheumatology Research Alliance (CARRA) developed consensus treatment plans (CTP) for use in clinical practice to facilitate such studies. 
Methods:   A case-based survey was administered to CARRA members to identify the most common treatment approaches for new-onset pJIA. Two face-to-face consensus meetings employed modified nominal group technique to agree on the treatment plans, operational case definitions, endpoints and data elements to be collected. A core workgroup reviewed the literature, refined the plans and developed medication dosing and monitoring recommendations. The final CTPs were presented for approval at a face-to-face meeting in April 2013.
Results:   Sixty percent of 230 members answered the survey, which identified significant variability in treatment for new onset pJIA. 72 (2011) and 58 (2012) CARRA members attended consensus meetings to develop the 3 CTPs based on treatment strategies that focus on timing of introduction of medication categories (biologic and non-biologic DMARDs) for the first 12 months of therapy. Case definitions and clinical and laboratory monitoring schedules were established. The 3 CTPs include a Step-Up CTP (non-biologic with the addition of a biologic DMARD after 3-6 mos), Early Combination CTP (non-biologic plus biologic DMARD as initial treatment), and a Biologic Only CTP. This approach was approved by 96% of the 72 CARRA JIA Committee members attending the 2013 CARRA meeting. 
Conclusion:    Standardized CTPs based on 3 treatment timing strategies were developed for new-onset pJIA. Coupled with data collection at defined intervals, use of these CTPs will enable studying their comparative effectiveness in an observational setting like the CARRA Registry to optimize initial management of pJIA. Based on a high level of agreement among pediatric rheumatologists during the development process, sufficient participation and enrollment in all CTPs is anticipated.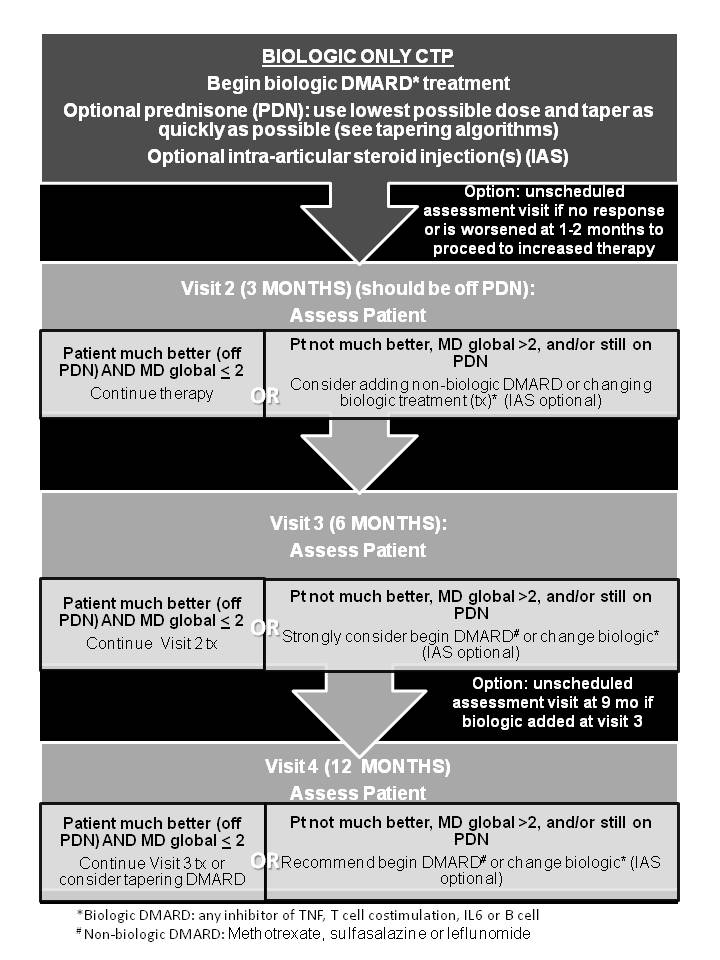 ---
Disclosure:
S. Ringold,
None;
P. F. Weiss,
None;
R. A. Colbert,
None;
E. Morgan DeWitt,
NIAMS-NIH,
2;
T. C. Lee,
None;
K. Onel,
None;
S. Prahalad,
None;
R. Schneider,
None;
S. Shenoi,
None;
R. K. Vehe,
None;
Y. Kimura,
None.
« Back to 2013 ACR/ARHP Annual Meeting
ACR Meeting Abstracts - https://acrabstracts.org/abstract/childhood-arthritis-and-rheumatology-research-alliance-carra-standardized-consensus-treatment-plans-for-new-onset-polyarticular-juvenile-idiopathic-arthritis/