Session Information
The 2020 Pediatric Rheumatology Symposium, originally scheduled for April 29 – May 2, was postponed due to COVID-19; therefore, abstracts were not presented as scheduled.
Session Type: Poster Breakout Session
Session Time: 4:30PM-5:00PM
Background/Purpose: Juvenile idiopathic arthritis (JIA) is currently the most common childhood chronic rheumatic disease with high burden and socioeconomic costs for the patient's family and the health care system. In Chile, JIA was incorporated to a national health program called the Explicit Guarantee System (Garantías Explícitas en Salud or GES) in 2010 legally mandating guaranteed universal access to diagnosis and therapy to all JIA patients in the public and private health systems. The purpose of this study is to evaluate the clinical and demographic characteristics of patients with JIA in Chile and compare the treatments and outcomes before and after the introduction of the GES program.
Methods: The clinical records of 280 patients with JIA followed at a tertiary academic health network between 2007 and 2018 were reviewed. Patients were divided into 3 subgroups: those diagnosed with JIA prior to the implementation of the GES in 2010 without subsequent follow-up (pre-GES); the patients diagnosed with JIA before the introduction of the GES who continued under control in our center after 2010 (pre- and post-GES patients) and those diagnosed after 2010 (post-GES). Diagnosis of JIA was determined by the treating physician and classified by the International League of Associations for Rheumatology (ILAR) criteria for JIA. Remission was defined as inactive disease for at least 6 consecutive months. This study was approved by the Pontificia Universidad Católica de Chile Scientific Ethics Committee.
Results: Sixty nine percent of patients were female, mean age at diagnosis was 8.5±4.8 years and mean follow-up 4±3.7 years. A 44% had oligoarthritis, 5% rheumatoid factor (RF)-positive polyarthritis, 14% RF-negative polyarthritis, 18% enthesitis-related arthritis, 9% psoriatic arthritis, 8% systemic arthritis, and 3% undifferentiated arthritis. Twelve percent of patients had uveitis, of which 65% had oligoarthritis. After the introduction of the GES program, diagnostic delay was significantly reduced (15±4.5 vs. 9±4.2 months). Regarding JIA treatments, before the GES program, no patients received biologics. Of the 67 patients diagnosed before 2010 with continued follow-up at our center 34% began biologic treatment after GES implementation. Of the 196 patients diagnosed after 2010, 46% were treated with biologics. JIA remission rates were significantly higher among patients diagnosed after GES implementation compared to those diagnosed in the preceding period  (41% vs. 29%  p< 0.05).
Conclusion: The implementation of a legally-mandated national diagnosis and treatment guarantee program for JIA led to earlier diagnosis, universal access to biologic drugs, and higher rates of clinical remission in Chilean children. The results of this study demonstrate how an effective public policy for juvenile idiopathic arthritis in a developing country can lead to changes in treatment access and improved outcomes, constituting a novel model that could be replicated in other countries.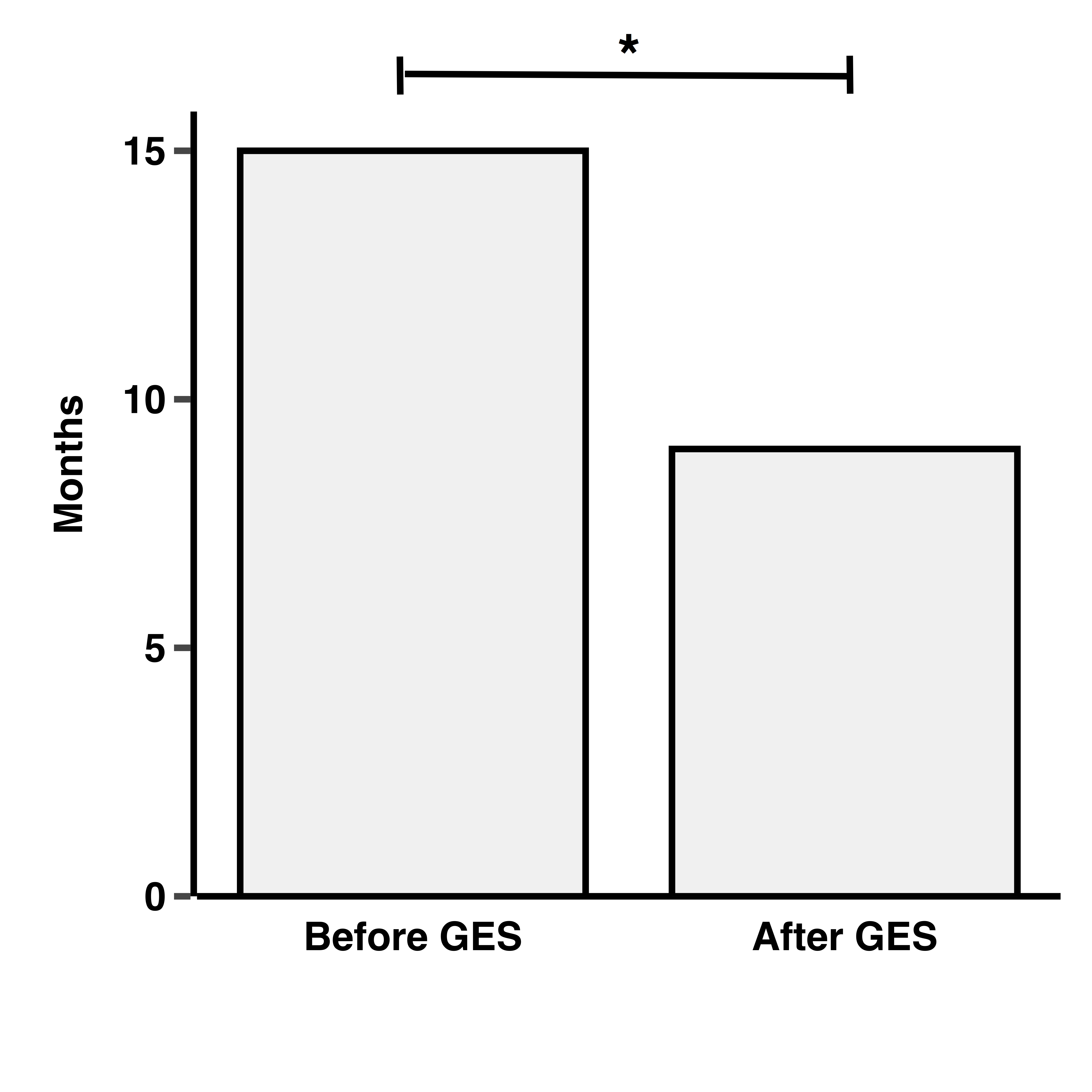 Juvenile Idiopathic Arthritis diagnosis delay before and after GES National Program implementation. Juvenile Idiopathic Arthritis remission rate before and after GES National Program implementation.
Changes in Juvenile Idiopathic Arthritis treatment after GES National Program implementation.
---
Disclosure: S. Concha, None; P. Morales, None; E. Talesnik, None; A. Borzutzky, None.
To cite this abstract in AMA style:
Concha S, Morales P, Talesnik E, Borzutzky A. Change in Treatments and Outcomes After Implementation of a National Diagnosis and Treatment Guarantee Program for Juvenile Idiopathic Arthritis in Chile [abstract].
Arthritis Rheumatol.
2020; 72 (suppl 4). https://acrabstracts.org/abstract/change-in-treatments-and-outcomes-after-implementation-of-a-national-diagnosis-and-treatment-guarantee-program-for-juvenile-idiopathic-arthritis-in-chile/. Accessed March 28, 2023.
« Back to 2020 Pediatric Rheumatology Symposium
ACR Meeting Abstracts - https://acrabstracts.org/abstract/change-in-treatments-and-outcomes-after-implementation-of-a-national-diagnosis-and-treatment-guarantee-program-for-juvenile-idiopathic-arthritis-in-chile/