Session Information
Session Type: Poster Session (Monday)
Session Time: 9:00AM-11:00AM
Background/Purpose:
Cardiovascular diseases are among the most common comorbidities in patients with rheumatic diseases (RD) and leads them to an overall increase of mortality in comparison to the general population. Risk reduction can be reached through different strategies that control traditional cardiovascular risk (CVR) factors. In order to start lifestyle changes it is necessary an adequate knowledge of the disease and its consequences. Furthermore, patients who perceive themselves at a higher risk of developing CVD are more likely to make changes. The precaution adoption process model (PAPM) is a self-applied questionnaire useful to evaluate the knowledge of cardiovascular risk and outlines the actions that have been taken by each patient. Therefore, the objective was to assess the awareness of their CVR in patients with/without rheumatic diseases.
Methods:
A cross-sectional, observational, single center study was designed. Patients were recruited at a community educational healthcare conference. Population was divided into two groups; case group, with the following RD: RA, SLE, SS, AS, Scleroderma, PsA and DM, and a control group with subjects without RD. After clinical history, subjects were asked if they considered themselves at a higher risk of having CVD and PAPM was used to stratify the stage assigned. Frequencies (%) and median values (q25-q75) were used for descriptive analysis and Chi Square test for comparisons.
Results: A total of 274 patients were included. Demographic characteristics are in table 1.
CVD risk perception as a binary variable was 56.1% and 47.8% in the case and the control groups, respectively (p= 0.167). Women and subjects with complete university education showed more awareness.
According to PAPM scale, most of the patients located themselves in stage 1 (27.1% vs 33.6% in case vs control groups; p= NS), which means they are unaware of their augmented CVR (Figure 1). In the subjects with RD, 66.5% have not made any changes to reduce their risk while 71.6 % of the controls neither. In the control and case group having hypertension makes them prone to start actions to reduce their CVR with an OR of 2.9 (95% CI 1.3-6.6, p=0.007) and OR 2.4 (95% CI 1.0-5.6, p=0.029), respectively. Only 31.4% of the case group received CVR advice from physician, as compared to 26.1% in control group (table 2).
Conclusion: Even though patients with RD have an increased CVR due to the inflammatory condition and coexistence of traditional CVR factors, most of the individuals perceived it the same as control group. Therefore, these could explain the lack of initiative to start actions to reduce their CVR. According to EULAR recommendations the rheumatologist is the one responsible and they should commit to give a better education.

Table 1 demographic characteristics

p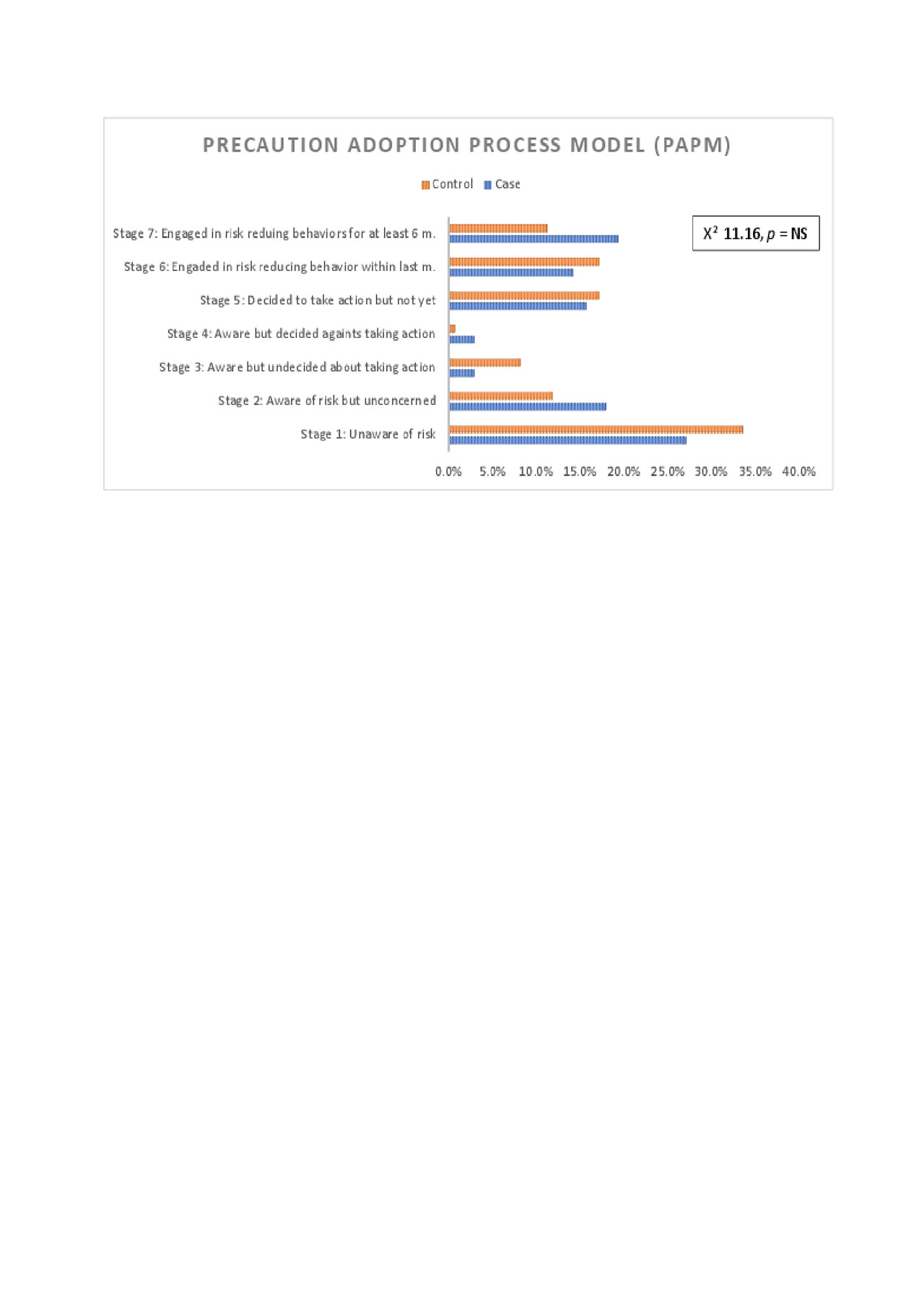 table 3
---
Disclosure: D. Galarza-Delgado, None; I. Colunga-Pedraza, None; J. Azpiri-Lopez, None; K. Cuellar-Calderon, None; I. Reynosa-Silva, None; M. Castro-Gonzalez, None; C. Martinez-Flores, None.
To cite this abstract in AMA style:
Galarza-Delgado D, Colunga-Pedraza I, Azpiri-Lopez J, Cuellar-Calderon K, Reynosa-Silva I, Castro-Gonzalez M, Martinez-Flores C. Cardiovascular Risk Awareness in Patients with Rheumatic Diseases: A Case-Control Study [abstract].
Arthritis Rheumatol.
2019; 71 (suppl 10). https://acrabstracts.org/abstract/cardiovascular-risk-awareness-in-patients-with-rheumatic-diseases-a-case-control-study/. Accessed November 25, 2020.
« Back to 2019 ACR/ARP Annual Meeting
ACR Meeting Abstracts - https://acrabstracts.org/abstract/cardiovascular-risk-awareness-in-patients-with-rheumatic-diseases-a-case-control-study/