Session Information
Session Type: Poster Session (Sunday)
Session Time: 9:00AM-11:00AM
Background/Purpose: Sarcoidosis, a multiorgan granulomatous disorder, may involve the heart at any time and often presents with cardiac conduction disturbances, heart failure, and sudden death. 5% of patients with sarcoidosis have clinically significant cardiac involvement and up to 25% of patients have sub-clinical asymptomatic cardiac involvement. The prevalence of cardiac sarcoidosis (CS) may be higher than published statistics. We query the Loma Linda University Medical Center (LLUMC) patient database to investigate.
Methods: A single center retrospective analysis of patients with sarcoidosis from January 2014 to June 2019 at LLUMC was undertaken. Data collected included demographics, specialties involved, diagnostic tests such as cardiac magnetic resonance imaging (CMRI), positron emission tomography (PET) scan, and serologies.
Results: Out of 496 patients diagnosed with sarcoidosis, 14 patients had CS in accordance with the Heart Rhythm Society diagnostic criteria. The median age was 58, 2:5 male-to-female ratio, and an average body mass index of 30.3 of all 14 patients. 50% patients had Medicare insurance. 42.8% of patients were African American. 71.4% of patients had biopsy proven diagnosis of sarcoidosis. 93% had other sarcoidosis organ involvement at the time of CS diagnosis (Table 1).CS was the only manifestation of sarcoidosis in 1 patient. 0% had another autoimmune disease. The average time between diagnosis of sarcoidosis and CS was 5 years and the average time between cardiac symptoms and diagnosis of CS was 4 years (Table 1). 64% had heart failure, 29% had AV conduction abnormality, and 4 patients had arrhythmias on presentation (Table 1).
14.3% of patients met the diagnostic criteria of CS but the diagnosis was missed. Out of 7 patients diagnosed with CS at LLUMC, cardiologists, rheumatologists, pulmonologist, and internists were the first to suspect diagnosis of CS in 3, 2, 1, and 1 patients, respectively (Table 2). There was an increase in specialty consultations after diagnosis of CS. Out 14 patients, 93% were followed by cardiology and 57% were followed by rheumatology after the diagnosis of CS; this was an increase from 90% and 14%, respectively. 42.8% had abnormal CMRI and 42.8% had abnormal PET scans. Only 2 patient's diagnosis was confirmed by cardiac biopsy. Additionally, 57% had ejection fraction (EF) reduction only explainable by their CS diagnosis (Table 2).
Most patients with CS had an elevated Pro-BNP (71%), low hemoglobin (61.5%), and/or elevated ESR (45%) at the time of diagnosis (Table 3).
Conclusion: A high clinical suspicion is warranted for prompt diagnosis of CS, since missed diagnosis is possible. Patients with multisystem sarcoidosis involvement should be evaluated for CS. Abnormal EKG followed by low EF or new onset heart failure was the most frequent finding in our cohort of CS at the time of diagnosis. CMRI and PET Scan are useful diagnostic modalities and diagnosis of CS was confirmed in 42.8% of patients using one of these 2 modalities. Serologies are less helpful in diagnosing CS. Cardiologists are at the forefront of diagnosing CS and there needs to be improved rheumatology awareness for screening CS. Multidisciplinary collaboration between subspecialties is important in the diagnosis of CS.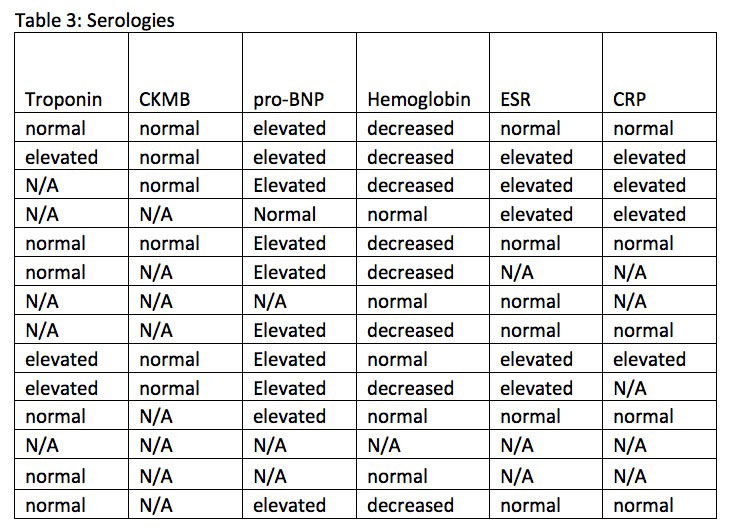 ---
Disclosure: Y. Lee, None; P. Injean, None; M. Hojjati, None.
To cite this abstract in AMA style:
Lee Y, Injean P, Hojjati M. Cardiac Sarcoidosis Awareness: Are We Underdiagnosing? [abstract].
Arthritis Rheumatol.
2019; 71 (suppl 10). https://acrabstracts.org/abstract/cardiac-sarcoidosis-awareness-are-we-underdiagnosing/. Accessed December 5, 2020.
« Back to 2019 ACR/ARP Annual Meeting
ACR Meeting Abstracts - https://acrabstracts.org/abstract/cardiac-sarcoidosis-awareness-are-we-underdiagnosing/