Session Information
Session Type: ACR Poster Session B
Session Time: 9:00AM-11:00AM
Background/Purpose: Alcohol is a well-established risk factor for gout. However, more than 60 prospective studies have also shown that moderate alcohol intake is associated with a 25-40% reduced risk of coronary heart disease (CHD) and death. The American Heart Association (AHA) suggests that Òif you drink alcohol, do so in moderationÓ. As gout is associated with an increased risk of CHD and premature mortality, the potential benefit of moderate alcohol use may also apply to gout patients. To address this question, we examined the relationship between alcohol intake, the risk of acute myocardial infarction (AMI) and all-cause mortality among gout patients in a general population context.
Methods: We conducted a cohort study using data from an EMR representative of the UK general population. The study population included individuals aged ≥20 years who had a diagnosis of gout between 1995 and 2015. The exposure of interest was the first alcohol intake measured after gout diagnosis. Study endpoints were incident cases of AMI and all-cause mortality. We estimated sex-specific hazard ratios (HR) according to alcohol intake category (i.e., 0, 1-9 [light drinking], 10-24 [moderate drinking], 25-42, and > 42 UK alcohol units/week [1 unit = 8 mg]). In the multivariable-adjusted regression model, we adjusted for age, smoking status, body mass index, duration of gout, presence of tophi, comorbidities, and medication use, including anti-gout mediations. We performed a cubic-spline model analysis to depict the dose-response relationship between alcohol intake and all-cause mortality in a continuous manner.
Results: Among 55,584 gout patients (78% male, mean age of 63 years), 1,332 developed AMI and 8,362 died. The mean follow-up time was 5.6 years. As shown in the Figure, there is an apparent U-shaped relationship between alcohol intake after gout onset and the risk of AMI and all-cause mortality. Men who drank a moderate amount of alcohol had a lower risk of AMI and mortality. The multivariable HRs for developing AMI in men with gout were 1.0, 0.76 (95% CI, 0.63-0.93), 0.68 (0.55-0.83), 0.69 (0.53-0.89), and 0.71 (0.52-0.95) for each increasing alcohol intake category. The corresponding HRs for mortality were 1.0, 0.77 (95% CI 0.71-0.82), 0.71 (0.66-0.77), 0.74 (0.66-0.82), and 0.89 (0.78-1.01). While alcohol use and sample sizes were smaller among women, a similar U-shaped relationship was present. Women who drank > 42 UK units/week had the highest risk of mortality (HR 1.68 95% CI, 1.09-2.61).
Conclusion: This general population-based study indicates that moderate alcohol consumption is associated with a lower risk of AMI and all-cause mortality among gout patients, similar to general population studies. This finding suggest that the AHA recommendation regarding moderate alcohol use may apply to gout patients (for their cardiac health and improved survival) provided that their gout is well-controlled.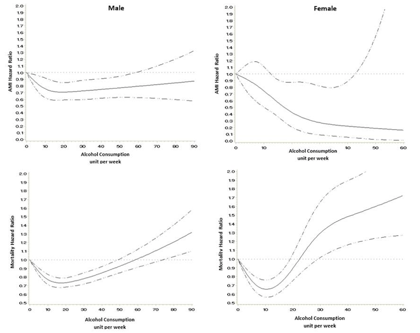 ---
Disclosure: S. Keller, None; S. K. Rai, None; N. Lu, None; A. Jorge, None; Y. Zhang, None; H. K. Choi, Selecta, Horizon, 5,AstraZeneca, 2.
To cite this abstract in AMA style:
Keller S, Rai SK, Lu N, Jorge A, Zhang Y, Choi HK. Can Alcohol Intake in Moderation Lower the Risk of Myocardial Infarction and Mortality Even Among Gout Patients? [abstract].
Arthritis Rheumatol.
2017; 69 (suppl 10). https://acrabstracts.org/abstract/can-alcohol-intake-in-moderation-lower-the-risk-of-myocardial-infarction-and-mortality-even-among-gout-patients/. Accessed September 19, 2021.
« Back to 2017 ACR/ARHP Annual Meeting
ACR Meeting Abstracts - https://acrabstracts.org/abstract/can-alcohol-intake-in-moderation-lower-the-risk-of-myocardial-infarction-and-mortality-even-among-gout-patients/