Session Information
Session Type: ACR Concurrent Abstract Session
Session Time: 2:30PM-4:00PM
Background/Purpose:
The recruitment of IL-17
producing T helper (Th17) cells to the inflammatory sites has been implicated
in the development of organ damage in inflammatory and autoimmune diseases. We have previously reported that IL-17 is
important in the expression of anti-glomerular basement membrane Ab-induced
glomerulonephritis (AIGN) (1). We have also shown that the blockage of
Calcium/calmodulin-dependent protein kinase IV (CaMK4) ameliorates experimental
autoimmune encephalomyelitis (EAE) and autoimmunity in lupus-prone mice (2). We
have hypothesized that CaMK4 activation facilitates Th17 cells recruitment to
target tissues in inflammatory settings through chemokines.
Methods:
To
determine the role of CaMK4 in the infiltration of inflammatory cells to target
tissues, we induced experimental AIGN in Camk4-sufficient
or -deficient mice and compared the kidney injury, including Th17 related
chemokine expressions, and the number of IL-17 producing cells in both groups. We
also evaluated the efficacy of KN-93, a CaMK4 antagonist in this AIGN model. In
addition, we investigated the effect of CaMK4 on the expression of CCR6 in
memory CD4 T cells.
Results:
Camk4 deficient mice displayed
less glomerular injury and less proteinuria at day 21 after induction of AIGN
(Figure 1). Although there is no significant difference in the percentage of
IL-17 producing T cells in the spleen or lymph nodes, kidney infiltration by IL-17
producing CD4 T cells along with CCR6 and CCL20 expression were decreased
significantly in Camk4 deficient mice.
This observation implies that CaMK4 facilitates AIGN damage by promoting local inflammatory
Th17 cells accumulation through the CCR6/CCL20 axis. In line with these observations,
KN-93 treatment of mice prior to exposure to AIGN improved clinical and
pathological finings in a dose-dependent manner. Finally, the expression of
CCR6 in memory CD4 T cells in the peripheral blood was decreased among Camk4 deficient mice.
Conclusion:
Collectively
our results indicate that CaMK4 inhibition represents a novel therapeutic
strategy for the treatment of Th17 cells-mediated tissue damage in inflammatory
diseases.
References:
1. Cutting
edge: protein phosphatase 2A confers susceptibility to autoimmune disease
through an IL-17-dependent mechanism. Crispín
JC, Apostolidis SA, Rosetti F, Keszei
M, Wang N, Terhorst C, Mayadas TN, Tsokos GC.J
Immunol. 2012 Apr 15;188(8):3567-71.
2. CaMK4-dependent
activation of AKT/mTOR and CREM-a underlies autoimmunity-associated
Th17 imbalance. Koga T, Hedrich CM, Mizui M, Yoshida N, Otomo K,
Lieberman LA, Rauen T, Crispín
JC, Tsokos GC. J Clin
Invest. 2014 May 1;124(5):2234-45.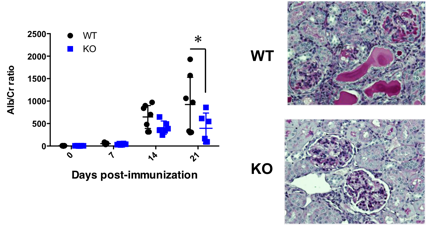 Figure 1. CaMK4
deficiency ameliorates AIGN
---
Disclosure: T. Koga, None; K. Otomo, None; M. Mizui, None; N. Yoshida, None; J. C. Crispin, None; A. Kawakami, None; G. C. Tsokos, None.
To cite this abstract in AMA style:
Koga T, Otomo K, Mizui M, Yoshida N, Crispin JC, Kawakami A, Tsokos GC. CaMK4 Facilitates Recruitment of IL-17 Producing Cells to Target Organs through the CCR6/CCL20 Axis in Th17-Driven Inflammatory Diseases [abstract].
Arthritis Rheumatol.
2015; 67 (suppl 10). https://acrabstracts.org/abstract/camk4-facilitates-recruitment-of-il-17-producing-cells-to-target-organs-through-the-ccr6ccl20-axis-in-th17-driven-inflammatory-diseases/. Accessed January 29, 2022.
« Back to 2015 ACR/ARHP Annual Meeting
ACR Meeting Abstracts - https://acrabstracts.org/abstract/camk4-facilitates-recruitment-of-il-17-producing-cells-to-target-organs-through-the-ccr6ccl20-axis-in-th17-driven-inflammatory-diseases/