Session Information
Session Type: Poster Session C
Session Time: 9:00AM-11:00AM
Background/Purpose: Uveitis is the most common ophthalmological finding seen by Rheumatologists. Ocular inflammation commonly presents as a manifestation of underlying rheumatic disorder. Local and systemic glucocorticoid therapies remain mainstay for initial therapy and various steroid sparing agents are being used to achieve disease stability.  This study was performed in our Academic Center to identify the steroid sparing drugs with best efficacy to achieve remission in our patient population.
Methods: This is a retrospective analysis of 96 patients seen in our clinic with the diagnosis of Uveitis. Data analysis was done by student t test.
Results: Uveitis in our population is seen from ages 12 – 80 yrs with mean age of 51 yrs. 82% of our patients are African American and 17% are Caucasian.  Patients with Sarcoidosis constituted about 23.9% and post cataract constituted 7%. The remaining 20% included RA, SLE, Scleroderma, JIA and ANCA vasculitis. 72% of our patients presented with Anterior uveitis, 14% with posterior uveitis and 10% with pan uveitis. Methotrexate was used most frequently with 62% of our patient population. It was followed by TNF alpha inhibitors with frequency of 39%. 100% of our post cataract patients achieved remission just with methotrexate with mean remission duration of 4 months. Of the patients with no associated rheumatic disorder, methotrexate is associated with lowest duration to achieve remission – 4.8 months. Patients with Sarcoidosis achieved remission with methotrexate and TNF alpha inhibitors in mean of 7.8 months
Conclusion: Uveitis in our patients is associated with Sarcoidosis, post cataract and few patients with RA, Scleroderma, SLE, JIA, ANCA Vasculitis. 39% of our patients have no associated autoimmune disorder. Stability of disease was able to be achieved in 4 months with use of methotrexate in almost half of our population. 37% of patients required to be placed on combination methotrexate and TNF alpha inhibitors. Remission in these patients was achieved in 6.8 months. Uveitis due to post cataract attained remission solely with the use of methotrexate. Whereas patient with Sarcoidosis responded well to combination of TNF alpha inhibitors and methotrexate rather than methotrexate alone.  Mycophenolate was used in few patients with Sarcoidosis who were intolerant to methotrexate, thus confounding the duration for remission.  Rituximab was added for refractory uveitis unresponsive to other therapies. Duration for remission with Rituximab appears shorter mainly due to low sample size. More studies are needed to further tailor the treatment regimen for Uveitis associated with various autoimmune rheumatic disorders.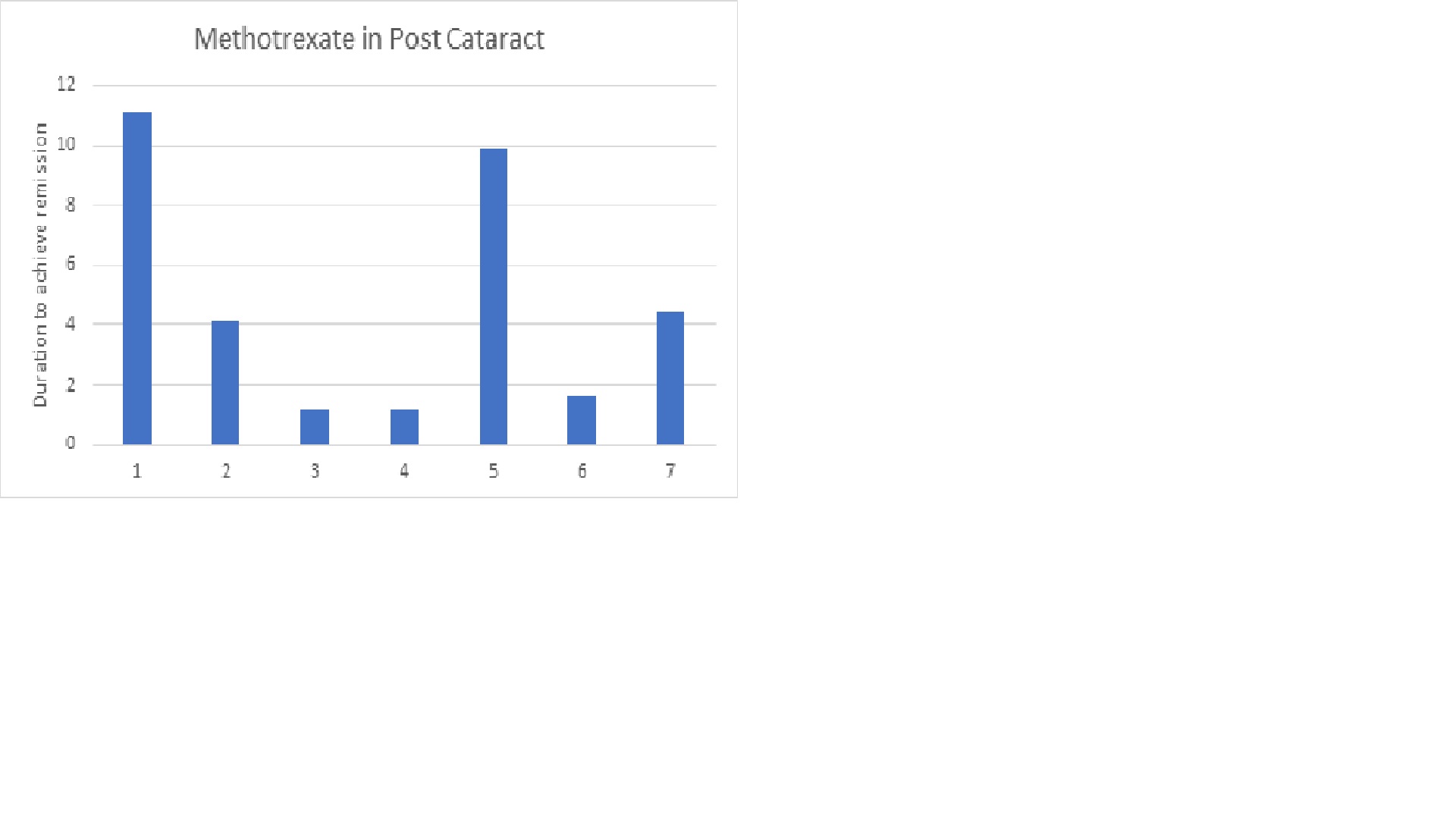 Methotrexate for remission induction in Post cataract patients
Medications for patients with no rheumatic disorder
Medications for remission induction in sarcoid
---
Disclosure: A. Vuppala, None; K. Muzzafar, None; S. Chalasani, None; S. Pardue, None; S. Hayat, None; S. Umer, None.
To cite this abstract in AMA style:
Vuppala A, Muzzafar K, Chalasani S, Pardue S, Hayat S, Umer S. Building LSU Uveitis Registry ( BLUR ) Study – a Review of an Academic Rheumatology Center's Experience and Approach to Uveitis [abstract].
Arthritis Rheumatol.
2020; 72 (suppl 10). https://acrabstracts.org/abstract/building-lsu-uveitis-registry-blur-study-a-review-of-an-academic-rheumatology-centers-experience-and-approach-to-uveitis/. Accessed October 19, 2021.
« Back to ACR Convergence 2020
ACR Meeting Abstracts - https://acrabstracts.org/abstract/building-lsu-uveitis-registry-blur-study-a-review-of-an-academic-rheumatology-centers-experience-and-approach-to-uveitis/