Session Information
Session Type: Abstract Submissions (ACR)
Background/Purpose:
Systemic sclerosis (SSc, Scleroderma) is a rare but severe systemic connective tissue disorder involving the skin and multiple internal organs, in particular lung, kidney, gastrointestinal tract, and heart. The hallmark pathophysiologic features of this disease include vascular injury, autoimmunity, inflammation, and extensive tissue fibrosis.  Bleomycin is routinely used to create a model for SSc lung disease by direct administration into this target tissue.  Systemic bleomycin treatment by multiple subcutaneous injections has occasionally been used to induce fibrosis in skin and lungs.  However, this method is laborious and expensive, involving frequent injections of high concentrations of bleomycin over long time periods.  Furthermore, fibrosis induced by this method has only been reported in locally injected skin and lung. In our study, for the first time, we report a bleomycin induced multi-organ fibrosis murine model for SSc by one-time subcutaneous implantation of a mini-osmotic pump containing bleomycin.
Methods:
Mini-osmotic pumps are implanted into 10 week-old CD1 male mice. The pump delivers 100 U/kg bleomycin over 7 days. Mice are sacrificed on day 28. A variety of methods are used to analyze the progression of fibrosis.
Results:
This model produces substantial and progressive multi-organ fibrosis, including dermal, pulmonary, renal, cardiovascular, and hepatic, as evaluated histologically and immunohistologically (Fig. 1 and 2). This model also mimics the vasculopathies observed in SSc patients, including loss of capillaries, proliferation of vascular smooth muscle cells, and dilation and hypertrophy of the right ventricle. Because caveolin-1 has been identified as a master regulator of fibrotic tissue remodeling, we evaluated whether systemic treatment of mice with the caveolin-1 scaffolding domain (CSD) peptide might have a beneficial effect on skin fibrosis.  Indeed, bleomycin-induced skin thickening was almost completely blocked by CSD treatment (p < 0.01).
Conclusion:
Bleomycin delivery by mini-osmotic pump effectively recapitulates the hallmark features of SSc in several organs, thereby providing a convenient model system to evaluate potential treatments for SSc (such as CSD) in each affected organ.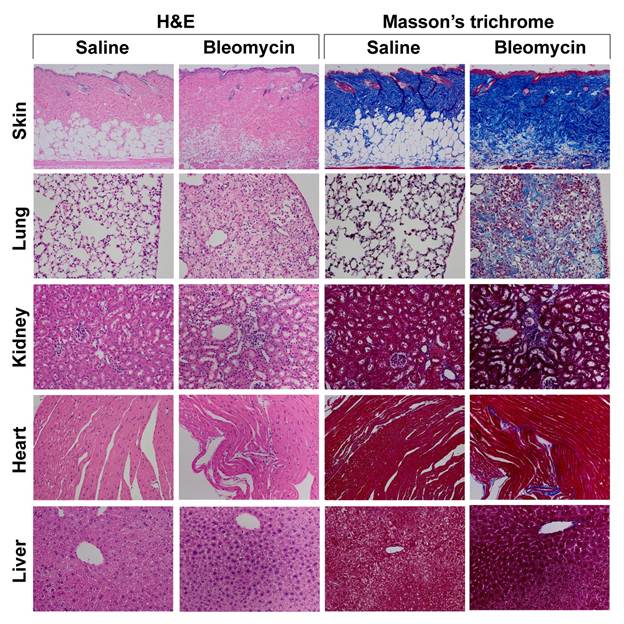 Fig.1. Tissue morphology changes following bleomycin treatment. Sections are stained with H&E and Masson's trichrome.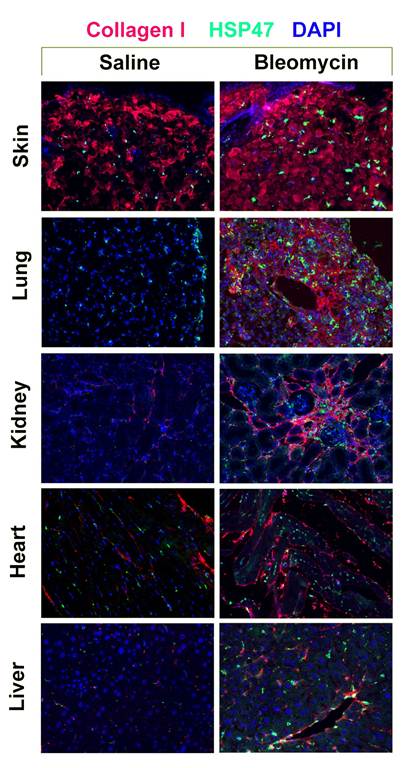 Fig.2. Extracellular matrix protein expression in murine tissue sections following bleomycin treatment. Sections were stained with antibodies against collagen I and the collagen chaperone HSP47.
---
Disclosure:
R. Lee,
None;
E. Tourkina,
None;
R. P. Visconti,
None;
S. Hoffman,
None.
« Back to 2013 ACR/ARHP Annual Meeting
ACR Meeting Abstracts - https://acrabstracts.org/abstract/bleomycin-delivery-by-mini-osmotic-pump-a-novel-multi-organ-murine-model-for-fibrosis/