Session Information
Session Type: ACR Poster Session B
Session Time: 9:00AM-11:00AM
Background/Purpose: Giant cell
arteritis (GCA) is a large- and medium- vessel arteritis
characterized by a range of histological patterns of vascular wall
injury. The temporal artery biopsy (TAB), although invasive, is still the gold
standard for diagnosis. Markers in sera and tissues of the arteries associated
with the pathology of GCA might serve as an aid in diagnosing and understanding
GCA pathogenesis. Our aim was to determine mRNA levels
of selected cytokines, chemokines, acute phase proteins, adhesion molecules and matrix metalloproteinases (MMPs) as well as their inhibitors
in TAB specimens of patients with GCA as compared to patients without GCA. We
also aimed to determine sera concentrations of 21 selected
proteins in patients and healthy blood donors.
Methods: Biopsies of temporal arteries were obtained
from subjects suspected to have GCA. In GCA cases, TAB was performed before the
introduction of glucocorticoids. Specimens were processed in the TissueLyser
(Qiagen) and RNA was isolated (miRCURY, Exiqon). QPCR was used to determine the
mRNA expression levels of selected proteins in TABs of GCA (n=6, 5 females, mean age 67) and nonGCA
patients (n=6, 4 females, mean age 75). Concentrations of sera proteins were
measured by Luminex using custom prepared Premixed kit
(R&D Systems, Abingdon) in GCA (n=93, 66 female, mean age 73), nonGCA
patients (n=29, 13 females, mean age 72) and blood donors (n=8, 1 female, mean
age 44).
Results: Ferritin, MMP9, TIMP1, TIMP2, VCAM and MARCO
showed increased mRNA expression in TAB specimens of GCA patients compared to
nonGCA patients (Table 1), while mRNA levels of IL-12, IL-8, ApoA1 and MMP2
were decreased. Levels of CRP, SAA, IL-6 and haptoglobin were significantly
increased in sera of GCA compared to the nonGCA group (Table 2). MMP9 and MMP2
protein levels had a divergent trend of change, specifically MMP9 was increased
in sera of GCA patients as compared to nonGCA, while MMP2 was decreased.
Interestingly, CHI3L1, IFNg, IL-10,
IL-8, TNFα, VCAM1 sera levels were significantly elevated in GCA patients
versus blood donors.
Conclusion: MMP/TIMP ratios in TABs and acute phase
protein levels of SAA, CRP, haptoglobin, as well as IL-6 in sera significantly
distinguish between nonGCA and GCA patients.
Table 1: Expression of mRNA in TAB
specimens of GCA vs. nonGCA patients
Table 2: Concentration of selected proteins
in GCA patients as compared to nonGCA and blood donors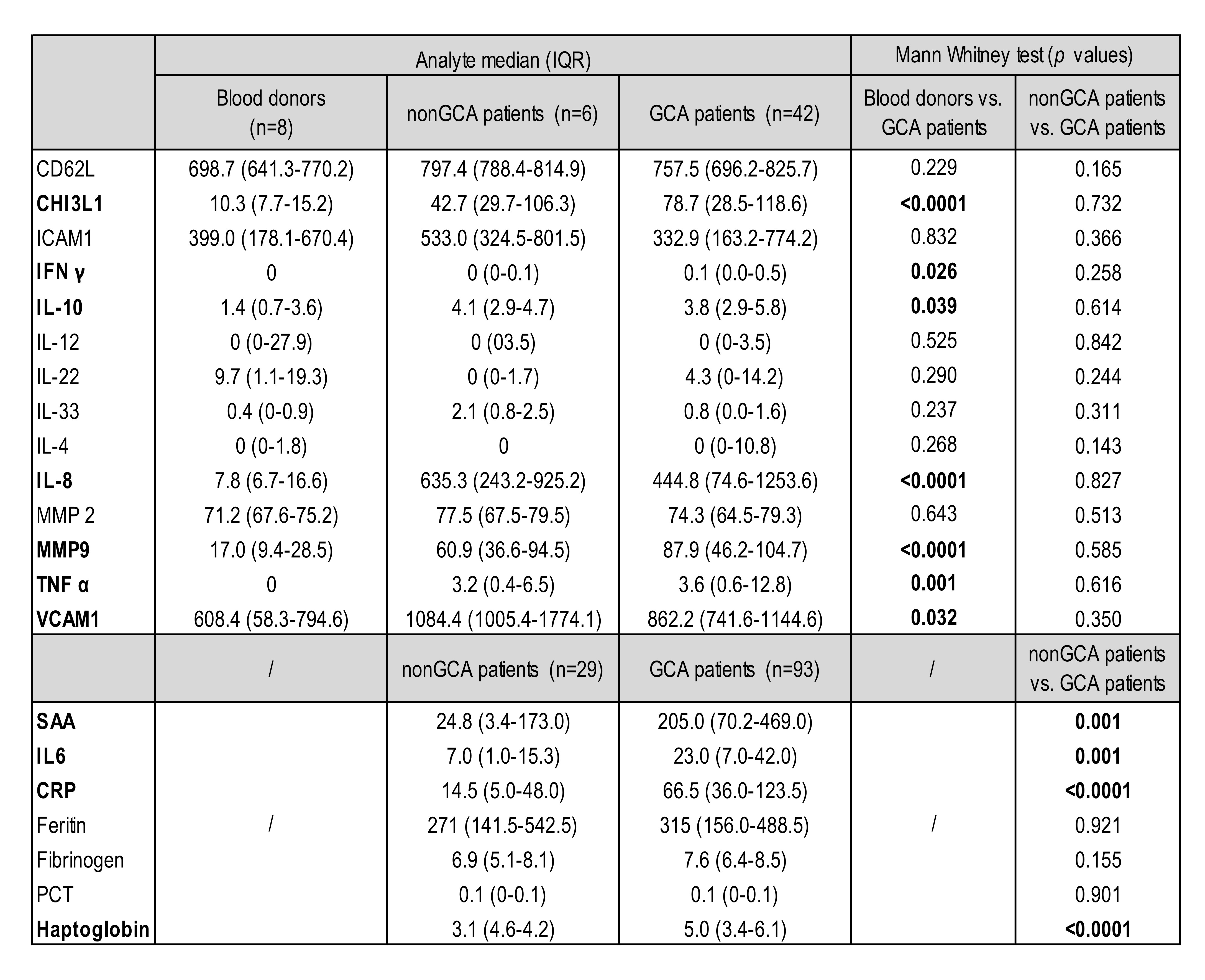 ---
Disclosure: K. Lakota, None; T. Kuret, None; P. Žigon, None; Z. Rotar, None; M. Tomsic, None; S. Čučnik, None; S. Sodin Semrl, None; A. Hocevar, None.
To cite this abstract in AMA style:
Lakota K, Kuret T, Žigon P, Rotar Z, Tomsic M, Čučnik S, Sodin Semrl S, Hocevar A. Biomarkers in Temporal Artery Biopsies and Sera of Patients with Giant Cell Arteritis [abstract].
Arthritis Rheumatol.
2015; 67 (suppl 10). https://acrabstracts.org/abstract/biomarkers-in-temporal-artery-biopsies-and-sera-of-patients-with-giant-cell-arteritis/. Accessed January 27, 2022.
« Back to 2015 ACR/ARHP Annual Meeting
ACR Meeting Abstracts - https://acrabstracts.org/abstract/biomarkers-in-temporal-artery-biopsies-and-sera-of-patients-with-giant-cell-arteritis/