Session Information
Session Type: Poster Session C
Session Time: 9:00AM-11:00AM
Background/Purpose: Optic Neuritis (ON) is an inflammation of the optic nerve. Its most common presentation is demyelinating typical ON. Atypical ON is rare, severe, non-demyelinating and can be isolated or associated to different diseases including autoimmune diseases. If it is not treated, it can lead to devastating visual results. Conventional treatment includes systemic corticosteroids and conventional immunosuppressants (CIS). Our aim was to assess the efficacy of biological therapy in atypical ON refractory to conventional treatment.
Methods: Open-label multicenter study including 19 patients diagnosed with atypical ON refractory to systemic corticosteroids and at least one CIS. The main outcomes assessed were Best Corrected Visual Acuity (BCVA) and optic nerve and ganglionar cells Optical Coherence Tomography (OCT). These outcome variables were recorded at baseline, 1 week, 2 weeks, 1 month, 3 months and 6 months and 1 year after biological therapy onset. 
Results: We studied 19 patients (12 women/7 men); mean age of 34.8 ± 13.9 years. The underlying diseases were idiopathic (n=7), Behçet´s disease (n=5), systemic lupus erythematosus (n=2), neuromyelitis optica (n=3), sarcoidosis (n=1) and relapsing polychondritis (n=1) (TABLE). Before biological therapy and besides systemic corticosteroids, patients had received different CIS. Biological therapy was adalimumab (n=6), rituximab (n=6), infliximab (n=5) and tocilizumab (n=4). After biological therapy, an improvement in ocular parameters was observed: BCVA [0.7±0.3 to 0.8±0.3; p= 0.03], optic nerve OCT [123.2±58.3 to 190.5±175.4; p= 0.11], and ganglionar cells OCT [369.6±137.4 to 270.7±23.2; p= 0.03] at one year (FIGURE). After a mean follow-up of 29.1 ±19.2 months, there were no severe adverse effects observed.
Conclusion: Biological therapy may be effective in patients with refractory atypical ON.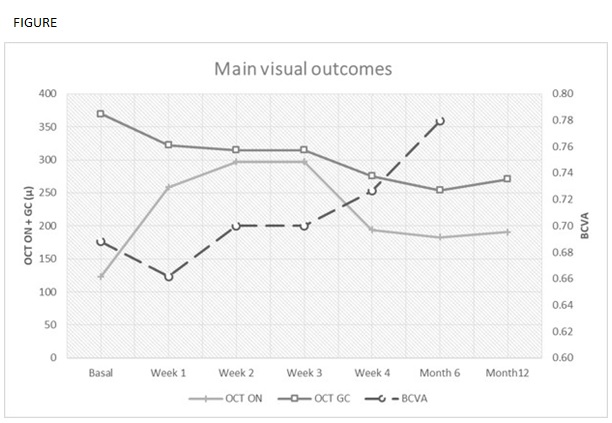 ---
Disclosure: I. Gonzalez-Mazon, None; A. Herrero Morant, None; L. Sanchez-Bilbao, None; D. Martinez-Lopez, Lilly, 2; V. Calvo-Río, None; C. Alvarez-Reguera, None; S. Castañeda, Roche, 2; E. Vicente-Rabaneda, Roche, 8, BMS, 2, 8; R. Demetrio-Pablo, None; A. Urruticoechea-Arana, None; J. García-Serrano, None; J. Callejas-Rubio, None; N. Ortego, None; J. Martín-Varillas, None; O. Maiz Alonso, Novartis, 1; A. Blanco, None; F. Narváez, None; S. Romero-Yuste, None; I. Rúa-Figueroa, None; P. Estrada, None; J. Sanchez, None; M. González-Gay, None; R. Blanco, None.
To cite this abstract in AMA style:
Gonzalez-Mazon I, Herrero Morant A, Sanchez-Bilbao L, Martinez-Lopez D, Calvo-Río V, Alvarez-Reguera C, Castañeda S, Vicente-Rabaneda E, Demetrio-Pablo R, Urruticoechea-Arana A, García-Serrano J, Callejas-Rubio J, Ortego N, Martín-Varillas J, Maiz Alonso O, Blanco A, Narváez F, Romero-Yuste S, Rúa-Figueroa I, Estrada P, Sanchez J, González-Gay M, Blanco R. Biological therapy in atypical optic neuritis refractory to conventional treatment. A multicenter study with 19 patients. [abstract].
Arthritis Rheumatol.
2020; 72 (suppl 10). https://acrabstracts.org/abstract/biological-therapy-in-atypical-optic-neuritis-refractory-to-conventional-treatment-a-multicenter-study-with-19-patients/. Accessed January 24, 2022.
« Back to ACR Convergence 2020
ACR Meeting Abstracts - https://acrabstracts.org/abstract/biological-therapy-in-atypical-optic-neuritis-refractory-to-conventional-treatment-a-multicenter-study-with-19-patients/