Session Information
The 2020 Pediatric Rheumatology Symposium, originally scheduled for April 29 – May 2, was postponed due to COVID-19; therefore, abstracts were not presented as scheduled.
Session Type: ACR Abstract Session
Session Time: 6:00PM-7:00PM
Background/Purpose: Lupus nephritis (LN) is seen in 20–75% of patients with pediatric Systemic Lupus Erythematosus (SLE). LN may present with abnormal urinary findings and/or renal impairment (overt LN-oLN) or manifest histologically only upon renal biopsy (silent LN-sLN). There is a dilemma regarding the indication for kidney biopsy in patients suspected of having sLN and if biopsy results affect clinical management decisions. However, there is insufficient data regarding this topic in pediatric lupus.
Objective: To investigate if baseline kidney biopsy will aid with early diagnosis of proliferative lupus in silent lupus nephritis patients
Methods: Our retrospective review included patients followed at the University of Florida, Gainesville. Patients were located through ICD-9 and ICD -10 codes for SLE and biopsy after IRB approval.
Inclusion Criteria:
Children ≥ 1yo and ≤18 years old with SLE who had undergone kidney biopsy and has diagnosis of Lupus Nephritis.
Patients diagnosed with SLE based on the American College of Rheumatology (ACR) 1997 criteria and/or Systemic Lupus International Collaborating Clinics (SLICC) 2012 criteria.
Exclusion Criteria:
Pregnant patients
Patients with diagnosis of SLE, but did not undergo renal biopsy or had no nephritis on biopsy.
Patients diagnosed with SLE after 18 years of age.
Continuous variables were compared using Student's t-test and categorical variables were compared using Fisher's test.
Results:
oLN was more prevalent which was expected among the newly diagnosed lupus patients who had biopsies. Most of the patients with oLN were African Americans. (Fig 1)
In our pediatric cohort, 31% were found to have sLN and 27% (6/22) of them had proliferative LN, which was more prevalent in African American females with low C3. (Fig 2,3, and 4)
It is interesting to note that 100% of proliferative sLN were anti-dsDNA (+) with a median activity index of 5.5 vs 0 chronicity.
Arthritis and anemia were present in all patients with proliferative sLN. (Fig 3 and 4)
Conclusion:
Our study emphasizes the importance of performing a baseline kidney biopsy.
Renal biopsy might be considered in patients with very low C3, before the development of renal manifestations like hypertension, and decreased eGFR.
This approach might aid in early diagnosis and treatment. However, it is important to note that about 64% have Class I or II nephritis, which can give a false reassurance.
However, more studies are needed to understand if early diagnosis and treatment would modify long-term renal outcomes.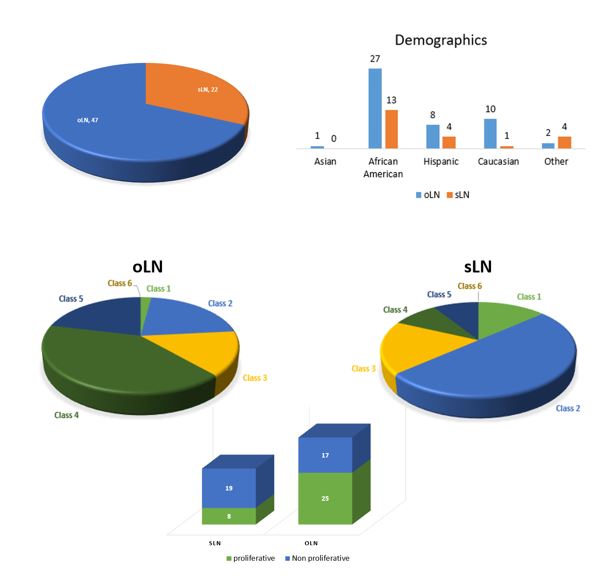 Figure 1: demographics and distribution of silent and overt lupus nephritis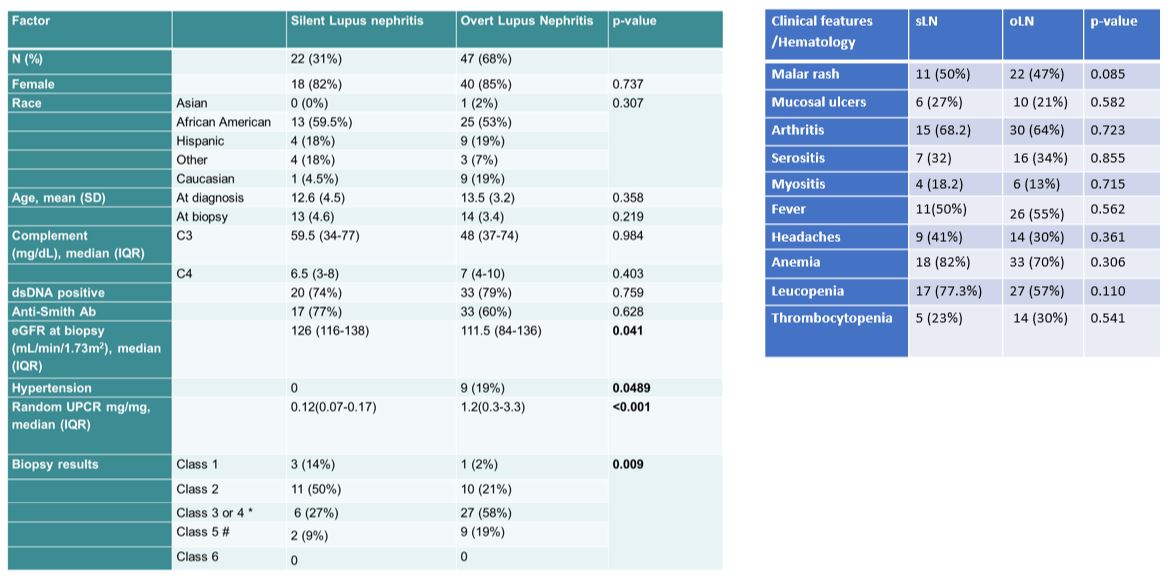 Figure 2: Comparison of clinical features, lab and biopsy finds of Silent and overt lupus nephritis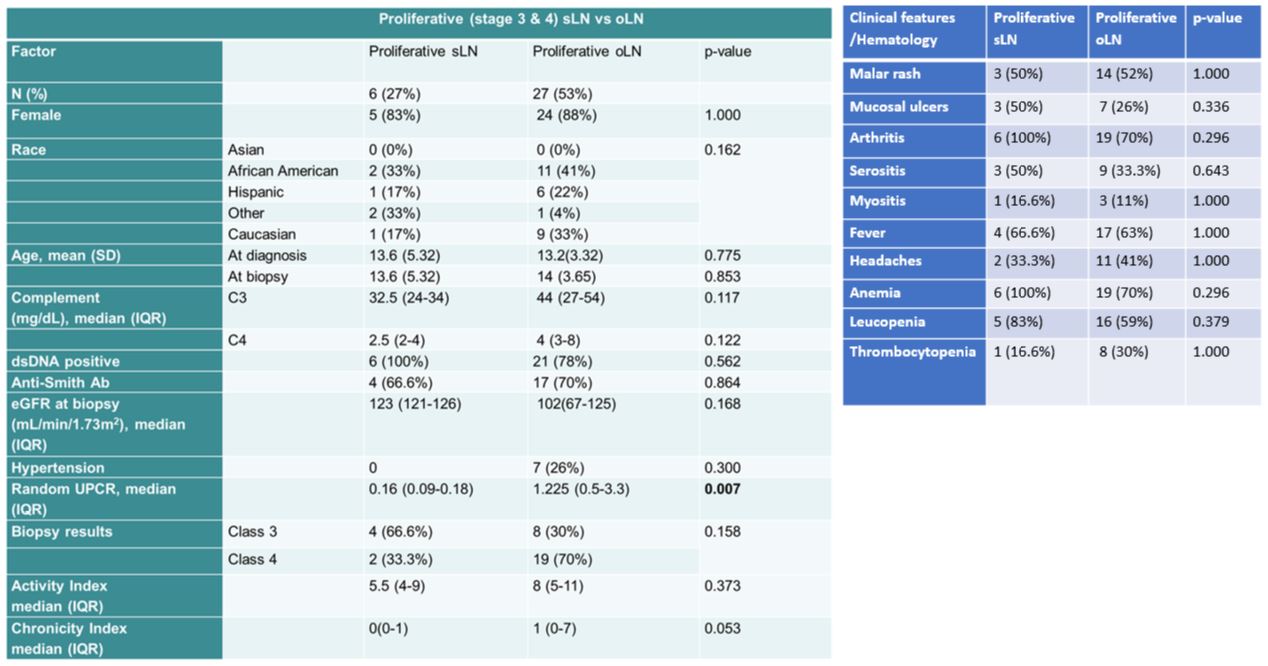 Figure 3: Comparison of clinical features, lab and biopsy finds of Silent and overt proliferative lupus nephritis
---
Disclosure: S. Mannemuddhu, None; L. Shoemaker, None; S. Bozorgmehri, None; R. Borgia, None; N. Gupta, None; L. Patterson, None; K. Upadhyay, None; R. Ruchi, None; M. Elder, None; A. Thatayatikom, None; W. Clapp, None; X. Zeng, None; R. Modica, None.
To cite this abstract in AMA style:
Mannemuddhu S, Shoemaker L, Bozorgmehri S, Borgia R, Gupta N, Patterson L, Upadhyay K, Ruchi R, Elder M, Thatayatikom A, Clapp W, Zeng X, Modica R. Baseline Kidney Biopsy in Lupus Patients Without Renal Manifestations. Underappreciated or Overrated? [abstract].
Arthritis Rheumatol.
2020; 72 (suppl 4). https://acrabstracts.org/abstract/baseline-kidney-biopsy-in-lupus-patients-without-renal-manifestations-underappreciated-or-overrated/. Accessed January 27, 2022.
« Back to 2020 Pediatric Rheumatology Symposium
ACR Meeting Abstracts - https://acrabstracts.org/abstract/baseline-kidney-biopsy-in-lupus-patients-without-renal-manifestations-underappreciated-or-overrated/