Session Information
Session Type: Poster Session D
Session Time: 8:30AM-10:30AM
Background/Purpose: Rituximab (RTX) has previously been shown to impair antibody response to vaccines such as influenza and streptococcus. Recently, diminished COVID-19 vaccine responsiveness in RTX treated patients has been reported. While COVID-19 vaccination guidelines have adopted time since last RTX infusion as a consideration for likelihood of vaccine responsiveness, a retrospective study suggested that B Cell reconstitution may be a more accurate predictor of vaccine response. Our hypothesis was that B Cell reconstitution would be associated with vaccine responsiveness.
Methods: A retrospective chart review was performed to assess patients that visited a rheumatology practice from 2/24-5/20, 2021. Analysis included patients who had received treatment with RTX and had completed COVID-19 vaccination. Demographics, diagnoses, concurrent therapies, vaccine type/dates, time from last RTX to first vaccination quantitative serological vaccine response, and % CD19 positive cells in the lymphocyte population were collected. COVID-19 serological response was the primary outcome. Descriptive statistics and bivariate comparisons were performed. Negative and positive predictive value was calculated between COVID-19 serological response and B Cell reconstitution status.
Results: 58 patients were identified who met criteria for inclusion. The majority were female (40, 69%), white (52, 90%), and the mean age was 62.67 years (Table 1).
41 patients (71%) had B Cell status measured at time of antibody immunoassay. Time from last RTX was significantly longer in seropositive (median #days, IQR 594 (248, 1163) patients compared to seronegative patients (median #days, IQR 138 (68, 197) days) (p-value < 0.001). There was a significant difference in B Cell reconstitution between patients who had positive antibody responses to vaccination (median, IQR 2 (0.265-9.5) % of total lymphocyte population) versus negative responses (median, IQR 0 (0-0) % (p< 0.001) (Table 2). Only 12% (3/25) of patients >12 months since last RTX did not demonstrate a serologic responses, whereas 24% of patients (9/37) > 6 months since last RTX and 50% (6/12) of those 6-12 months from last RTX did not have a serologic response to the vaccine (Figure 1, Table 2).
B Cell reconstitution and time from last RTX were both significant indicators of vaccine response. (Figure 1). Seropositivity was 76% among those >6 months from last RTX exposure, however that increases to 92% in those with detectable B Cells (p=0.006). In patients 6-12 months from RTX exposure, only 50% were seropositive, however that increases to 83.33% in those with detectable B Cells (p=0.190) The positive predictive value of B Cell reconstitution for COVID-19 serologic response was 92% (95%CI: 74%-99%) and the negative predictive value was 68.8% (95%CI: 41.3%-89%).
Conclusion: B Cell reconstitution and longer time from last RTX were associated with a positive serologic response to the COVID-19 vaccine. A substantial number of patients >6 months from last RTX did not have a serologic response, and B cell reconstitution increased the likelihood of a response. Strategies for maximizing vaccine responsiveness in RTX treated patients should incorporate B Cell reconstitution and time from last RTX.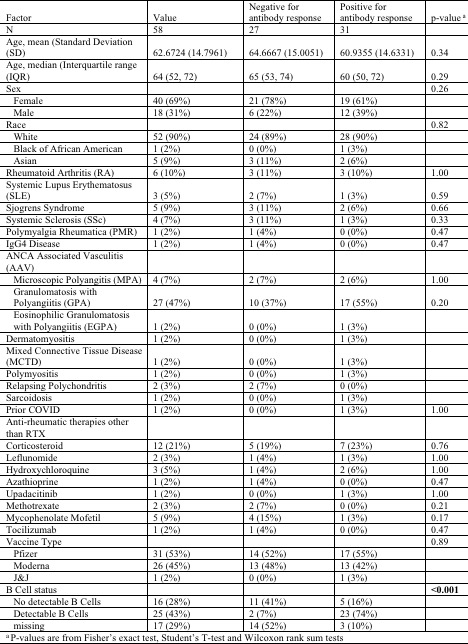 ---
Disclosures: S. Jinich, None; D. Jannat-Khah, Cytodyn, 12, own shares of stock, Walgreens, 12, Own stock shares, AstraZeneca, 12, own stock shares, GW Pharmaceuticals, 12, stock ownership; R. Spiera, GSK, 2, 5, Boehringer Ingelheim Pharmaceuticals, 5, Chemocentryx, 2, 5, Corbus Pharmaceutical, 5, Formation Biologics, 2, 5, InflaRx, 5, Kadmon, 5, Astra Zeneca, 5, Abbvie, 2, CSL Behring, 2, Sanofi, 2, Janssen Pharmaceuticals, 2, Genentech/Roche, 2, 5.
To cite this abstract in AMA style:
Jinich S, Jannat-Khah D, Spiera R. B Cell Reconstitution Is Strongly Associated with COVID-19 Vaccine Responsiveness in Rheumatic Disease Patients Treated with Rituximab [abstract].
Arthritis Rheumatol.
2021; 73 (suppl 9). https://acrabstracts.org/abstract/b-cell-reconstitution-is-strongly-associated-with-covid-19-vaccine-responsiveness-in-rheumatic-disease-patients-treated-with-rituximab/. Accessed January 31, 2023.
« Back to ACR Convergence 2021
ACR Meeting Abstracts - https://acrabstracts.org/abstract/b-cell-reconstitution-is-strongly-associated-with-covid-19-vaccine-responsiveness-in-rheumatic-disease-patients-treated-with-rituximab/