Session Information
Session Type: ACR Abstract Session
Session Time: 2:30PM-4:00PM
Background/Purpose: Incidence and prevalence of arthropathy of Down syndrome (A-DS) is increased. It is rarely recognised at onset and remains under-diagnosed. Children with A-DS are therefore presenting with significant joint damage and disability at diagnosis. The aim of this study was to identify undiagnosed cases of A-DS, document time to diagnosis, and describe clinical, laboratory and radiological features of A-DS at diagnosis.
Methods: Children with DS (0–21 years) were invited to attend a local, regional musculoskeletal screening clinic (figure 1). At this appointment a paediatric rheumatology clinical fellow performed a detailed musculoskeletal examination. A second physician at a further clinic confirmed suspected cases of A-DS. Investigations and treatment were instigated as per normal clinical practice for JIA. Data on a convenience sample of 21 newly diagnosed children with JIA was collected to create a comparison group.
Results: Over an 18 month period, 503 children with DS were screened for arthritis and 18 new cases diagnosed. In total, 33 children were identified with A-DS (combining cases attending predating commencement of the study and those referred to our Centre during the study period) (Table 1). This suggests prevalence of A-DS is 20/1000. A significant delay in diagnosis of A-DS was observed. The majority of children presented with polyarticular RF negative arthritis, with predominance in the small joints of the hands and wrists. No children with A-DS were ANA positive. In the majority of cases, ESR and CRP were unhelpful in aiding diagnosis of A-DS. Erosive changes were reported on X-ray in a significantly (p< 0.05) greater proportion (42%) of children with A-DS than JIA (14%).
Conclusion: Studies of A-DS are limited. We describe a cohort of 33 children with A-DS. Comparable to previous reports, our results confirm an increased risk of arthritis in children with DS. However, we suggest that prevalence is at least 2–3 times greater than previously reported. We also observed a significant delay in diagnosis of A-DS, the reasons for this being multifactorial (figure 2). Children with A-DS most frequently present with a polyarticular RF negative arthritis, predominantly affecting the small joints of the hands and wrists. The arthritis is erosive in nature; a finding we do not believe is solely related to the observed delay in diagnosis.
This study highlights the importance of raising awareness about the increased risk of arthritis in children with DS to aid recognition and more timely diagnosis of A-DS. The addition of an annual musculoskeletal examination to the well recognised health surveillance guidelines for all children with DS would be an initiative of great benefit to this cohort. We propose a more appropriate clinical term that better reflects the inflammatory, erosive nature of the disease would be DS-associated arthritis (DA). In order to facilitate more cohesive clinical practice and future collaborative research, we would hope that this could become a universally accepted term among healthcare professionals and the general public. Future research to accurately define disease pathogenesis, identify a biomarker of disease and establish best practice in terms of treatment of A-DS would be of benefit.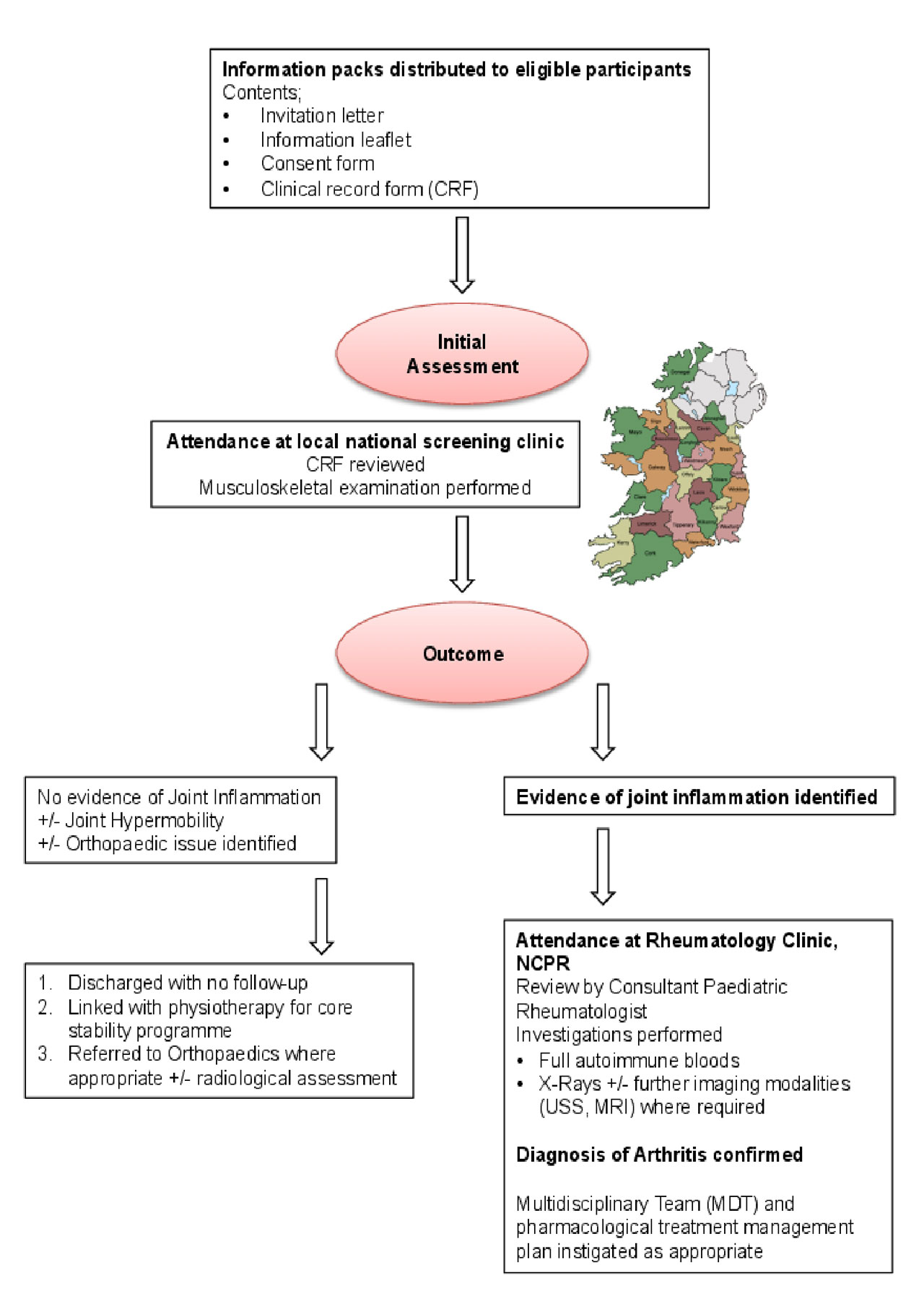 Figure 1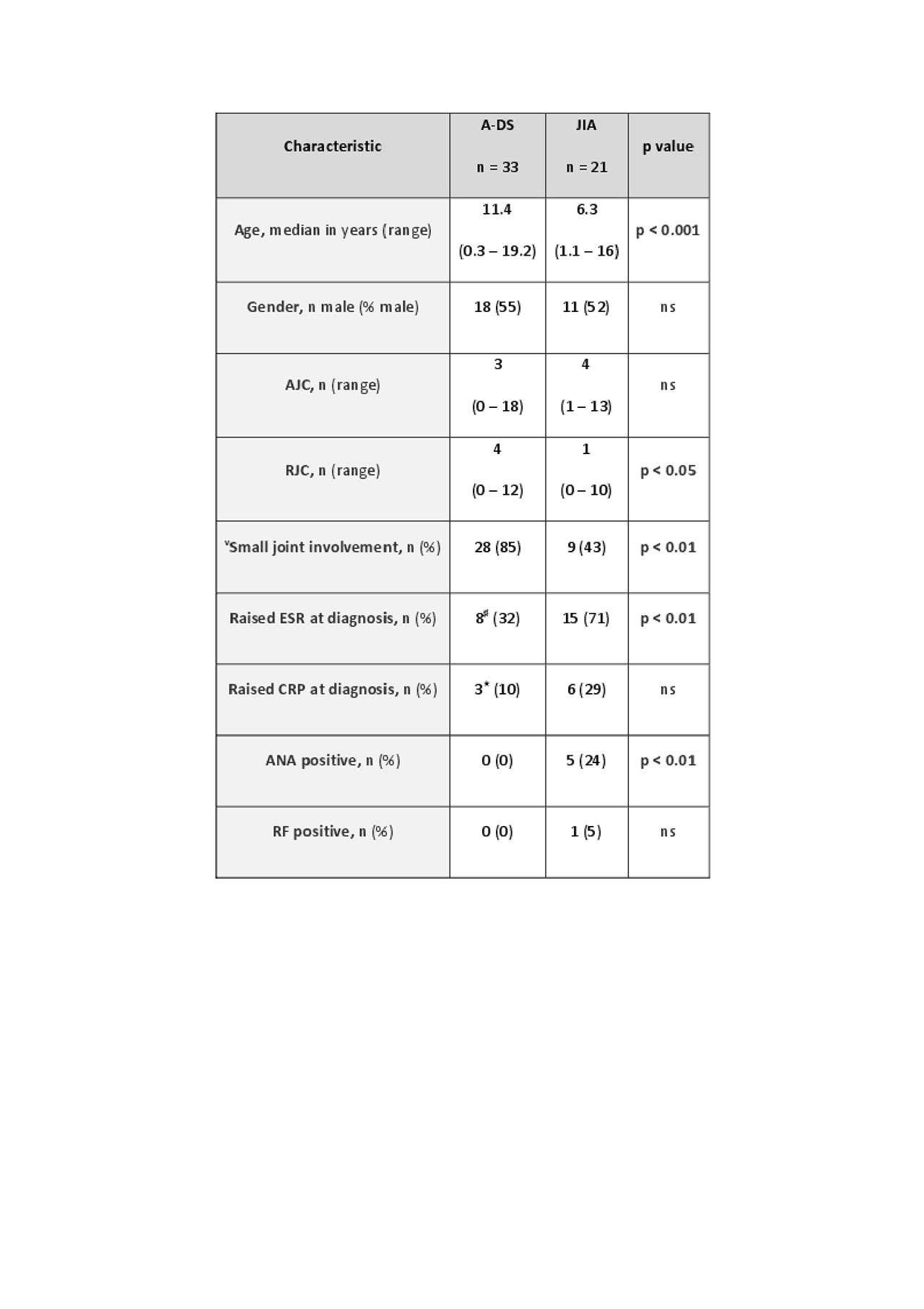 Table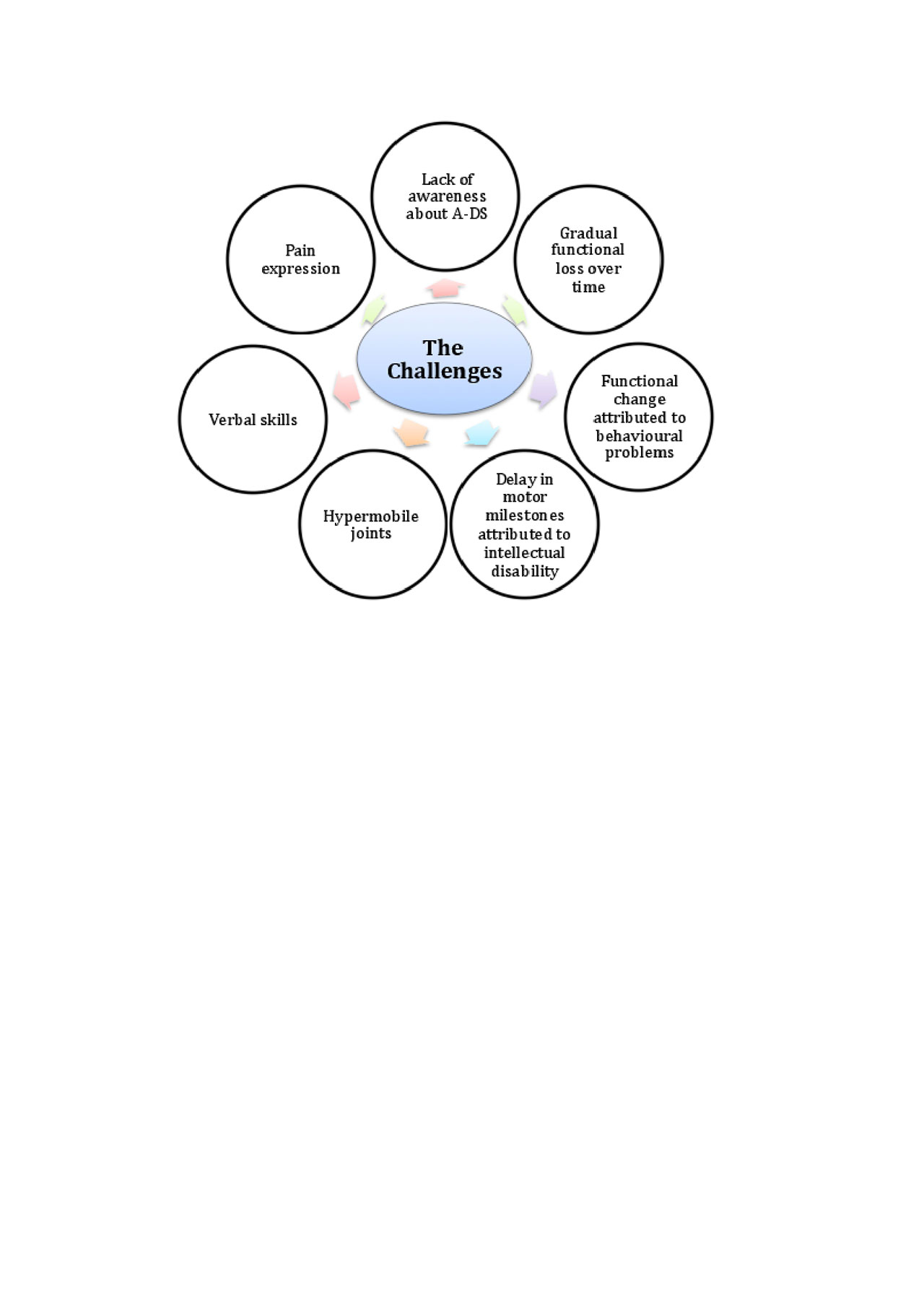 Figure 5 corrected
---
Disclosure: C. Foley, None; D. Deely, None; E. MacDermott, None; O. Killeen, None.
To cite this abstract in AMA style:
Foley C, Deely D, MacDermott E, Killeen O. Arthropathy of Down Syndrome: An Under-diagnosed Inflammatory Joint Disease That Warrants a Name Change [abstract].
Arthritis Rheumatol.
2019; 71 (suppl 10). https://acrabstracts.org/abstract/arthropathy-of-down-syndrome-an-under-diagnosed-inflammatory-joint-disease-that-warrants-a-name-change/. Accessed March 27, 2023.
« Back to 2019 ACR/ARP Annual Meeting
ACR Meeting Abstracts - https://acrabstracts.org/abstract/arthropathy-of-down-syndrome-an-under-diagnosed-inflammatory-joint-disease-that-warrants-a-name-change/