Session Information
Session Type: Poster Session (Sunday)
Session Time: 11:30AM-1:30PM
Background/Purpose: Chronic 24/7 pain, fatigue, and swelling are all part of my journey with rheumatoid arthritis (RA) and Axial Spondyloarthritis (AxSpa). My RA is moderate to severe, and my AxSpa has taken 7 years to be properly diagnosed resulting in a loss of 3 inches in height, stenosis, osteophytes and a broken piece of disc floating near my spine. My experience is unique with only 1% of the population experiencing RA and 2% experiencing AxSpa. The coexistence of these diseases in one patient is exceptionally rare.
Treatment: I am an expressive person finding myself discussing my diseases a lot due to the need for accommodation or pain levels. Constant exhaustion, lack of sleep, high pain levels, RA flares, bouts of back pain and episodes that leave me without the capacity to function is often too much for words. I found an amazing outlet in art to not only express my journey but to reach out to others. It gives me the ability to look back on a piece of artwork and remember the pain and my resilience and power in the face of intense circumstances. I'm able to process my grief over lost abilities, deteriorating health, and describe my journey through art in a more universal way than just words. It fulfills my need to be creative but also my need to take control of my life and body in a way that makes sense, allowing me to accept where I am and heal. Art reminds me how powerful my mind and heart are, so I can pick myself up one more day and living for good instead of being lost in the pain. It helps me to listen to my body, enabling a more flexible reaction to pain episodes or flares. It gives me the chance to process what is happening so I don't fight the disease process; facing my body and my life with courage.
Maintenance: Creating art that expresses my pain and health struggles helps me trust my body. I began to publish these pieces on social media and the response has been overwhelming. Reminding me that I'm not alone on this journey and my body is telling the truth. Listening to my body in the first place got me diagnosed, getting me the medical help that I need. After being diagnosed with RA and fibromyalgia 9 years ago, I was angry and frustrated ending up in the hospital from a panic attack. The last 4 months have been an intense struggle and expressing that through art has helped me to admit how bad my body and my pain levels have been when I wanted to run away from the downswing in my health. As a patient with multiple chronic illnesses I go through a cycle of acceptance and grief. My health and body took an upturn when I learned to not fight the cycles of flares, pain and disease.
Quality of Life: Listening to my body for cues allowed me to function more because I rested or pushed when needed. I learned my patterns and strengths, allowing accomplishing more when I do have energy without overdoing it. These diseases won't go away and I no longer fight that, increasing my quality of life. Because I have accepted my body I can also create art in a very vulnerable and open way that reaches out to others. My art allows me to show my life and struggles in a way that makes the abled folks stop and take notice. Visual representation helps other patients point to a piece that validates their pain and creates better connections with their loved ones. Patients need to know that what we experience is normal – my art helps me to see that so I can cope better daily.
'Spots' – digital art
'Rocks in a paper boat' – digital art
'Unraveling' – digital art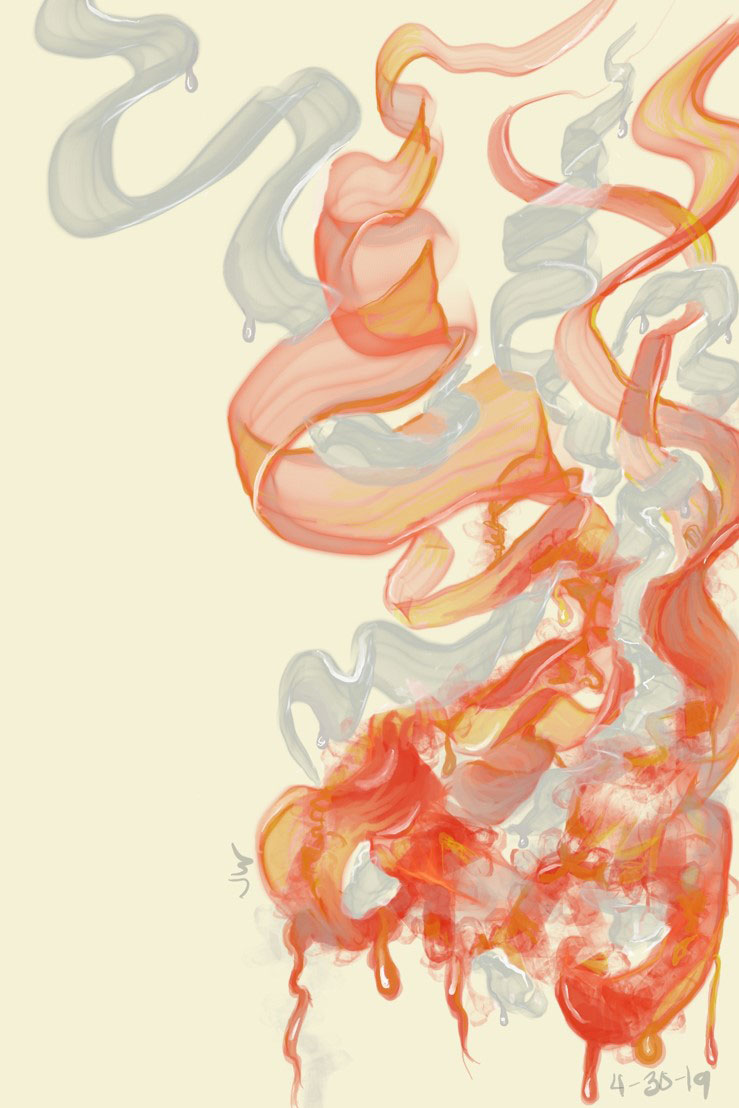 ---
Disclosure: J. Walker, None.
To cite this abstract in AMA style:
Walker J. Art for Arthritis: A New Approach [abstract].
Arthritis Rheumatol.
2019; 71 (suppl 10). https://acrabstracts.org/abstract/art-for-arthritis-a-new-approach/. Accessed September 30, 2022.
« Back to 2019 ACR/ARP Annual Meeting
ACR Meeting Abstracts - https://acrabstracts.org/abstract/art-for-arthritis-a-new-approach/