Session Information
Session Type: ACR Poster Session B
Session Time: 9:00AM-11:00AM
Background/Purpose:
Apremilast (APR) is an oral phosphodiesterase 4 inhibitor that helps regulate the immune response that causes joint inflammation and other manifestations of psoriatic arthritis (PsA), including skin disease. Primary findings from the PALACE 4 study (NCT01307423) demonstrated greater efficacy with APR vs. placebo in disease-modifying antirheumatic drug (DMARD)-naïve patients with active PsA.
1,2
We describe the long-term efficacy and safety of APR monotherapy in DMARD-naïve patients in PALACE 4 for up to 156 weeks.
Methods:
Patients
were randomized (1:1:1) to placebo, APR 30 mg BID (APR30), or APR 20 mg BID (APR20). Patients whose swollen and tender joint counts (SJC and TJC) had not improved by ≥20% at Week 16 were considered non-responders and were required to be re-randomized (1:1) to APR30 or APR20 if they were initially randomized to placebo, or continued on their initial APR dose. At Week 24, all patients remaining on placebo were re-randomized to APR30 or APR20.
Double-blind treatment continued to Week 52 with open-label APR for up to 4 additional years.
Results:
A total of
527 patients were randomized and received
≥
1 dose of placebo (n=176), APR30 (n=176), or APR20 (n=175). Of the patients entering the third year of therapy, 88.0% (272/309) completed the Week 156 visit. At Week 52, 58.0% (119/205) of patients receiving APR30 and 55.4% (107/193)
receiving APR20 achieved a
20% improvement in modified American College of Rheumatology (ACR20) response
(Table)
.
At Week 156, rates of improvement in PsA signs and symptoms and physical function were sustained, as shown by modified ACR20/ACR50/ACR70 responses, mean percent change in SJC/TJC, mean change in Health Assessment Questionnaire-Disability Index (HAQ-DI) score, proportion of patients with HAQ-DI exceeding the minimal clinically important difference (MCID)
≥
0.30 threshold, achievement of Maastricht Ankylosing Spondylitis Enthesitis Score (MASES) of 0 and dactylitis count of 0, and 75% and 50% reduction from baseline Psoriasis Area and Severity Index (PASI-75 and PASI-50) responses (Table).
During Weeks >104 to ≤156,
the most common
adverse events (
AEs) among APR-exposed patients were upper respiratory tract infection (3.2%) and nasopharyngitis (3.9%);
serious
AEs occurred in 5.2% of APR patients,
and no opportunistic infections occurred. In general, no change in the types of AEs and no increase in the incidence and severity of AEs were seen with longer-term exposure.
Conclusion:
Over 156 weeks, APR monotherapy demonstrated sustained response and improvements in PsA signs and symptoms, including SJC, TJC, enthesitis, dactylitis, physical function, and psoriasis. APR continued to demonstrate an acceptable safety profile and was generally well tolerated.
References:
1. Edwards et al.
Arthritis Rheum.
2014;66(11 Suppl)S694-5. Abstract 1572. 2. Wells et al.
Arthritis Rheum.
2014;66(11 Suppl)S264-5. Abstract 602.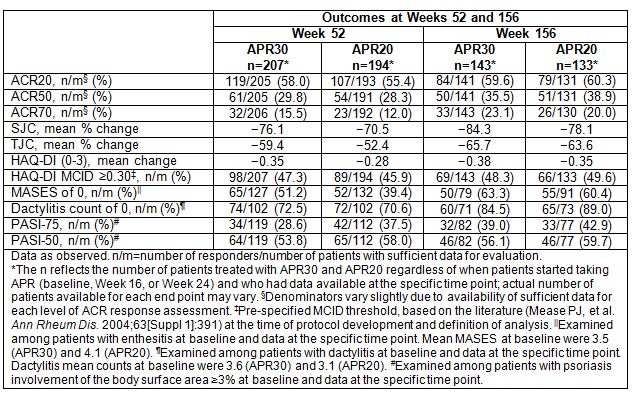 ---
Disclosure: A. F. Wells, Celgene Corporation, 2; C. J. Edwards, Celgene Corporation, Pfizer, Roche, Samsung, 2,Celgene Corporation, Pfizer, Roche, Samsung, 5,Abbott, GSK, Pfizer, Roche, 8; A. J. Kivitz, Celgene Corporation, 5,Celgene Corporation, 8; P. Bird, Celgene Corporation, 2; D. Nguyen, Celgene Corporation, 3; K. Shah, Celgene Corporation, 3; L. Teng, Celgene Corporation, 3; J. A. Aelion, Abbvie, Boehringer, Celgene Corporation, Janssen, 5,Abbvie, Amgen, Boehringer, Celgene Corporation, Janssen, UCB, 2,UCB, 8.
To cite this abstract in AMA style:
Wells AF, Edwards CJ, Kivitz AJ, Bird P, Nguyen D, Shah K, Teng L, Aelion JA. Apremilast Monotherapy As the First Systemic Treatment in DMARD-Naive Patients with Active Psoriatic Arthritis: 3-Year Treatment Results [abstract].
Arthritis Rheumatol.
2016; 68 (suppl 10). https://acrabstracts.org/abstract/apremilast-monotherapy-as-the-first-systemic-treatment-in-dmard-naive-patients-with-active-psoriatic-arthritis-3-year-treatment-results/. Accessed June 28, 2022.
« Back to 2016 ACR/ARHP Annual Meeting
ACR Meeting Abstracts - https://acrabstracts.org/abstract/apremilast-monotherapy-as-the-first-systemic-treatment-in-dmard-naive-patients-with-active-psoriatic-arthritis-3-year-treatment-results/