Session Information
Session Type: Poster Session (Sunday)
Session Time: 9:00AM-11:00AM
Background/Purpose: While current guidelines help defining correct pregnancy standard of care for patients with systemic lupus erythematosus andantiphospholipid syndrome (APS),little is known about the significance of antiphospholipid antibodies (aPL) detection during pregnancy and their association with clinical manifestations of the syndrome in women without history of rheumatic disease.
In this context, we aimed to retrospectively investigate the prevalence of aPL and late-onset pregnancy complications (LO-PC) in a cohort of women with low risk of chromosomal abnormalities.
Methods: For the purpose of this study, we retrospectively collected data from a number of patients ever pregnant attending the S. Anna University Clinic (Turin, Italy) from August 2017 to August 2018, that were found to be negative for triple test and fetal abnormalities and who experienced LO-PC. aPL testing was performed on serum samples derived from pregnancy screening test collected during the fourth month of gestation. aPL detection was performed using both ELISA assay (INOVA Diagnostic) and chemiluminescent immunoassay (INOVA Diagnostic) for the semi-quantitative measurement of antibodies -comprehensive of IgG, IgM, and IgA isotypes for anticardiolipin (aCL) and anti-β2-glycoprotein I (β2GPI), β2GPI domain I, and anti-phosphatidylserine/prothrombin (aPS/PT) IgG and IgM.
Results: Fifty-nine patients met the inclusion criteria of the study. Pregnancy complications were as follows: 27 (46%) patients developed preeclampsia, 1 eclampsia, 16 (27%) manifested gestational diabetes, 32 (54%) gestational hypertension, 6 (10%) experienced HELLP syndrome, and 8 (14%) intrauterine growth restriction. Obstetric and post-partum complications were as follows: 12 (20%) patients developed hypertensive crisis, 6(10%) patients developed post-partum hemorrhage, 1 patient developed hypertensive crisis, acute renal failure, and acute respiratory insufficiency concomitantly. Placental histologic examination, when performed, showed that the most frequent histologic finding was placental malperfusion (19 patients, 32%), followed by 3 fetal thrombotic vasculopathy (5%), 1 subacute villitis, 1 subacute deciduitis, and 1 case of chronic villitis of unknown etiology. Nineteen women (32%) were aPL positive, in detail: 15 showed a single positivity (6 aPS/PT IgM, 1 aPS/PT IgG, 8 aCL IgG), 3 double positivity (aCL IgG, aPS/PT IgM), and one triple positivity (aCL IgG, β2GPI IgG, andaPS/PT IgM). Of interest, patients with aPL positivity had significantly lower life births rates (84% vs. 98%, p< 0.05). Table 1 shows fetal, maternal outcomes, post-partum complications, and placental histologic findings.
Conclusion: In our experience, the prevalence of aPL in women with LO-PC at low-risk for chromosomal abnormalities was as high as 32%. Our data suggest that testing for both criteria and extra criteria aPL could improve the diagnostic accuracy to identify LO-PC.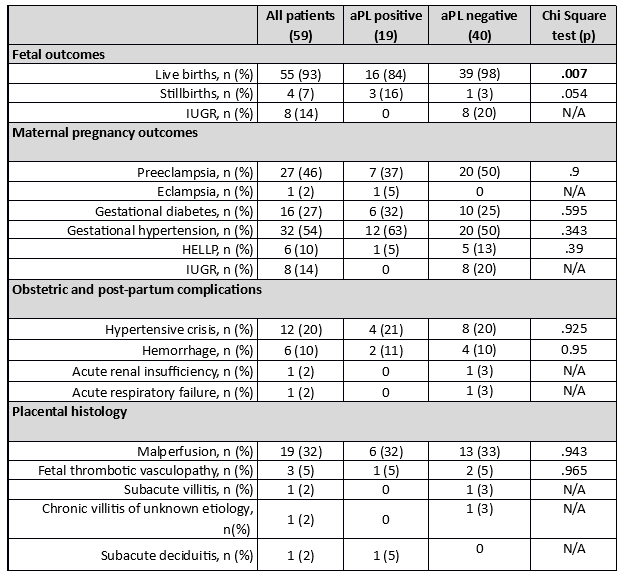 ---
Disclosure: S. Foddai, None; M. Radin, None; E. Rubini, None; I. Cecchi, None; S. Sciascia, None; D. Roccatello, None; E. Menegatti, None; S. Gaito, None; L. Marozio, None; T. Manetta, None; G. Mengozzi, None.
To cite this abstract in AMA style:
Foddai S, Radin M, Rubini E, Cecchi I, Sciascia S, Roccatello D, Menegatti E, Gaito S, Marozio L, Manetta T, Mengozzi G. Antiphospholipid Antibodies Prevalence in Women with Late Pregnancy Complication and Low-Risk for Chromosomal Abnormalities [abstract].
Arthritis Rheumatol.
2019; 71 (suppl 10). https://acrabstracts.org/abstract/antiphospholipid-antibodies-prevalence-in-women-with-late-pregnancy-complication-and-low-risk-for-chromosomal-abnormalities/. Accessed February 6, 2023.
« Back to 2019 ACR/ARP Annual Meeting
ACR Meeting Abstracts - https://acrabstracts.org/abstract/antiphospholipid-antibodies-prevalence-in-women-with-late-pregnancy-complication-and-low-risk-for-chromosomal-abnormalities/