Session Information
Session Type: Poster Session (Monday)
Session Time: 9:00AM-11:00AM
Background/Purpose: Autoantibodies against citrullinated proteins (ACPAs) could be associated with bone loss, pain and tenosynovitis prior to disease onset in human rheumatoid arthritis (RA) and induce bone loss and pain when injected in mice. We aimed to investigate if transfer of human ACPAs into mice could induce tenosynovitis and/or subclinical inflammation.
Methods: Monoclonal ACPA (1325:04C03 and 1325:01B09) and control (1362:01E02) antibodies (mAbs) were generated from synovial plasma or memory B cells of RA patients. 2mg of combination of monoclonal ACPAs or control antibody were injected in BALB/c female mice (12-16 Weeks). Pain-like behavior was monitored by measuring mechanical hypersensitivity using von Frey filaments every 3 days and estimation by up-down Dixon method. Bone mineral density was measured by micro-CT. Using specially designed mobilization casts, dedicated mouse MRI coils, and gadolinium enhanced contrast medium, the hind limbs of these mice were scanned and evaluated for any signs of soft tissue joint inflammation. The MRI images were scored for the presence of synovial thickening, effusion and tendon inflammatory changes by 3 readers in a blinded manner.
Results: ACPAs (1325:04C03 and 1325:01B09) induced significantly more pronounced pain-like behavior (lasting for at least 4 weeks) and reduction of the trabecular bone thickness in the hind limbs, whereas no such effect was seen with the control monclonals generated in the same way as the monoclonal ACPAs. While no macroscopic sign of joint inflammation could be detected, MRI data shows sub-clinical joint inflammatory changes (such as perfusion of contrast in tendons, soft tissues and joints) in mice injected with ACPAs but not in those injected with control mAb. Using a semiquantitative score for the degree of inflammatory changes (0- Within normal range, 1-Mild, 2- Moderate and 3- Severe) we were able to show that ACPA induced mild to moderate inflammatory changes affecting tendon thickness, joint effusion and soft tissue enhancements, in contrast to control antibody or Saline injected mice which was within normal range (figure 1 below).
Conclusion: We show that ACPA induces pain-like behavior, bone loss and sub-clinical inflammation in mice, a model that mimics the pre-clinical state of ACPA positive RA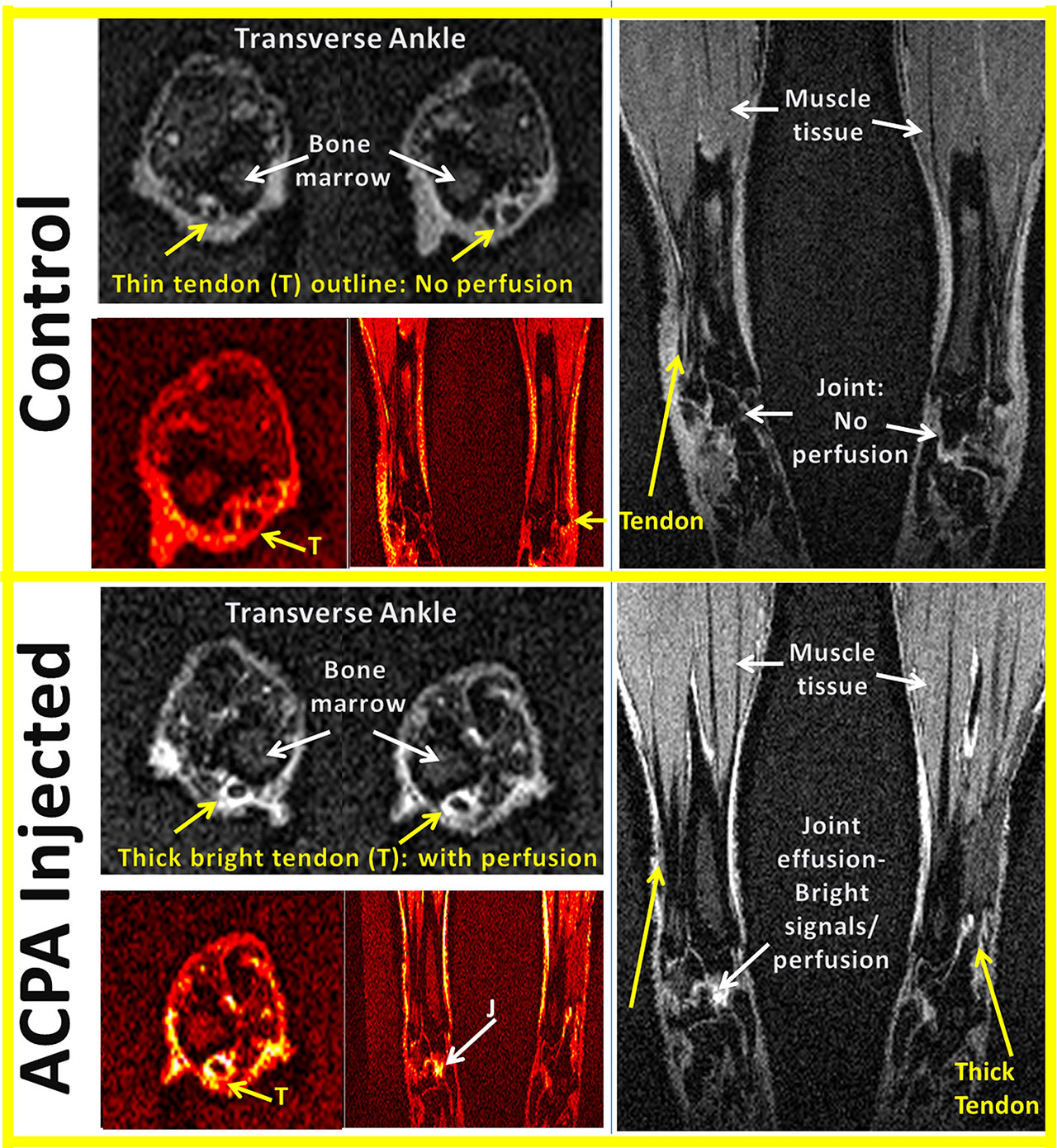 ---
Disclosure: A. Krishnamurthy, None; Y. Kisten, None; A. Circiumaru, None; K. Sandor, None; K. Sakurabas, None; G. Wigerblad, None; P. Damberg, None; H. Wähämaa, None; P. Jarvolli, None; V. Malmström, None; L. Klareskog, BMS, 2, Janssen, 2, Pfizer, 2; C. Svensson, None; J. Jimenez Andrade, None; B. Rethi, None; A. Catrina, None.
To cite this abstract in AMA style:
Krishnamurthy A, Kisten Y, Circiumaru A, Sandor K, Sakurabas K, Wigerblad G, Damberg P, Wähämaa H, Jarvolli P, Malmström V, Klareskog L, Svensson C, Jimenez Andrade J, Rethi B, Catrina A. Anti-citrullinated Protein Antibodies Induce Subclinical Inflammation, Bone Loss and Pain in Mice [abstract].
Arthritis Rheumatol.
2019; 71 (suppl 10). https://acrabstracts.org/abstract/anti-citrullinated-protein-antibodies-induce-subclinical-inflammation-bone-loss-and-pain-in-mice/. Accessed December 9, 2022.
« Back to 2019 ACR/ARP Annual Meeting
ACR Meeting Abstracts - https://acrabstracts.org/abstract/anti-citrullinated-protein-antibodies-induce-subclinical-inflammation-bone-loss-and-pain-in-mice/