Session Information
Session Type: ACR Poster Session C
Session Time: 9:00AM-11:00AM
Background/Purpose: The circadian rhythm is disrupted in patients with rheumatoid arthritis (RA), and we have shown that tumor necrosis factor(TNF)-ƒ¿ inhibits the expression of circadian clock gene Period 2 (Per2 ) by interfering with D-box motifs to promote the proliferation of RA- fibroblast-like synoviocytes (FLS) (1). Recently, interactions between PER2 and Bcl2 family proteins were reported that forced expressions of Per2 on pancreatic cancer cells resulted in apoptosis-induction (2). In this study, we examined effects of Methotrexate (MTX) on the expression of circadian clock genes in RA-FLS.
Methods: Under treatments of MTX (10nM) on RA-FLS, cell viabilities were determined by WST-8 assay and expressions of PER2 were observed by fluorescent immunostaining. Total RNA was extracted from RA-FLS, treated with MTX(10nM) for 24 to 48hrs, to examine expressions of circadian clock genes, including circadian locomotor output cycles kaput (Clock), brain and muscle Arnt-like protein-1 (Bmal1) and Per 2 by real-time PCR. As transcriptional activators of Per2, the proline and acidic amino acidrich basic leucine zipper (PAR bZip) genes ;D site of albumin promoter binding protein(Dbp), hyrotroph embryonic factor(Tef) and hepatic leukaemia factor(Hlf) were also analyzed. In addition, pro-apoptotic Bcl-2- interacting killer (Bik) was examined as a marker of mitochondria-related apoptosis-induction.
Results: The cell viability of RA-FLS was inhibited by 10nM of MTX for 24h and 32h. MTX enhanced expressions of Per2, Dbp, Tef and Hlf after 24hrs' treatment, and Bik for 32hrs (Figure 1). PER2 protein was highly expressed in apoptotic RA-FLS in fluorescent observations (Figure 2).
Conclusion: Results clearly showed that MTX accelerated PAR bZip genes to bind D-box motif to transcribe Per2, resulted in apoptosis-induction of RA-FLS. This was also supported by the increased-expression of Bik, containing PAR bZip–binding site on its promoter region. We proposed a novel therapeutic efficacy of MTX on RA-FLS via circadian clock genes.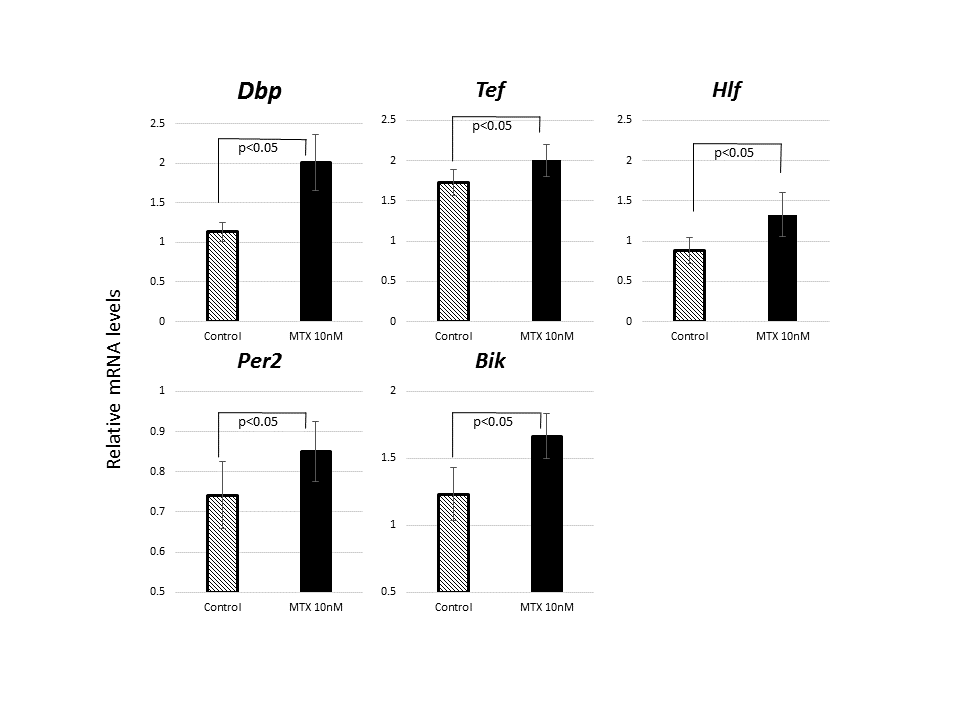 Figure 1. The mRNA expression of PAR bZip genes, Per2, and Bik. The mRNA expression of PAR bZip genes and Per2 were increased with the 24hrs' treatment of MTX (10nM), and Bik with the 32hrs', compared to control.
Figure 2. DAPI staining and fluorescent immunostaining of PER2 in 10nM MTX-stimulated RA-FLS. The overexpression of PER2 is observed in apoptotic cells. Reference: 1. Yoshida K, Hashiramoto A, et al. Scand J Rheumatol, Vol. 42, No. 4: 276-280, 2013 2. Oda A, et al. Anticancer Res. 2009;29:1201–1209.
---
Disclosure: K. Suzuki, None; K. Yoshida, None; T. Hashimoto, None; K. Kaneshiro, None; A. Nakai, None; N. Hashimoto, None; Y. Kawasaki, None; N. Shibanuma, None; N. Nakagawa, None; Y. Sakai, None; A. Hashiramoto, None.
To cite this abstract in AMA style:
Suzuki K, Yoshida K, Hashimoto T, Kaneshiro K, Nakai A, Hashimoto N, Kawasaki Y, Shibanuma N, Nakagawa N, Sakai Y, Hashiramoto A. A Novel Pharmacological Action of MTX on RA Fibroblast-like Synoviocytes Via Circadian Clock Genes [abstract].
Arthritis Rheumatol.
2016; 68 (suppl 10). https://acrabstracts.org/abstract/a-novel-pharmacological-action-of-mtx-on-ra-fibroblast-like-synoviocytes-via-circadian-clock-genes/. Accessed November 27, 2022.
« Back to 2016 ACR/ARHP Annual Meeting
ACR Meeting Abstracts - https://acrabstracts.org/abstract/a-novel-pharmacological-action-of-mtx-on-ra-fibroblast-like-synoviocytes-via-circadian-clock-genes/